© 2023 Blaze Media LLC. All rights reserved.
Trump supporter infiltrates Antifa group, collects recordings of 'comrades' making threats against police: 'Let's kill some cops'
A supporter of former President Donald Trump told KGO-TV that he infiltrated an Antifa group in Sonoma County, California, and collected recordings of the far-left violent militants making threats against police and even preparing major action for Saturday — or May Day,
Here's a sampling:
Group leader: "It's May Day, baby, like come out and take, take somethin' over with us, I don't, I don't [bleep]-ing know."
Member: "Let's kill people [laughs]."
Group Leader: "Let's kill some cops."

Image source: KGO-TV video screenshot
The Trump supporter who infiltrated Antifa appeared on camera in an interview with the station, but his face and voice were disguised.
He told KGO he saved messages, documents, and recordings of the Antifa group's meetings.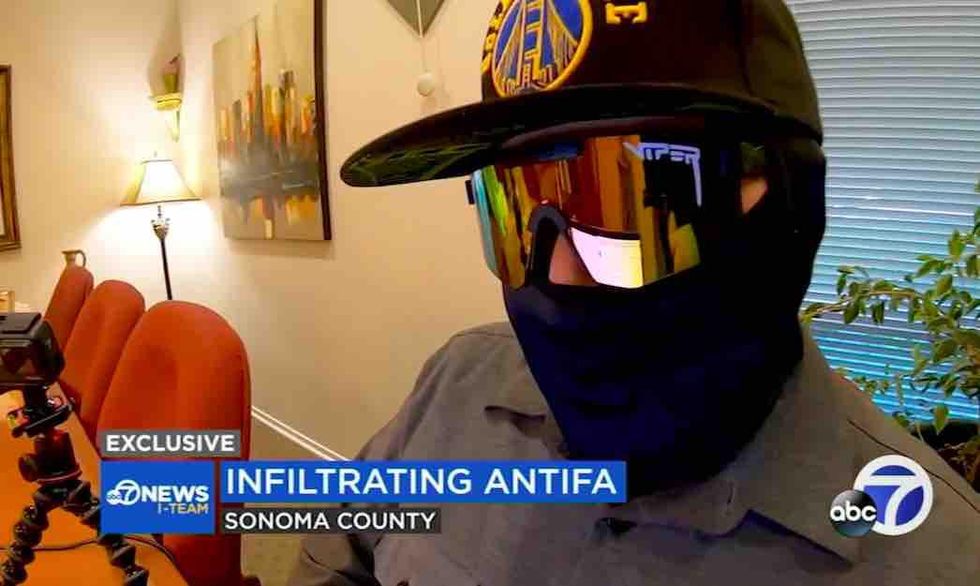 Image source: KGO-TV video screenshot
The infiltrator gave KGO the group's "target list," which included former Santa Rosa Police Officer Barry Brodd, who testified for the defense as a use of force expert in the murder trial of former police Officer Derek Chauvin for killing George Floyd.

Four days after Brodd's testimony defending Chauvin, the station said masked figures in black threw a severed pig head and pig blood at the house where Brodd used to live. It's now occupied by other people.
Lt. Jeneane Kucker of the Santa Rosa Police Department told KGO, "I know that the victims, in this case, feel threatened. And they don't feel safe in their home."
The Trump supporter who infiltrated the Antifa group told the station, "So, I saw that they were here, I read their manifesto, and I could tell that they were a threat to the community, and somebody needed to do something about this."
More from KGO:
The manifesto posted online for SoCo (Sonoma County) Radical Action or SRA says, "Do not hesitate, do not wait ... the brick in the street is meant to be thrown! The paint in the can is meant to be sprayed! The cop in your head is meant to be killed!"

The Trump supporter was able to join the group that communicates through the encrypted messaging app Wickr.
The infiltrator added to the station that, "I said, 'Comrade, you know ... I want to smash the system the same as you,' [to] make them not feel alone, because that's what they really want to hear, to know that there's more people like them."
More from KGO:
The I-Team has learned the group's leader who goes by the screen name "Marb" is a 25-year-old college student, who was arrested for "felony assault on a police officer" last year at this Oakland riot after the death of George Floyd; the district attorney declined to file charges. The Trump supporter says he made this recording in March, when Marb discussed naming the group "SoCo Antifa." [...]

The infiltrator tells the I-Team he copied what the group calls its "target list," people they want to "dox" — to publish their private information, their addresses and phone numbers, to surveil them for possible vandalism. After his testimony, they placed Brodd at the top of the list and within an hour of the attack on his former house, Marb is back on Wickr at 3:48 a.m. telling the group, "Hey y'all, late notice, but some comrades took action at a house owned by Barry Brodd and if someone could swing by in the morning and get pictures, our comrades would be very grateful!"
The target list also includes the head of the deputy sheriff's union — or "killer deputies," as Antifa calls them — as well as officers involved in fatal confrontations, and Trump supporters like Sandy Metzger, the station said.
Metzger, who heads the Santa Rosa Republican Women Federated, told KGO that she "really came out strongly against Antifa and [Black Lives Matter]."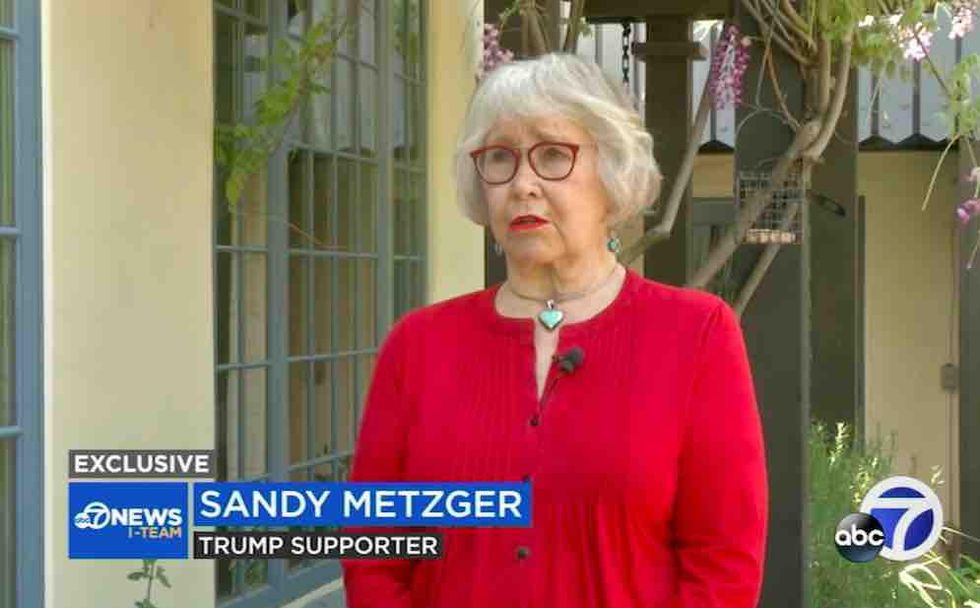 Image source: KGO-TV video screenshot
When the station told her that she's on the target list, Metzger said it does concern her "a little bit, but that's not going to stop me from speaking out. Somebody has to speak out. And I feel very strong about some of these things."

The recordings show the group has already checked out Metzger's house, KGO reported.
Now what?
The infiltrator told the station he's been in touch with the sheriff's department and Santa Rosa police about the potential threats.
KGO's Dan Noyes said Marb refused his attempts for an interview him, but the infiltrator actually intercepted a message from the group leader about "Dan Noyes at ABC7 asking about SRA. ...To firmly restate our position, nobody, myself included, should cooperate with press or cops."
The infiltrator added to the station that his interactions with SoCo Radical Action began last year — and he wanted to do something about the group.
"It felt like seeing Antifa getting sort of a pass all the time from government," he told KGO, "saying they don't exist, saying that they're a myth, saying that they're just an idea. You know, when obviously, they are very real, and they're a big threat."
The station reported that since it has been working on the story, Marb has been taking down his social media, both the public and private accounts.
Want to leave a tip?
We answer to you. Help keep our content free of advertisers and big tech censorship by leaving a tip today.
Sr. Editor, News
Dave Urbanski is a senior editor for Blaze News.
DaveVUrbanski
more stories
Sign up for the Blaze newsletter
By signing up, you agree to our
Privacy Policy
and
Terms of Use
, and agree to receive content that may sometimes include advertisements. You may opt out at any time.