A Bojangles' restaurant locked out supporters of President Donald Trump after his rally in Charlotte, North Carolina, Monday night — and the manager who made the decision is out of a job.
What are the details?
The Monroe Road restaurant in question is a 10-minute walk from the venue where Trump spoke to more than 10,000 people, the Charlotte Observer reported, adding that the rally was full, and attendees without seats watched it on a big screen in the parking lot.
Afterward, rally attendee Michael Furick posted to Facebook that he and other Trump supporters were locked out of the restaurant.
"Bojangles locked the doors to the Trump rally last night and denied service," Furick wrote. "Ironic because the rally was at Bojangles arena. @bojangles this is pretty distasteful. I walk up to the door and people are gathered around and stated they would not serve Trump supporters."
Among Furick's photos accompanying his post is one of a restaurant employee making a "stop" gesture with his hand to those outside. The Observer said Furick acknowledged the employee was gesturing back to him because he'd raised his middle finger after being locked out.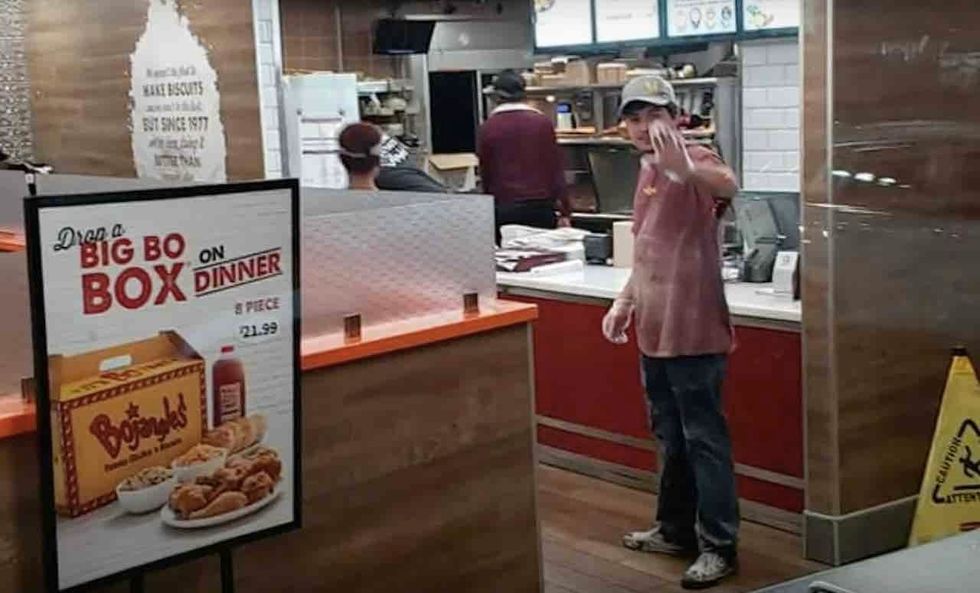 Image source: YouTube screenshot
Another photo shows other people standing outside the restaurant with some holding Trump signs from the rally, the paper said. Furick told the Observer at least two dozen other people previously stood outside the restaurant before he took the photo, and they also were denied food.

Later, the shift manager who made the call to lock the doors called his manager, who showed up and unlocked the doors, allowing everyone to purchase food, the Observer said.
Now some Trump supporters said they'll boycott the chicken restaurant chain after being refused service even though they arrived nearly an hour before closing time, the paper added.
What happened to the manager who locked the doors?
Bojangles' noted on Facebook in regard to the "unfortunate incident" that the manager "made a bad decision to close the dining room. We apologize. That manager is no longer employed by Bojangles'."
Would you like a MAGA Culpa with your biscuits, sir?
Brian Little, head of Bojangles' communications, told the Observer in an interview Tuesday that the restaurant was likely overwhelmed with customers following Trump's rally.
"We apologize for anyone who felt they were treated in a way that was disrespectful," Little told the paper, which added that he didn't confirm if those locked out of the restaurant were given any explanation for its sudden closure.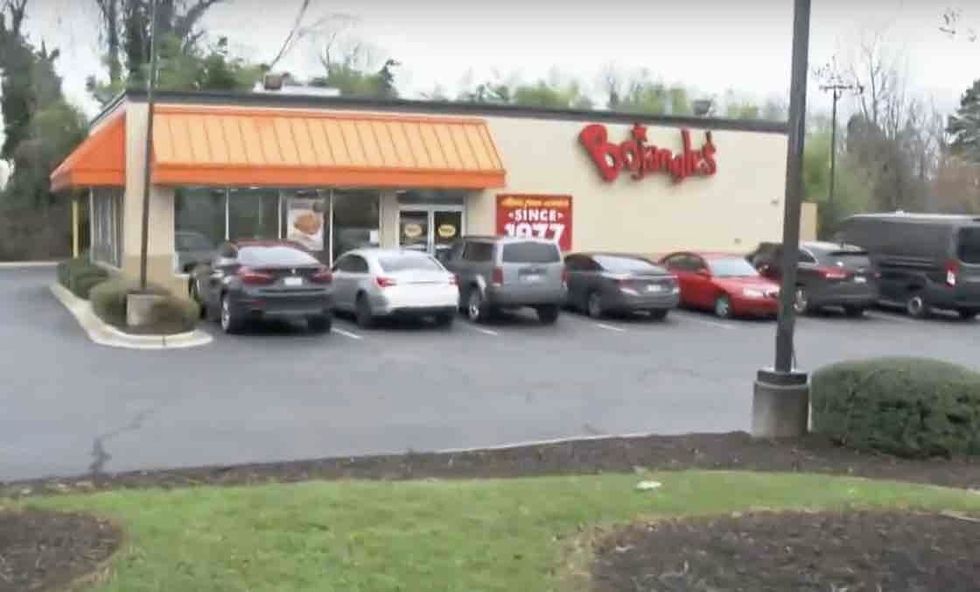 The Bonjangles' restaurant where the lockout occurredImage source: YouTube screenshot
"This is not in line with who we are as a business. We serve everyone who wants to purchase one of our [items]," he told the Observer, noting that the "young shift manager" on duty was wrong to lock the doors despite feeling overwhelmed and overreacted.

"He didn't know what to do," Little told the Observer. "He just closed the restaurant."
'You're not gonna serve us? Yeah, you are. Or you're gonna get rolled over.'
"If you don't want me there, you're not going to offend me," Furick told WCNC-TV after the incident. "It's not like 'Bojangles', you broke me.' You're not gonna break me, you know what I'm saying? I'm not Kathy Griffin. You know what I mean? You ain't gonna break me."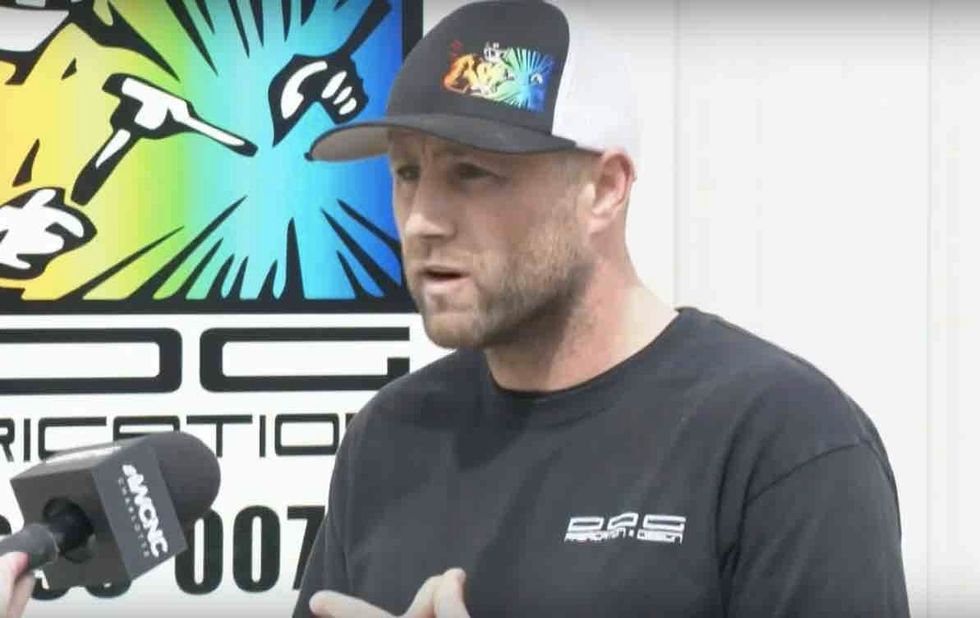 Michael FurickImage source: YouTube screenshot
He added to the station that "it's not all about the Bojangles'. It's about every company and corporation that sits there and tries to tell us what we need to say, what we need to wear. You're not gonna serve us? Yeah, you are. Or you're gonna get rolled over."

Furick also told WCNC that he won't speculate about the political views of the Bojangles' manager who locked out him and other Trump supporters, but he may be visiting other fast-food restaurants in the future.
And that sign on a Bojangles' door?
The station added that since Monday another post hit social media accusing a Bojangles' on Rocky River Road of displaying a sign that said, "No one allowed in store wearing Trump hats or shirts. You will be asked to leave."
But Bojangles' said the sign wasn't posted by an employee.
"That sign was posted by a customer not a Bojangles' employee," the spokesperson for the restaurant told WCNC. "As soon as it was discovered it was removed. Again, that sign was not put up by a Bojangles' employee. Bojangles' welcomes ALL customers."