Twitter allegedly suspended British rapper Zuby from the platform Wednesday after he commented "Ok dude" in response to another user who claimed to be "sleeping with more women" than he. That user turned out to be a trans activist who identifies as a female.
Zuby — who rose to fame last year after he jokingly posted videos of himself breaking the women's deadlift and bench press records while identifying as a woman — took to Twitter recently to share advice with women on "how to land a great guy."
That's when another user under the account name "Pronoun Enforcer" replied to the post, saying, "I'm like 95% sure i'm sleeping with more women than you and this is terrible advice."
@ZubyMusic I'm like 95% sure i'm sleeping with more women than you and this is terrible advice

— Pronoun Enforcer (@Pronoun Enforcer) 1582396435.0
Zuby then replied to that comment by simply saying, "Ok dude" — a remark that Twitter reportedly found to be "hateful" after further review.
"Pronoun Enforcer," or transgender left-wing activist Emily Gorcenski, had apparently reported Zuby to the Twitter authorities, complaining that his comment misgendered her. After a week of back-and-forth with Zuby, Twitter decided to suspend him and offer him two options: appeal the ruling or remove the content. If he removed the content, his account would be reinstated after 12 hours, but if he appealed, the incident would be reviewed again. He appealed, but on Wednesday, he found out that his appeal had been rejected and so he had to delete the tweet.
"There was no other option," he told the Washington Examiner.
Gorcenski posted on Twitter soon after the decision taking credit for the action taken against Zuby's account, celebrating by saying, "Lol misogynist down. Pronouns enforced."
Lol misogynist down. Pronouns enforced. https://t.co/D8kwjUNRJ2

— Pronoun Enforcer (@Pronoun Enforcer) 1582782740.0
Zuby confirmed the news that his Twitter account had been temporarily suspended on his Instagram despite his appeal.
"I've been temporarily locked out of Twitter for tweeting 'OK dude' in response to someome [sic]. Apparently that violates the 'hateful conduct' policy. Wow... I've appealed it," he said including a screenshot of the incident.
"It wasn't even a gendered statement, not that it should even matter," Zuby added in his conversation with the Examiner. "I used it as a synonym for like, 'Yeah, whatever.' I didn't go and research the person I was responding too. Perhaps I should have because they're an antifa activist who spends their time trying to doxx people and get people kicked off platforms that they don't like."
Several Twitter users have pointed to times when Gorcenski has used violent rhetoric on the platform, including one tweet, which allegedly read: "I now call all antifa groups to consider the TERF (Trans-exclusionary radical feminist) movement to be properly considered to be a white supremacist movement and treated like the Nazi platform that they are. No one gets left behind."
At the time of publication, Zuby's Twitter account appeared to be online, but he has yet to post since the incident.
Update: After Gorcenski's account was ranked in a people "who need their phone taken" away list by the Washington Examiner's Siraj Hashmi on Thursday, Gorcenski quote-tweeted the ranking with an ironic critique.
"Getting offended over free speech by advocating for the silencing of people with different viewpoints," Gorcenski said in regards to being placed on the list, apparently not recognizing the irony.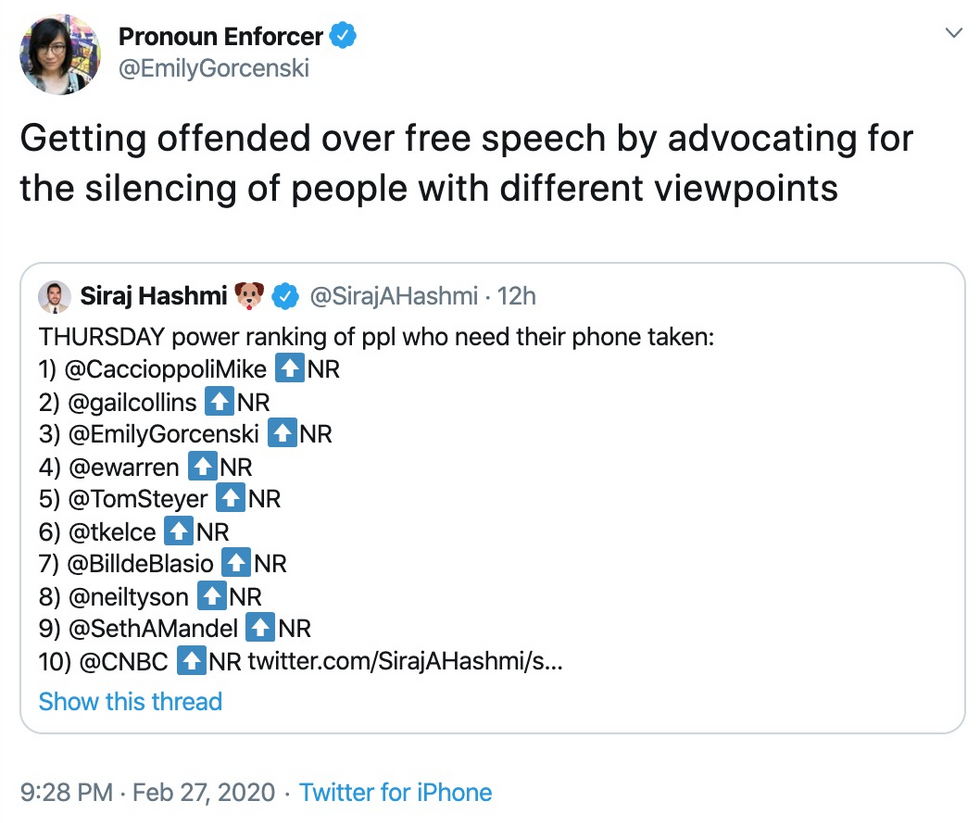 Image Source: Twitter screenshot
Editor's Note: This post was updated to include a tweet from the "Pronoun Enforcer" Twitter account about being placed on a list of people who should have their phone taken away.