Surveillance video shows a Baltimore City Police Department civilian employee brutally beaten and robbed by individuals riding scooters who are still at large, WJZ-TV reported.
The clip shows three people surrounding the 59-year-old just before 6 a.m. Wednesday before two of them start beating him up on Abermarle Street near the Inner Harbor, the station said.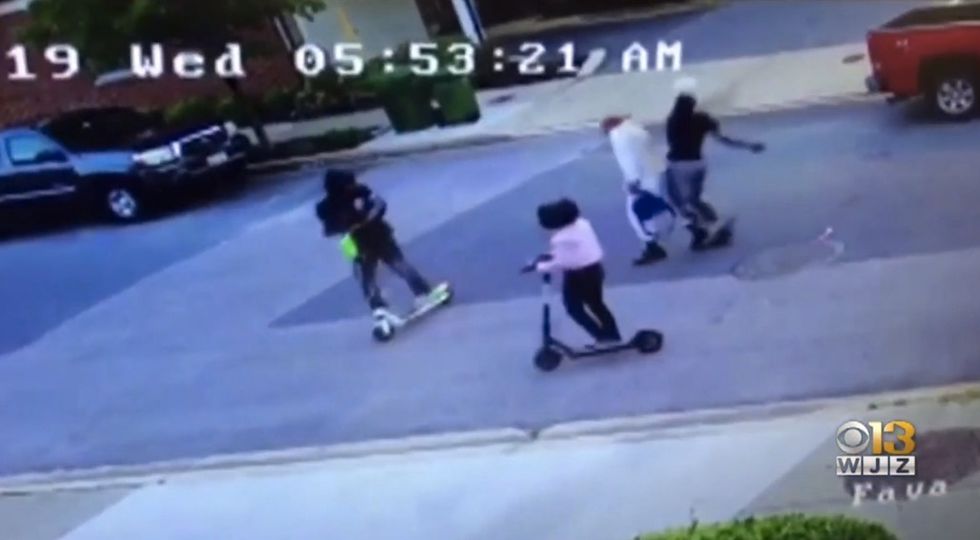 Image source: WJZ-TV video screenshot
The man is knocked to the ground, and his head is stomped on repeatedly until one of the suspects rifles through his pockets. He's left on the street while the trio flees the scene.
The news comes amid President Donald Trump's controversial criticism of U.S. Rep. Elijah Cummings (D-Md.) and the deplorable conditions in major areas of Baltimore that are part of Cummings' congressional district. The attack on the police department civilian employee occurred in Cummings' district.
Trump cited the district's "filthy" and "disgusting, rat and rodent infested mess," and said it's "far worse and more dangerous" than the U.S.-Mexico border and is "considered the Worst in the USA." For that, Trump was widely condemned and accused of racism.
What did the police commissioner say?

When Police Commissioner Michael Harrison was asked about the video, he called it "extremely shocking to the conscience, extremely worrisome and troublesome and disturbing and yes, we are deploying all of our resources in the most aggressive way — but not abusive — to be in as many places as we can to deter it," WJZ reported.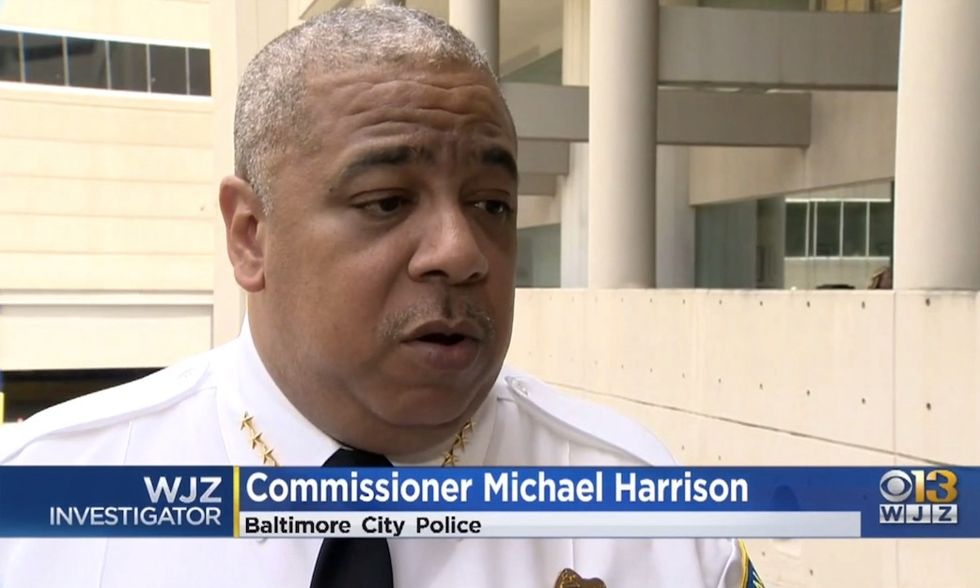 Image source: WJZ-TV video screenshot
Deputy police commissioner robbed at gunpoint

If that weren't enough, Deputy Commissioner Daniel Murphy and his wife were robbed at gunpoint July 19, the station said. Murphy — who followed Harrison to Baltimore from New Orleans — told WJZ the incident won't deter him from his mission.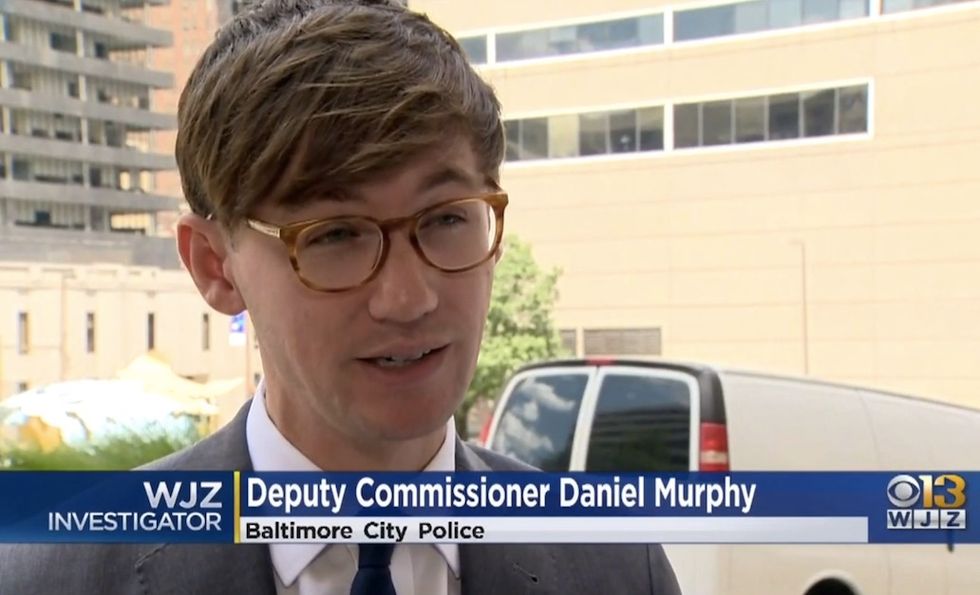 Image source: WJZ-TV video screenshot
"I'm as committed as ever to helping Baltimore," he added to the station. "We came here because there's a tremendous need here for change and we're going to transform this department and help the community. My wife and I are lucky that we're safe. Many in the community have suffered from far worse."
Murphy — like the attacked civilian police department employee — doesn't carry a weapon or a badge, the New York Post reported.

'It appears they have no fear'
Around the corner from the attack on the police department's civilian employee, another video shows people with a child removing a stroller from a minivan Tuesday when a man forces his way into the driver's seat and another person gets into the passenger seat, WJZ reported.
One of the victims is seen jumping up and down to get help, but the suspects drive off with the van, the station said, adding that the child was unharmed.
That same day a woman with a 5-month-old son was pistol-whipped and robbed, and a 59-year-old woman was carjacked, WJZ reported.
"It appears they have no fear, whatsoever," a woman noted to the station. "They have no fear of who sees what they do."
She added to WJZ that officials need to take action and "not just talk. There needs to be punishment."
Carolyn Jackson works in the area and told the station, "It's just getting more evil and more horrifying. They don't even care if anyone sees what they do."
What did the mayor have to say?

Mayor Jack Young told WJZ the violence is unacceptable: "If you're committing crimes out there, we're going to get you."
The FBI and ATF each announced they are offering a $5,000 reward per suspect in the police department civilian employee attack while Metro Crime Stoppers is offering a $2,000 reward and the Council on American-Islamic Relations is offering a $1,000 reward, the station said. .