"When you get vaccinated, you not only protect your own health, that of the family, but also you contribute to the community health by preventing the spread of the virus throughout the community. And in other words, you become a dead end to the virus." ~Dr. Fauci, Face the Nation, May 16, 2021

"Negative efficacy." Get used to that term, because every day more data suggests we are already in the vaccination twilight zone of all pain and no gain – just as with the lockdowns.
It is tearing humanity apart. COVID fascism is the most serious human rights threat we've faced in our lifetimes, and the latest science and data demonstrate that it's all built upon a false premise. While people tuned out the news over the holiday week, many have missed the growing incontrovertible evidence that not only is there risk and zero benefit to taking any of the COVID shots, but there is actually negative efficacy against the virus. In other words, not only does it put you on the hook for known and unknown short-term and long-term injury without stopping COVID, it now actually makes you more vulnerable to COVID.
As you read these latest points, just remember that this is the injection for which police in Europe are now using dogs and batons against those protesting it. All these human rights abuses for a shot that, especially with the new variant, has become moot.
1) 96% of all Omicron cases in Germany among vaccinated: The respected Robert Koch Institute reported last week that among the 4,206 Germans infected with Omicron for whom their vaccination status was known, 95.58% were fully vaccinated. More than a quarter of them had booster shots. Given that the overall background rate for vaccination in Germany is 70%, this means that the shots now have a -87% effectiveness rate against Omicron.
2) Omicron among vaccinated outpacing unvaccinated by 28% in Ontario: The government in Ontario posts continuous data on case rates by vaccination status. The fact that the vaccinated have rapidly overtaken the unvaccinated in new infections demonstrates a clear negative effect of the shots against Omicron.
3) In Denmark, 89.7% of all Omicron cases were among fully vaccinated: As of Dec. 31, just 8.5% of all cases in Denmark were unvaccinated, according to the Statens Serum Institut. Overall, 77.9% of Denmark is fully vaccinated, and Omicron seems to hit younger people for whom there is a greater unvaccinated pool, which indicates clear negative efficacy. Even for non-Omicron variants, the un-injected composed only 23.7% of the cases.

4) Just 25% of the Omicron hospitalizations in the U.K. are unvaccinated: Not only are the vaccinated more likely to contract Omicron, but they are likely more at risk to be hospitalized. While American hospitals put out unverifiable information about "nearly everyone seriously ill with COVID being unvaccinated," the U.K. continues to put out quality continuous data that shows the opposite. According to the U.K.'s Health Security Agency's latest "Omicron daily overview," just 25% of those in the hospital with suspected Omicron cases are unvaccinated.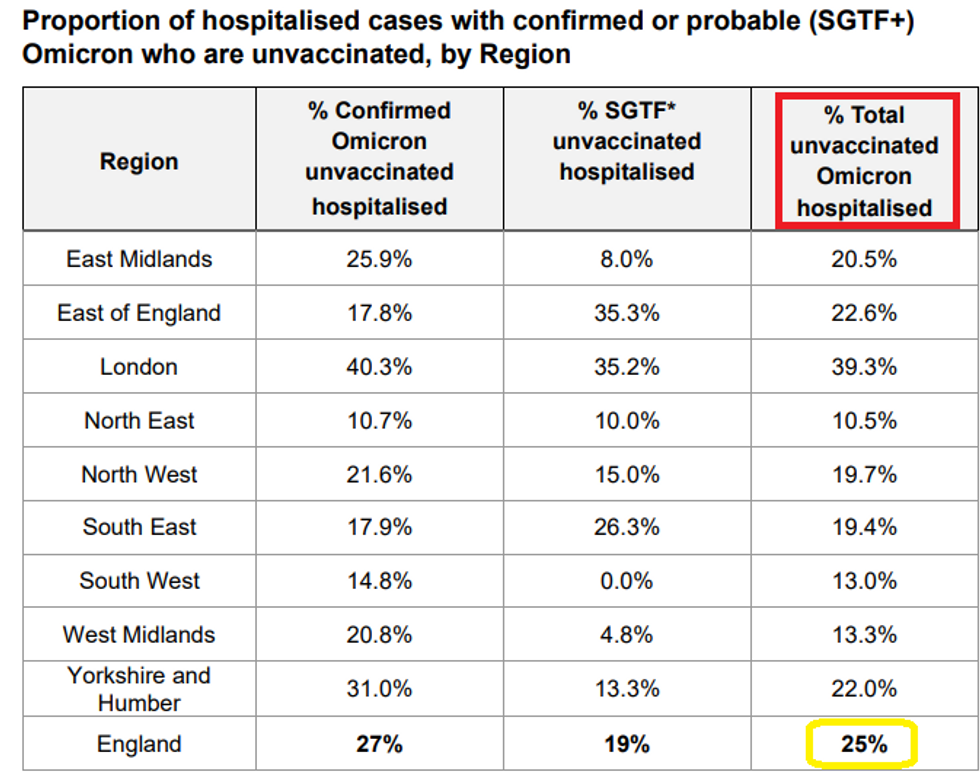 Although that is roughly in line with the percentage of unvaccinated overall in the U.K., we know that Omicron cases are overwhelmingly among younger people who have a greater share of the unvaccinated. Dr. Abdi Mahamud, the WHO's incident manager for COVID, said last week that Omicron has not hit most of the elderly yet.
According to the latest U.K. vaccine surveillance report (p. 21), between 32% and 40% of the age groups under 40 are unvaccinated. Which means that, with a 25% hospitalization rate, the unvaccinated are very possibly underrepresented in the Omicron hospitalized population, which again indicates negative efficacy to the shots.
5) 33 of 34 hospitalizations in Delhi hospital were vaccinated: The Indian Express reported that 33 of the 34 people hospitalized for Omicron in Delhi's Lok Nayak hospital were fully vaccinated. Two of them received the booster shot. While some of them were international travelers, it's important to remember that India has a much lower vaccination rate than the West. This is another small indication that not only might one be more likely to get Omicron after having gotten the shots, but possibly could be more vulnerable to hospitalizations, very likely due to some form of antibody dependent disease enhancement (ADE).
6) Vaccinated exponentially more likely to get re-infected with COVID: A new preprint study from Bangladesh found that among 404 people re-infected with COVID, having been vaccinated made someone 2.45 times more likely to get re-infected with a mild infection, 16.1 times more likely to get a moderate infection, and 3.9 times more likely to be re-infected severely, relative to someone with prior infection who was not vaccinated. Although overall re-infections were rare, vaccination was a greater risk factor of re-infection that co-morbidities!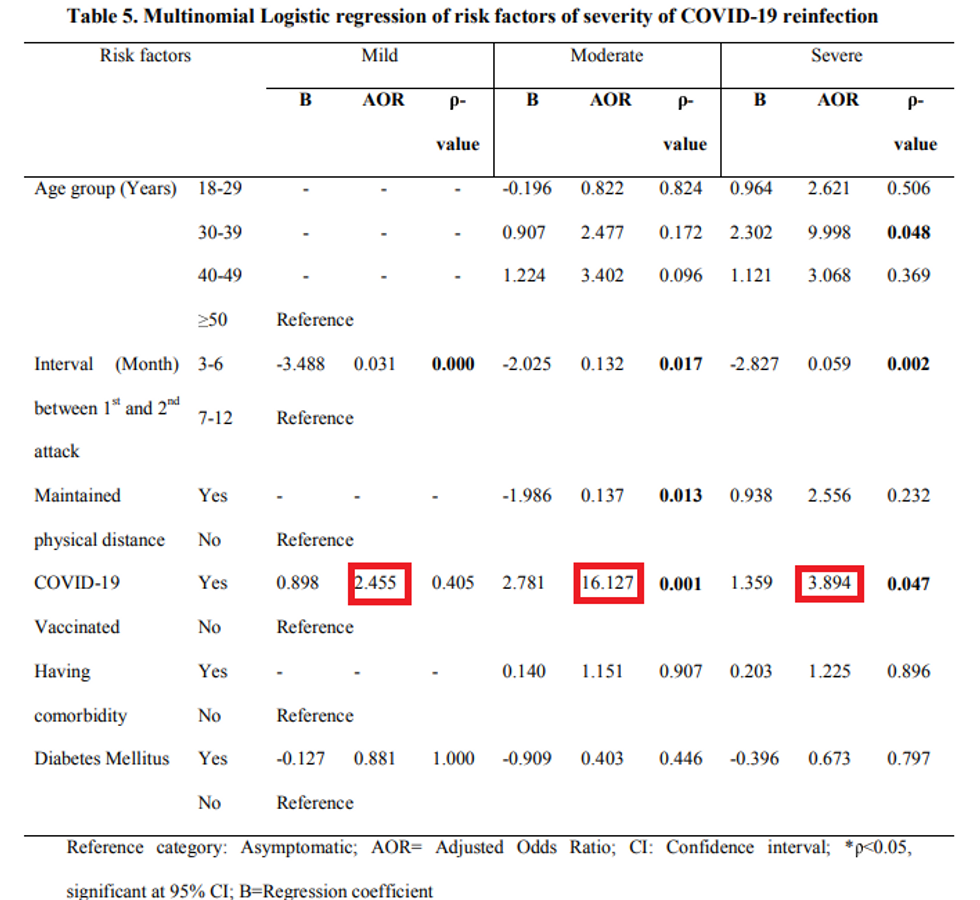 Hence, the findings of this first-in-its-kind study harmonize with what a Public Health England survey found in October; namely, that the vaccines seem to erase a degree of N (nucleocapsid) antibodies generated by prior infection in favor of narrower S (spike) antibodies. "Recent observations from UK Health Security Agency (UKHSA) surveillance data that N antibody levels appear to be lower in individuals who acquire infection following 2 doses of vaccination," stated the week 42 report from the U.K. (p. 23).
This finding also correlates with what researchers from Mount Sinai in New York and Hospital La Paz in Madrid found last year – that the second dose of the vaccine "determines a contraction of the spike-specific T cell response." In that report, researchers already observed that other research has shown "the second vaccination dose appears to exert a detrimental effect in the overall magnitude of the spike-specific humoral response in COVID-19 recovered individuals."
At this point, how is there any benefit, much less a net benefit, from the shots? There are currently 21,000 deaths reported to VAERS, along with 110,000 hospitalizations and over 1 million total adverse events. Most deaths and injuries are never reported to VAERS. Now that the efficacy is, at best, a wash and at worst negative, why are we not discussing the short-term and long-term liabilities of the shots?
Remember, the VAERS numbers don't even begin to quantify the long-term concerns, such as cancer and auto-immune diseases. A heavily redacted analysis of the Pfizer shot (p. 16) from the Australian Therapeutic Goods Agency (TGA) flatly conceded, "Neither genotoxicity nor carcinogenicity studies were performed."

Consider the fact that the CEO of Indiana-based life insurance company OneAmerica, which has been around since 1877, revealed last week that the death rate among 18- to 64-year-old Hoosiers is up 40% from pre-pandemic levels. That is four times above what risk assessors consider catastrophic. Yes, some of this has been due to the virus, but given the age group, OneAmerica CEO Scott Davidson said that most of the claims for deaths being filed are not classified as COVID-19 deaths. Brian Tabor, the president of the Indiana Hospital Association, who spoke at the same news conference as Davidson, said that Indiana hospitals are flooded with patients "with many different conditions." Any wonder what those ailments are if not COVID itself?
Indeed, those who say the injections are a "medical miracle" are correct, just not in the way they meant it.