Those who watched Glenn Beck's special presentation Wednesday night on the origins of SARS-CoV-2 now understand that people like Bill Gates spent over a decade both funding coronavirus gain-of-function research and, curiously, warning about the coming of a coronavirus pandemic. So with Bill Gates insinuating that there might be a smallpox pandemic — an idea we would have laughed off as the ultimate conspiracy theory a few years ago — we should pay close attention.
What is the likelihood that less than two weeks after the most notorious global financier of vaccine research warns about an outbreak of the long-extinct smallpox virus, questionable smallpox vials would show up in a Merck lab? Well, this is the world we now live in, or perhaps the world our globalist overlords have now created.
During a Policy Exchange think tank interview with the chair of the U.K. parliament's Health and Social Care Select Committee and former U.K. Health Secretary Jeremy Hunt, Bill Gates randomly and shockingly warned of a smallpox bioterror attack. "You say, OK, what if a bioterrorist brought smallpox to 10 airports? You know, how would the world respond to that?" asked Gates rhetorically in the creepy Nov. 4 interview with Hunt. "There's naturally caused epidemics and bioterrorism-caused epidemics that could even be way worse than what we experienced today."
There's no evidence of any terrorist organization even focusing on this issue, which was more of a concern among our counterterrorism community during the previous decade.
Fast-forward to Monday night outside Philadelphia, and Yahoo News reported that the CDC is quarantining and the FBI is investigating 15 "questionable vials"that were found in a Merck lab freezer in North Wales, Pa., with 10 labeled as "Vaccinia" and the remaining five labeled as deadly "Smallpox."
As Yahoo reported: "The frozen vials labeled 'Smallpox' were incidentally discovered by a laboratory worker while cleaning out a freezer in a facility that conducts vaccine research in Pennsylvania," the CDC said in a statement to Yahoo News. "CDC, its Administration partners, and law enforcement are investigating the matter and the vials' contents appear intact. The laboratory worker who discovered the vials was wearing gloves and a face mask. We will provide further details as they are available."
"Vaccinia" is related to the pathogen that causes smallpox and was used as the foundation to create the vaccine for smallpox. In fact, the etymology of the word vaccine dates back to the late 18th century when cowpox was used as a precursor to smallpox vaccines. "Cow" in Latin is "vacca."
It is well known that it's illegal for Merck to hold such a vial in a freezer. What is Merck's explanation for having this in its freezer in a random storage locker?
In normal times, we'd dismiss these concerns, but the discovery of a labeled pathogen and at least the symbolism of the antidote beside it – following a warning by the vaccine pope of the world – actually mimics the lead-up to COVID almost perfectly.
A brief history of how we got here: coronavirus and vaccines
For two decades, there was a seamless web of people like Fauci, Gates, Peter Daszak, and Ralph Baric working on coronavirus gain-of-function research, pursuing coronavirus vaccines, and warning about the imminence of an outbreak. So we should take these people seriously when they warn of other outbreaks, because evidently they are "in the know."
Here is just a small segment of the history behind the virus:
Now consider the fact that on Jan. 10, 2017, Fauci delivered a speech at Georgetown University's conference on "Pandemic Preparedness in the Next Administration" and warned that there "definitely" would be another pandemic. He ended his speech (around the 38:25 minute mark) warning "the administration that is going to come in in the next few days" is going to have to deal with a pandemic. After listing some potential pandemics, he boldly predicted, "What is for sure that no matter what, history has told us definitively that it will happen." He added, "The thing we are extraordinarily confident about is that we will see this in the next few years."
It's one thing to say you always have to be ready for an unprecedented pandemic, but to predict definitively with extraordinary confidence that it will happen within a "few years," most certainly falling within the term of the next president? That is downright creepy, given his funding of the very research that likely created the virus.
But perhaps his comments could be dismissed as doomsday prophecy from a man steeped in infectious diseases … if not for a germ war game the Obama administration played with the Trump transition team just three days later, accompanied by an ominous policy change Trump was certainly unaware of. Last March, Obama's homeland security and counterterrorism adviser Lisa Monaco revealed in "Foreign Affairs" that on Jan. 13, 2017, Obama national security officials held a pandemic war game exercise with transition team members from the incoming Trump administration. She described the scenario as follows: "A new virus was spreading with alarming speed, causing global transportation stoppages, supply-chain disruptions, and plunging stock prices. With a vaccine many months away, U.S. health-care infrastructure was severely strained."

However, what she does not reveal, but what Peter Breggin pointed out in his book, "COVID-19 and the Global Predators," is that on that very same day in 2017, the FDA placed a new regulation in the Federal Register that "enhances FDA's authority" to shepherd through policies and products in the event of a "pandemic influenza." Specifically, the regulation "Permit[s] FDA to waive otherwise applicable current good manufacturing practice requirements (e.g., storage or handling) to accommodate emergency response needs" and allows CDC "to create and issue "emergency use instructions" concerning the FDA-approved conditions of use for eligible products."
The "medical products" affected by these changes, which are referred to as "medical countermeasures" (MCMs)," include "drugs (e.g., antivirals and antidotes), biological products (e.g., vaccines, blood products, and biological therapeutics), and devices (e.g., in vitro diagnostics and personal protective equipment)."
There are many more interconnected webs, but fast-forward to October 18, 2019, supposedly two months before the pandemic, and the Gates Foundation, in conjunction with Johns Hopkins University and the World Economic Forum – the three major players in this escapade – held "Event 201," which simulated "an outbreak of a novel zoonotic coronavirus transmitted from bats to pigs to people that eventually becomes efficiently transmissible from person to person, leading to a severe pandemic."
What is the nature of the pathogen? "The pathogen and the disease it causes are modeled largely on SARS, but it is more transmissible in the community setting by people with mild symptoms."
What was the purpose of the simulation? Among other things, "Governments, international organizations, and businesses should plan now for how essential corporate capabilities will be utilized during a large-scale pandemic."
And as they say, the rest is history.
Other important dates and documents in the timeline of the cover-up can be found here.
Deja vu with smallpox?
So when Bill Gates is warning about smallpox right before vials of smallpox are discovered, and in the same week a Maryland woman tests positive for monkeypox, we should pay attention.
But that is not even the punch line. Just like with coronavirus, they were already working on a "cure." On June 4, the CDC randomly approved a smallpox drug, Tembexa (brincidofovir), because "there have been longstanding concerns that the virus that causes smallpox, the variola virus, could be used as a bioweapon."
It is well known that no pharma company will spend hundreds of millions developing a drug for an eradicated disease, on which there is no way to earn billions in profit. Now, even if this drug was around before and they are repurposing it for smallpox, it still costs millions to go through the process. Why?
And speaking of this history of this drug, it sounds eerily similar to the drugs they have approved for COVID, including remdesivir. It turns out that like Gilead's remdesivir and Merck's molnupiravir, brincidofovir was a failed repurposed drug with safety concerns. Its maker, Chimerix, conducted three failed Phase 3 trials for the indication of adenovirus, and it flopped! It also comes with an FDA "black box" warning for use for smallpox, for increased mortality after taking more than just two doses, based on those same failed studies!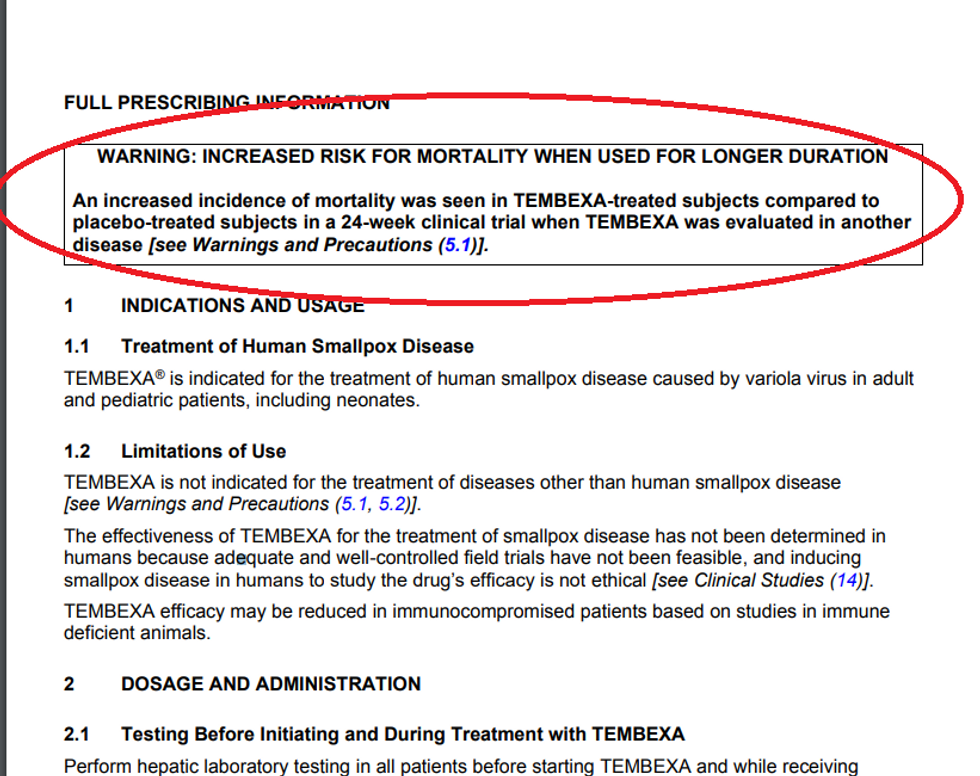 So just like remdesivir, the drug they plan to use is an expensive, on-patent drug, although repurposed. But unlike ivermectin, which was extraordinarily safe and effective for its original use – yet is vociferously opposed by the cabal – these drugs failed miserably in their original indications. Just like the other two failed COVID drugs approved by the FDA – baricitinib and tofacitinib – this smallpox drug comes with an FDA black box warning!
Shockingly, the FDA notes in its June 4 approval letter that it did not conduct any human trials for safety and relied on the "Animal Rule," "which allows findings from adequate and well-controlled animal efficacy studies to serve as the basis of an approval when it is not feasible or ethical to conduct efficacy trials in humans." But that is only when it is proven from previous approved indications to be safe and effective so that it can be repurposed for a secondary indication in its same formulation based on animal studies … you know, like perhaps something like ivermectin being used for antiviral after approval for parasites because it was so safe and effective. But this drug was proven unsafe and ineffective to the point that it never got approval for its primary indication and is now being used for a secondary indication without a human study!
Typically, the cure is created
after
the illness, but in this case perhaps the illness is coming to "cure" what they perceive to be an ailment among we the people. And perhaps the proposed "cures" will look a lot like ailments, just as we have seen with the shots, remdesivir, baricitinib, and tofacitinib – and most likely will see with Merck and Pfizer's new COVID drugs.