On Thursday, Steve Deace, host of the "Steve Deace Show," discussed two strategies he would propose to President Donald Trump — if he were Trump's political director — that could guarantee a victory in 2020.
The problem
In this clip, Deace began by explaining the incongruence between his values and views and those of the current Democratic front-runner, Sen. Kamala Harris, referring to Harris as "Eric Holder in a pantsuit."
Click here to watch the full video.
The map to victory
Deace broke down two potential strategies he would suggest to Trump if he were the president's political director. In a mocking tone, Deace explained his intent to use the "role play" method to layout his two strategic plans, calling them "50 Shades of Deace."
"If I were the political director for 2020 and I want him to win," Deace said, setting the scene, as if Trump were sitting across the desk. "Here's where you should focus your attention."

Pre-emptively, Deace said that he has no clue what people will be talking about when the 2020 election season begins, but as of this day, here's where Trump should focus his efforts.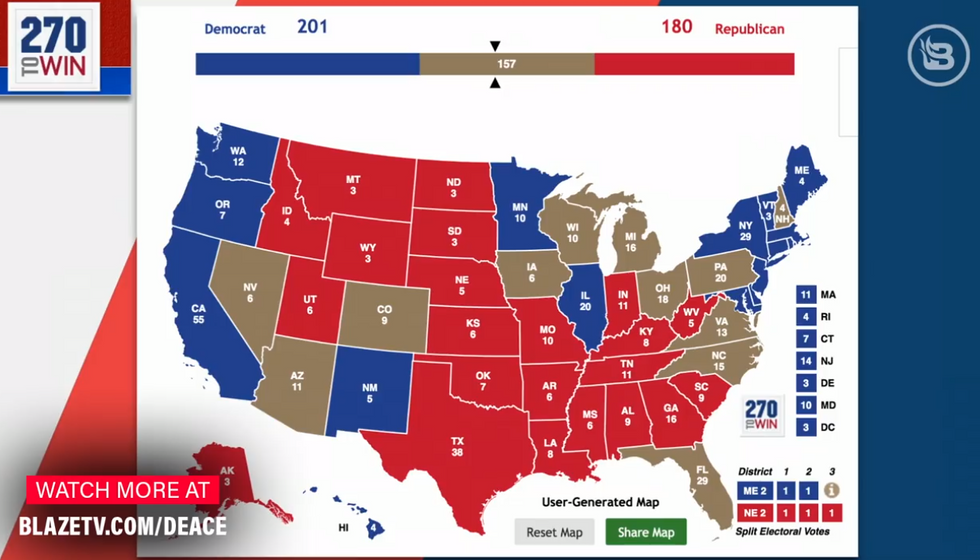 Map: States where Trump has the most viable chance to win.Screenshot from BlazeTV.com
Deace identified potential swing states that Trump could potentially win in 2020:
Nevada
Arizona
Colorado
Iowa
Michigan
Ohio
Pennsylvania
Virginia
North Carolina
Florida
"This is the fairest map imaginable, so this is the map you start with," Deace said. "This is where your win is going to come from."
According to Deace, Trump must build a coalition with the previously identified swing states to garner votes in as many states as possible. He highlighted that Trump's possible win will depend on the strength of the coalition.
He explained that Trump must build his messaging around whether Trump wants to be a national mandate president or if his goal is to get to 270 electoral votes.
For more details about Deace's proposed campaign strategy watch the video above.
Want more from Steve Deace? Enjoy more of Steve's take on national politics, Christian worldview and principled conservatism with a snarky twist by subscribing to BlazeTV, the largest multi-platform network of voices who love America, defend the Constitution and live the American dream.