I'm a quintessential "Rush baby."
My dad had it on all the time. I'll never forget the crackly sound of Rush Limbaugh's voice coming over AM radio in the car—it was as much a part of my childhood as cartoons and swing sets.
And today, Rush Limbaugh is still on my radio every afternoon.
So imagine my dad's surprise when he hears my voice come across the radio waves, pitching a point to none other than the great "Maha-Rushi" himself.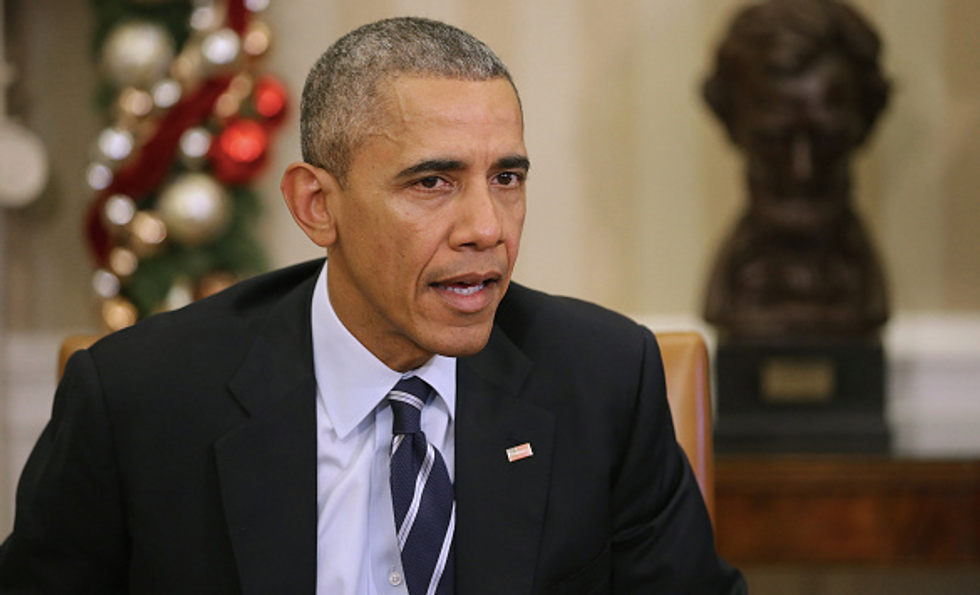 President Barack Obama delivers a statement to the news media after receiving a briefing from his national security team in the Oval Office at the White House December 3, 2015 in Washington, DC. Obama talked about Wednesday's mass shooting in San Bernardino, California, that left 14 people dead and 17 others injured. (Photo by Chip Somodevilla/Getty Images)
On a total whim, I called into the program—and to my utter surprise the phone rang. To my even greater surprise (and those of you who have ever called into a radio program know this is highly unusual), I was on the radio within 60 seconds.
Rush was talking about President Barack Obama's address to the nation (four whole days) following the San Bernardino terrorist attacks, in which he claimed Islamic State isn't Islamic. Instead, they're thugs, and killers, and part of a "cult of death."
(And yes, they are. But we'll get to that in a moment.)
So to review, Islamic State isn't Islamic terror. And by broader application, neither are any of the other global Islamic terror organizations.
You'll also remember that the White House bent over backgrounds trying to avoid calling San Bernardino "terrorism," and continued to claim that there was no evidence to suggest that Syed Farook and Tashfeen Malik were connected with Islamic State (or other terrorist organizations).
My point? (Or rather, my hypothetical question to the president).
Ok, so, Mr. President, if they had no connection to these non-Islamic Islamic terrorist groups, and yet these two terrorized San Bernardino as devoted Islamic militants, how exactly do we define them other than as Islamic terrorists? They killed in the name of Islam, but weren't connected to these non-Islamic terrorist groups … therefore, are they not, by your own definition, Islamic terrorists?
So, my elation from having checked a major item off the bucket list aside—the call with Rush got me thinking. Remember the movie "Liar Liar," where Jim Carey was physically unable to lie for 24 hours? How amazing would it be if our president HAD to answer our questions; if he were physically unable to give politically calculated, perfectly coiffed non-answers? Now THAT would be cool.
And so without further ado:
1. Mr. President, you made it clear that Islamic State isn't Islamic. They are, in your words, "thugs," "killers," and members a "cult of death." Fine, we'll run with that definition momentarily. So tell me: what exactly are you doing to protect us from this obviously uncontained, exponentially growing death cult of thugs and killers?

2. You often hold up the Crusades as an example of how history is rife with examples of our "sinful tendency that pervert and distort our faith." So let me get this straight: it's religion in the case of the Crusades, and it's not religion in the case of Islamic State?

3. Why do you honor Islamic State and their ultimate goals by continuing to refer to them as ISIL? (For those unaware, "ISIL" refers to "The Islamic State of Iraq and the Levant." The Levant includes Israel.)

4. Your plan to deal with Islamic State is to continue the airstrikes, because it "won't require us sending a new generation of Americans overseas to fight and die for another decade on foreign soil." And when you refuse to use these purportedly vital airstrikes against Islamic State's financial lifeblood (the oil fields) because you're concerned about the environment—shouldn't we question your priorities?

5. In the midst of your campaign to "degrade and destroy" Islamic State, would you explain why the Council on American Islamic Relations (CAIR), which just so happens to rub elbows with, take money from, and fund terrorism all over the world, has been welcomed at the White House? Also, they're Islamic—so does that make the terror they fund Islamic, or is that still just bloodthirsty thuggery?

6. You said "Congress should act to make sure no one on a no-fly list is able to buy a gun." Since when did the notoriously flawed, utterly arbitrary no-fly list become the preeminent determiner of who's dangerous? But, assuming it's reliable, would you mind explaining why 73 people on said list were cleared for employment by the Transportation Security Administration?

7. In that same vein, if a person's terroristic connections put them rightfully on this no-fly list, what are they still doing in this country?

8. Would you care to explain why your State Department halted the investigation of the Deobandi movement, which could have led to preventing the San Bernardino attack?

9. Rather than comfort your fellow country following the attack, you chose to allow your attorney general to go out and say that "anti-Muslim rhetoric" would be prosecuted. In fact she called it a "wonderful opportunity to change." Change from what, Mr. President? Where's this mass anti-Islamic bigotry necessitating unconstitutional threats to free speech from your administration? In fact, where are you when it comes to Jewish Americans, who suffer more religious-based hate crimes in this country than all other religions combined?

10. The FBI made its "10th terrorism suspect arrested in the Twin Cities in the past two years" with the apprehension of Abdirizak Mohamed Warsame (an Islamic State recruiter) this past week. How many more Islamic terrorists must be found HERE before you concede that radical Islam is at war with us? (For the record, the day the FBI made this arrest, you were tweeting about climate change, bigotry, and gun control.)

11. How many more Christian men, women and children must be tortured, raped and executed before you start showing concern for those refugees, too? They've literally been marked for death solely and exclusively because of their faith, and yet you and your administration are in utter silence. Where was Attorney General Loretta Lynch and her fiery cries against religious-driven hatred as hundreds of these Christians sat waiting in a deadly limbo on a tarmac in Iraq this last week—ultimately rescued by the privately-driven Nazarene Fund and sent to ONE country in Europe, because our country and so many others won't take them?
At your insistence, we're about to admit the 9,000 Syrian refugees, and not a single one of them will be a Christian. In total, we've admitted an abysmal 53 Christians, and as The Hill puts it, "no matter how horrific the visuals of beheadings, enslavement, and mass murder, the Christians fleeing death do not engender the compassion of this president."
__________
Readers, I know the answers to these questions. Most of YOU know the answers to these questions, and we all know the "Liar Liar" phenomenon isn't going to happen anytime soon.
So what's the point in even asking them?
Because we deserve answers.
It's as simple as that.
Mary Ramirez is a full-time writer, creator of www.afuturefree.com(a political commentary blog), and contributor to The Chris Salcedo Show (TheBlaze Radio Network, Saturday, from noon to 3 p.m. ET). She can be reached at: afuturefree@aol.com; or on Twitter: @AFutureFree
–
TheBlaze contributor channel supports an open discourse on a range of views. The opinions expressed in this channel are solely those of each individual author.