This article was originally published on PolitiChicks.
—
It took a few days for me to mentally process that the Islamic State kidnapped a fellow Northern Arizona University alumni, and reports now confirm that she has been killed.
Last Friday, my Facebook timeline was filled with articles about Kayla Mueller. As I read the articles and saw her picture, I couldn't help but feel a pit in the bottom of my stomach. These stories were now hitting much closer to home.
Tears welled my eyes as I scrolled through the posts, one after another.
Terrorism and the Islamic State were no longer something talked about on TV. It was now in our own backyard. Suddenly, the "War on Terror" took on a whole new meaning.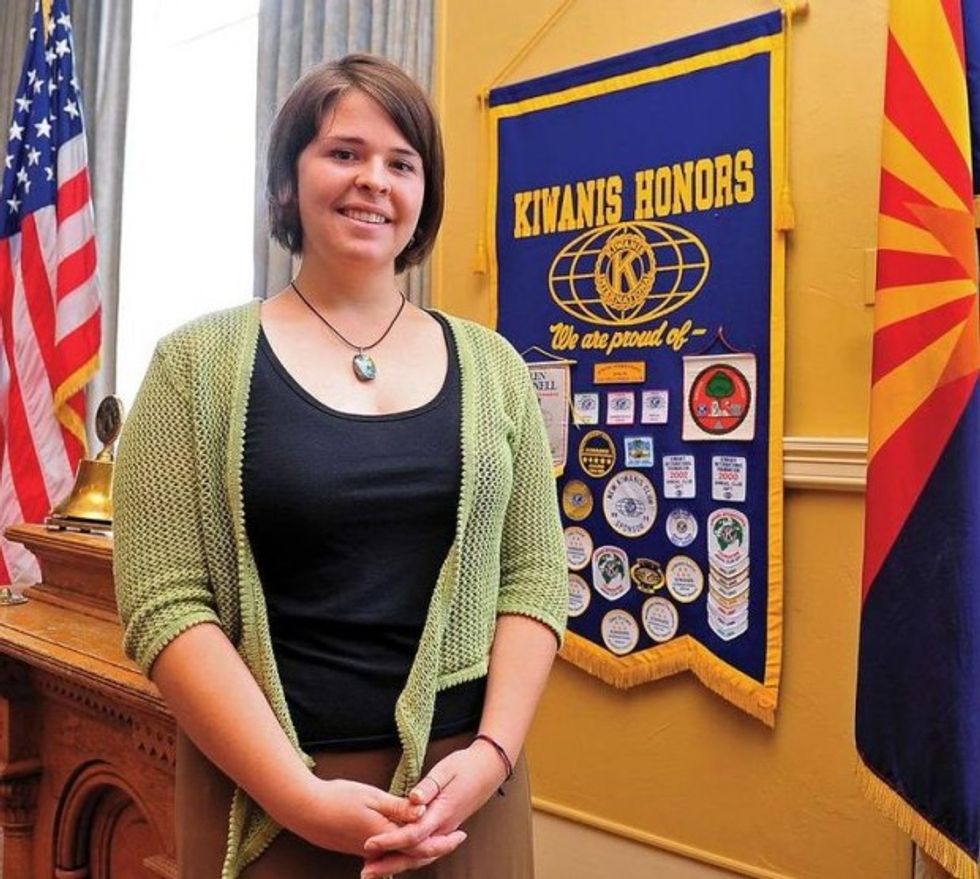 In this May 30, 2013, photo, Kayla Mueller is shown after speaking to a group in Prescott, Ariz. A statement that appeared on a militant website commonly used by the Islamic State group claimed that Mueller was killed in a Jordanian airstrike on Friday, Feb. 6, 2015, on the outskirts of the northern Syrian city of Raqqa, the militant group's main stronghold. Her death was confirmed by the White House on Tuesday. (AP Photo/The Daily Courier, Matt Hinshaw)
This wasn't just a national problem, this was now a personal problem. This was now a personal fight.
Muller graduated from Norther Arizona University in 2009, just a year before I attended the university. She went to Syria as a humanitarian worker to help assist those in a war-torn country. In August 2013, Islamic State kidnapped her. According to a statement released by Arizona Sen. John McCain's office, Mueller "was taken captive by [Islamic State] terrorists while leaving a Doctors Without Borders hospital in Aleppo, Syria."
Based on various reports, the Mueller family were still holding out hope that Kayla was alive. Out of fear of upsetting Islamic State, the family refused media interviews. They had reached out to Islamic State members who were believed to have captured her. They did everything they were supposed to do – but ultimately it didn't matter.
Islamic State members claimed Mueller was killed by a Jordanian air strike, but there was no proof. Today, however, the U.S. has confirmed that she is dead.
"Our hearts are breaking for our only daughter, but we will continue on in peace, dignity, and love for her," her family said in a statement.
My thoughts and prayers go out to a fellow Lumberjack and her family.
To the Mueller family: Your daughter spent her life spreading love and hope to those who so desperately needed it. She made a difference that only a few selfless people can. Though she made the ultimate sacrifice, please know that her life wasn't lost in vain.
—
TheBlaze contributor channel supports an open discourse on a range of views. The opinions expressed in this channel are solely those of each individual author.