According to Forbes, the average NBA player receives a salary of $5.15 million per year.
The highest paid college athlete's salary? Absolutely nothing, and that needs to change.
The NCAA made $871.6 million dollars in 2011-12, the most recent year that audited numbers are available. With March Madness, one of the most highly-sponsored and profitable events the NCAA hosts, their recent earnings are gaining a lot of attention.
While the NCAA gets to call themselves a non-profit organization for only keeping 4 percent of their revenue, college athletes don't get to see a dime of that money. According to the NCAA website, 96 percent is "returned directly to member conferences and institutions or used to support championships and programs that benefit student athletes."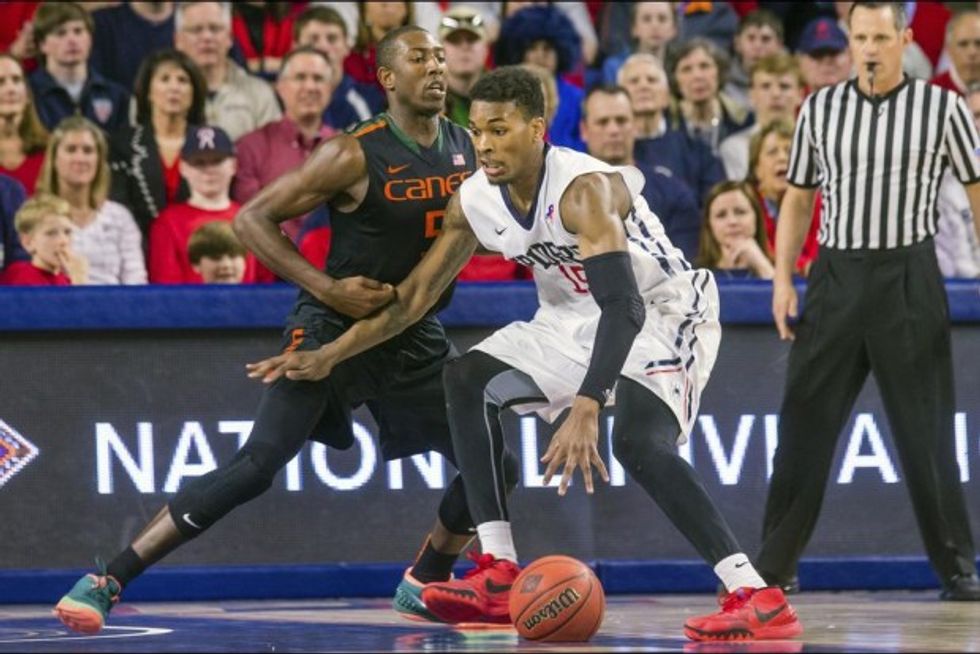 Miami guard Davon Reed, left, defends against Richmond forward Terry Allen, right, during the second half of an NCAA basketball game during the NIT tournament in Richmond, Va., on Tuesday, March 24, 2015. Miami won 63-61. (AP Photo/Zach Gibson)
Benefit them how, exactly? That 96 percent seems like a lot, until you consider that there are top-performing college athletes that are unable to even afford food. A Fox Sports interview with Shabazz Napier shows the former NCAA athlete saying "there's hungry nights, where I'm not able to eat, but I still have to play up to my capabilities."
This is an athlete that is helping the NCAA make millions of dollars, and yet some nights he doesn't have the money to afford food.
In a time where university costs are rising exponentially, college students are under more financial pressure than ever. College athletes, who contrary to popular belief are not always on scholarships, are even more affected by the rising costs. Between weights, practices, games, volunteer activities, and class, most student athletes do not have time for anything else, let alone a part-time job. Unlike other college students, they are not able to do much to help offset their tuition costs. However, if they were being paid for playing their sport, even at minimum wage, I believe we would see a lot less students leaving college after a year to go pro, or quitting their sport to take a job instead.
[sharequote align="center"]Athletes that are helping NCAA make millions and some nights doesn't have money to afford food.[/sharequote]
Although many college athletes have big hopes of making it to the pros, those dreams become reality for only a slim few. According to Business Insider, only 1.7 percent of college football players are drafted by a professional team, and only 1.2 percent of basketball players are drafted.
In addition to these dismal numbers, quite a few players who could have made it in the big leagues are never afforded the chance, due to injuries they sustained during college sports. Not only can becoming injured completely ruin any chances of the athlete getting drafted, but often they are also stuck paying the bill.
The NCAA should at least employ some type of workers compensation for athletes who are injured, since playing in college can actually affect the amount of time they are able to play professionally. Additionally, being injured in college can often have long-term effects on the athletes and their well-being. On average, an NFL player's career lasts 3.3 years, and an NBA player's lasts 4.8. When you factor in four years of college, or four years worth of chances to become injured, that's not much time at all.
These athletes should at least be allowed to make their money in professional sports before they're past their prime, but because of NCAA regulations that rarely happens. Unfortunately, until the NCAA looks at restructuring, or rethinking how college athletes are treated, these trends will continue. We will continue to have injured athletes who never make it big, or athletes without a college diploma, because they dropped out to go pro before they completed it.
Chris Markowski has carried the titles of author, investment banker, equity analyst, muckraker, all around trouble-maker, and most importantly consumer advocate. He is the personality behind Watchdog on Wall Street and founder of Markowski Investments.
–
TheBlaze contributor channel supports an open discourse on a range of views. The opinions expressed in this channel are solely those of each individual author.