My name is Elizabeth Greenaway, and I'm a write-in candidate for delegate and alternate delegate to the Republican National Convention.
I decided to become a candidate because I'm not your stereotypical delegate – I'm 29 and I don't have a long list of prestigious positions within the Republican Party. I did survive college as a conservative – that has to count for something these days, right?
Bottom line is: I'm passionate about Sen. Ted Cruz, but more importantly about the values and principles he fights for and that's what has motivated me to run.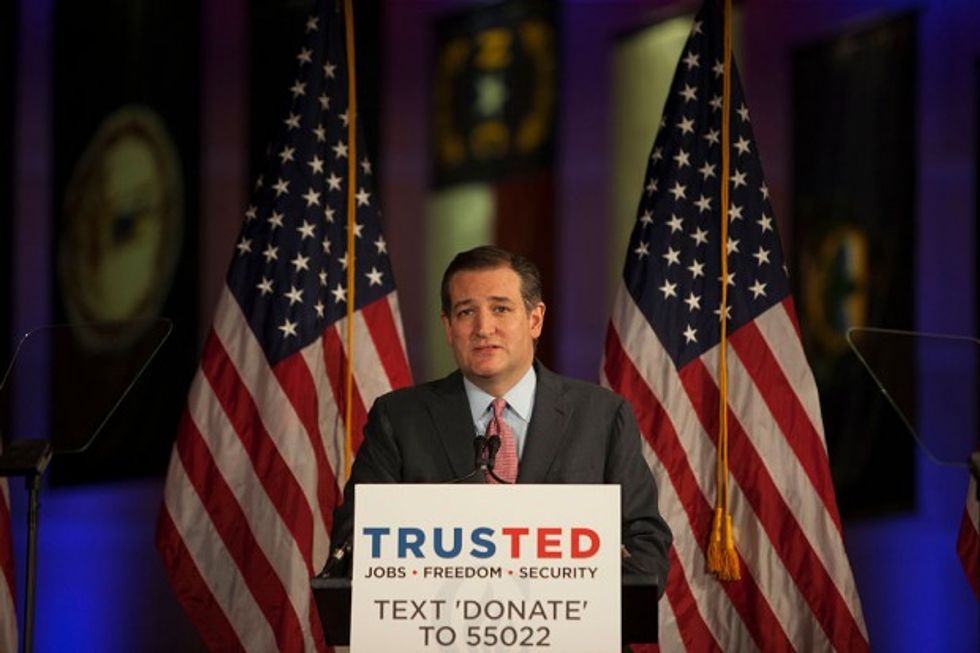 Republican Presidential candidate Senator Ted Cruz (R-TX) speaks at his Pennsylvania kick off event at the National Constitution Center on April 19, 2016 in Philadelphia, Pennsylvania. The Pennsylvania Republican Primary is scheduled for April 26. (Photo by Jessica Kourkounis/Getty Images)
It all started with an absentee ballot. My husband and I had a trip planned to the United Kingdom to visit my cousin who is studying abroad. When we received our absentee ballots in the mail, I did some research on all of the delegate candidates in Pennsylvania's 10th Congressional District and discovered a few were committing their votes to Donald Trump, and the rest were dedicated to voting for whoever won their district.
While I continue to enjoy Trump's ability to say it like it is, without the political jargon, I'm becoming more and more concerned over his policies. Trump recently announced he believes transgender people should use whatever bathroom they choose. This is one of many constant reminders of just how important this primary is, and how important it is that we have a person with values and principles representing the Republican Party.
If you've read any of my other pieces, you know why I've chosen Cruz, despite appreciating some of what Trump has said and done, and why I believe Cruz is the candidate that can really make a difference for us, especially in Pennsylvania. So you can imagine my disappointment when at the conclusion of my delegate research, I had no options to vote for. What's a girl to do, hand in an empty vote for delegates on the ballot? Not when delegates play such a crucial role.
Why do the delegates play such a crucial role? I've talked to many who aren't familiar with the process, and it's important to understand, especially this year.
Pennsylvania has 71 delegates. Seventeen of those delegates go to the candidate who wins the state, the remaining 54 delegates are elected by the congressional districts. Each congressional district elects three delegates and three alternate delegates. These delegates will be representing your district at the Republican National Convention. The reason delegates are so important is because the chances of a brokered convention are high.
What is a brokered convention? In order to get the Republican nomination, a candidate needs 1,237 delegates. Those delegates come in a variety of ways. The bottom line is, if one of the candidates does not receive 1,237 delegates, there is a brokered convention. That means the delegates at the Republican National Convention are extra critical because if there isn't a majority, your delegates can vote however they want and will choose the Republican presidential candidate. So, if you feel strongly about one of the candidates, you want to vote for delegates who are committed to your candidate.
I'm not willing to risk voting in a delegate who may support Trump, John Kasich or some other candidate the establishment Republicans pull out of a hat at the convention. So, I decided the best way to ensure my vote would go to Cruz was to run myself.
A song I heard on the radio this past week by Josh Wilson captures my thinking best, "I don't want to say another empty prayer – I refuse to sit around and wait for someone else to do what God has called me to do myself."
I'm not naïve, I know the road for a write-in candidate is an uphill battle. I'm fortunate to be listed as a write-in candidate on the Ted Cruz campaign materials, but it's still a tough feat. I'm just a passionate young woman who's up for the challenge.
So here I am, Elizabeth Greenaway, write-in candidate for delegate and alternate delegate to the Republican National Convention in the 10th Congressional District. Win or lose, I'll know that I did what I could to make my vote count. I hope you'll do the same by researching your delegate candidates, whether you vote tomorrow in Pennsylvania, or live in another state that has yet to vote.
As a 20-something female, Elizabeth Greenaway is the voice of the future conservative movement. There may not be many millennial conservatives, but we're here and we're passionate about the future.
–
TheBlaze contributor channel supports an open discourse on a range of views. The opinions expressed in this channel are solely those of each individual author.