This week, a report surfaced claiming the NFL had identified a "person of interest" in the league's ongoing investigation commonly known as "deflategate."
Fox Sports and ProFootballTalk claimed the investigation's focus has shifted to a locker room attendant who reportedly is seen on video taking the referee-approved footballs into a bathroom for 90 seconds.

Image: MSNBC screen capture
The question has been posed: Is 90 seconds enough time to change the pressure in 11 of the 12 footballs?
MSNBC host Rachel Maddow wondered the same thing and set out to see if it was possible.
Will Femia, a web producer on Maddow's show, was given a bag of footballs, a pump with a pressure gauge and sent inside a bathroom similar to the one allegedly used by the locker room attendant.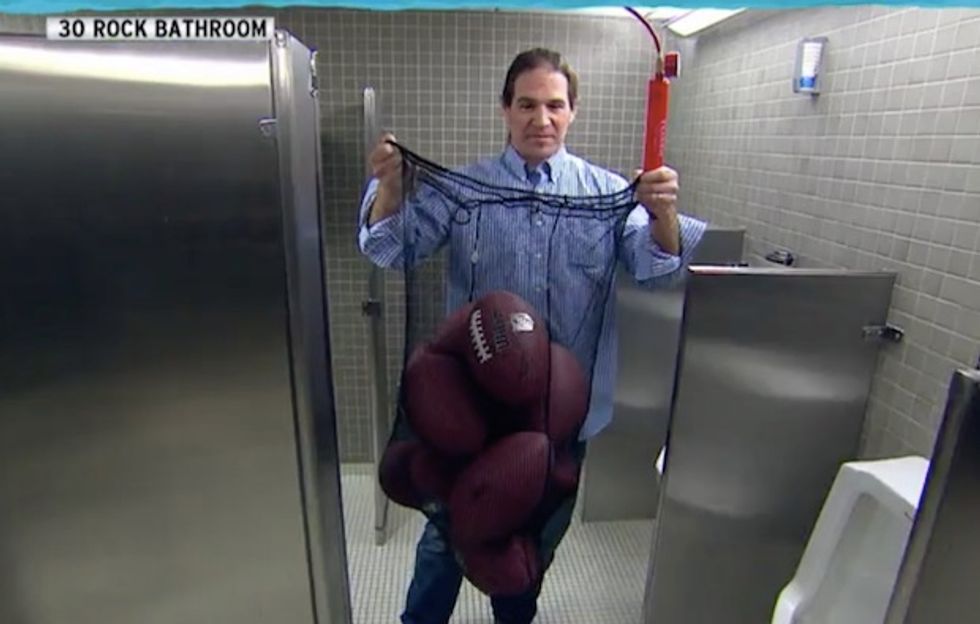 Image: MSNBC screen capture
Was the Maddow web producer able to deflate the footballs in the appointed time? (You can probably guess the answer.)
Watch the unscientific, but revealing re-enactment:
__
Follow Mike Opelka (@Stuntbrain) on Twitter.