A violent mob reportedly overpowered guards at a prison in the Indian city of Dimapur on Thursday and kidnapped a prisoner accused of raping a female student several times. The mob proceeded to strip the man naked, drag his body for four miles and then beat him to death, according to local reports.
The accused, identified as a 35-year-old used car trader, had not been convicted of rape. He was accused of raping a student from a women's college on Feb. 24 and police arrested him the very next day.
Members of the bloodthirsty gang were photographed taking photos and video of the shocking scene, some even smiling. The photos are extremely graphic and disturbing, but can be viewed here.
Sexual assault against women is a pervasive in India. Police and the government in the country recently got a court order to halt the screening of a documentary about a fatal gang rape in which one of the attackers blames the victim. The BBC went ahead and aired the documentary anyway in the UK on Wednesday.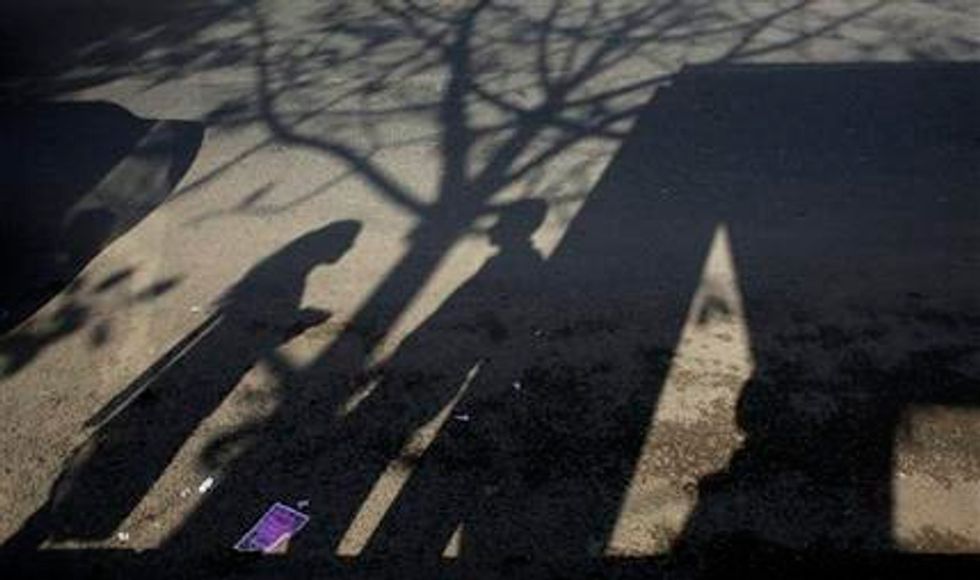 The shadow of an Indian couple is cast on a road at the bus stop where the victim of a deadly gang rape had boarded the bus on Dec. 16, 2012, in New Delhi, India, Wednesday, March 4, 2015. When one of the four men sentenced to death for the high-profile gang rape of the woman in 2012 was quoted in a new documentary as saying "a girl is far more responsible for rape than a boy," he was repeating something community and religious leaders in this nation of 1.2 billion routinely say. Mukesh Singh, who was driving the bus for much of the time that the 23-year-old woman was being attacked, told the documentary film maker that the victim should have remained silent and allowed the rape, and that they would have spared her life. (AP Photo/Altaf Qadri)
Indian attitudes about women are complex and contradictory. The country has had a female prime minister, president, judges and top police officials. The brutality of the 2012 attack shocked the country, and the outcry resulted in tougher laws against sexual harassment and violence, which still is routine.
Women though are generally expected to be submissive, and many families consider the birth of a daughter a tragedy. Illegal sex-selective abortions have left the country with a skewed gender ratio, and girls get less medical care and less education.
The Associated Press contributed to this report.
---