© 2023 Blaze Media LLC. All rights reserved.
Senate bucks Obama, sets vote on bill requiring Congress to approve Iran nuke deal
The Republican and Democratic leaders of the Senate Foreign Relations Committee announced Thursday night that their committee would vote April 14 on legislation to require any Iran nuclear deal to be reviewed by Congress.
The announcement is a direct affront to the Obama administration, which has implored Congress not to take any legislative steps at all related to Iran while negotiations are ongoing to scale back Iran's nuclear ambitions.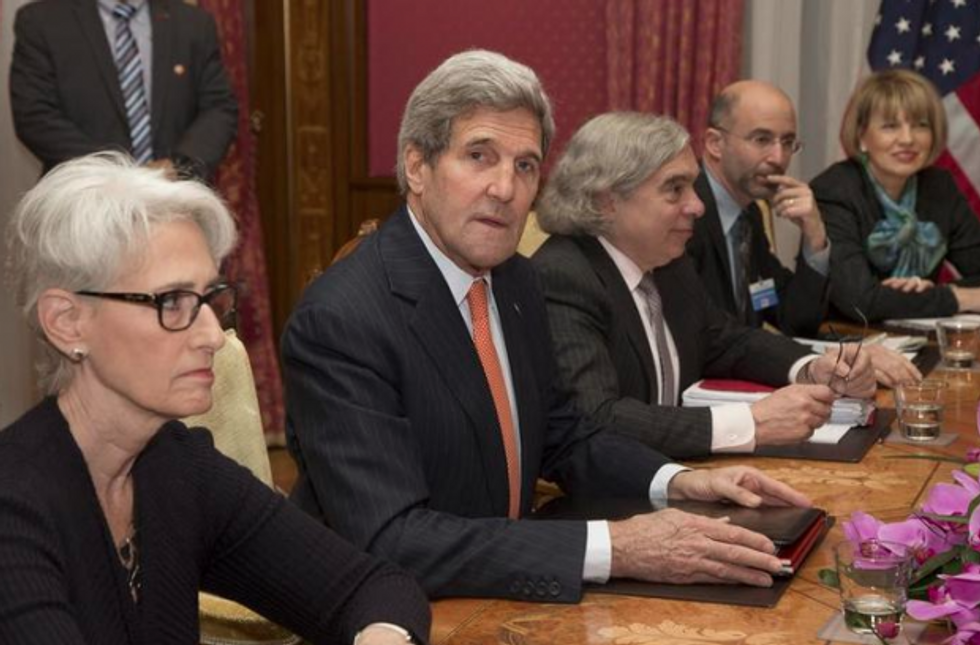 Secretary of State John Kerry is negotiating a nuclear deal with Iran that some say needs to be reviewed by Congress before it can take effect. Image: AP Photo/Brian Snyder, Pool
Earlier Thursday, a top State Department official essentially told Congress that its role will be to ease sanctions against Iran once the time comes, and to do little else.
But members of both parties have rejected that passive role, and say that if Congress will at some point be asked to ease sanctions, it should have more input about the contents of the agreement. The emerging deal has already been sharply criticized by Republicans and Democrats for the freedom it would give Iran after 10 years to pursue weapons again.
Congress has already insisted that the deal be considered a treaty that would be ratified by the Senate, a position the White House opposes. In light of that objection, Committee Chairman Bob Corker (R-Tenn.) and ranking member Bob Menendez (D-N.J.) put together a bill requiring congressional approval.
Their committee is now set to vote on that bill in mid-April, just two weeks after the administration's deadline for reaching a framework agreement with Iran.
"We have been working together very closely to ensure we have the strongest vote possible on the Iran Nuclear Agreement Review Act and to achieve that result, we have agreed to a markup of the bill in the Foreign Relations Committee as soon as we return on Tuesday, April 14," the senators said.
A lot could happen between now and then, especially regarding the state of the talks, and if negotiations collapse, there may not be any need to vote on the bill at all.
If the talks continue, the Senate announcement gives Congress a clear path toward requiring congressional approval of any deal as it continues to be negotiated.
With Menendez and other Democrats on board, it seems likely that the bill could easily pass through the Senate, even with the upper chambers requirement of a super majority vote to advance legislation. Passage in the House would be very easy, since only a supermajority would be needed.
Want to leave a tip?
We answer to you. Help keep our content free of advertisers and big tech censorship by leaving a tip today.
more stories
Sign up for the Blaze newsletter
By signing up, you agree to our
Privacy Policy
and
Terms of Use
, and agree to receive content that may sometimes include advertisements. You may opt out at any time.