The image of an oil-covered otter, who would later be named Olive, garnered media attention and a collective "aww" in 2009 when she found clinging to life on a Santa Cruz beach. Olive might have been rescued from this scene but on Sunday, she was found on the beach again, this time with fatal wounds.
"Our examination found wounds consistent with a shark bite, and we recovered a large, serrated tooth fragment from a white shark in one of the wounds," the California Department of Fish and Wildlife wrote on Olive's Facebook page, which has more than 5,000 likes.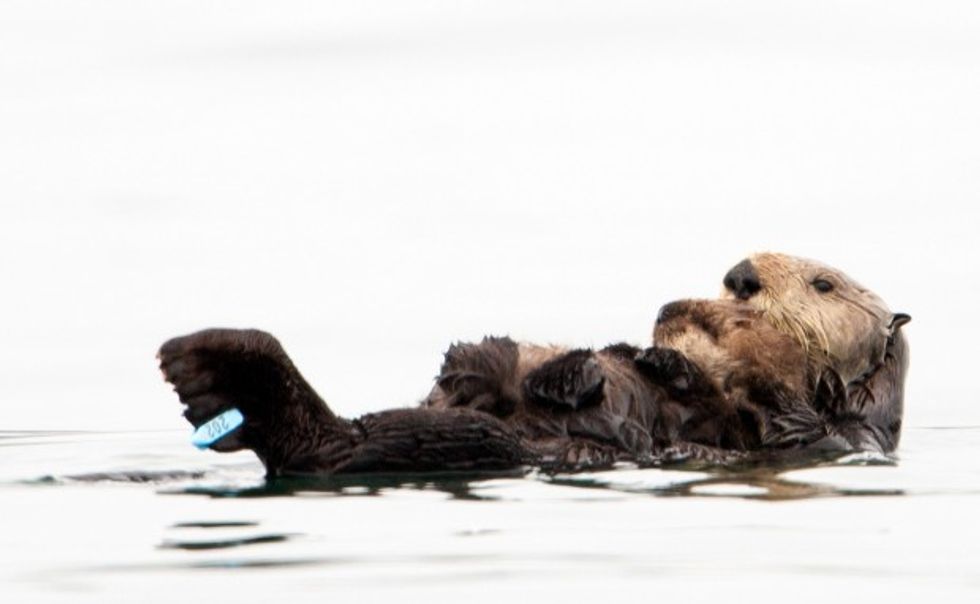 In this photo taken by the U.S. Geological Survey and provided by the California Department of Fish and Game, a sea otter holds her pup at Seacliff State Beach near Aptos, Calif., on, Sept. 10, 2012 file photo.  The California Department of Fish and Wildlife says Olive was found dead by a beachgoer on Sunday March 22, 2015. (AP/U.S. Geological Survey, Joe Tomoleoni)
The wounded otter was reported by a beachgoer at Sunset State beach Sunday.
"Shark bites are currently the leading cause of mortality of southern sea otters, and we've documented an alarming increase in shark bite mortality over the last five years. As far as we know, white sharks don't actually consume sea otters, but otters rarely survive the bite," the post continued.
"Although we are extremely saddened by the death of Olive, we are grateful for the opportunity we had to learn from and about her," the department said. "Olive's success in the wild after being oiled demonstrated the value of washing and rehabilitating oiled wildlife. She thrived in the wild and successfully gave birth to and weaned [three] healthy pups, making a great contribution to the southern sea otter population, which is listed as Threatened under the Endangered Species Act.
"Olive also served as an ambassador for her species and other wildlife affected by oil. Her story has attracted the attention of people around the globe, which has provided a platform to share important information about sea otters, oiled wildlife, oil spills, and other threatened/endangered species," the Facebook post stated.