Story by the Associated Press; curated by Dave Urbanski
INDIANAPOLIS (AP) — Justise Winslow scored 19 points and Jahlil Okafor added 18 to lead top-seeded Duke to an 81-61 victory over Michigan State on Saturday and into the national championship game.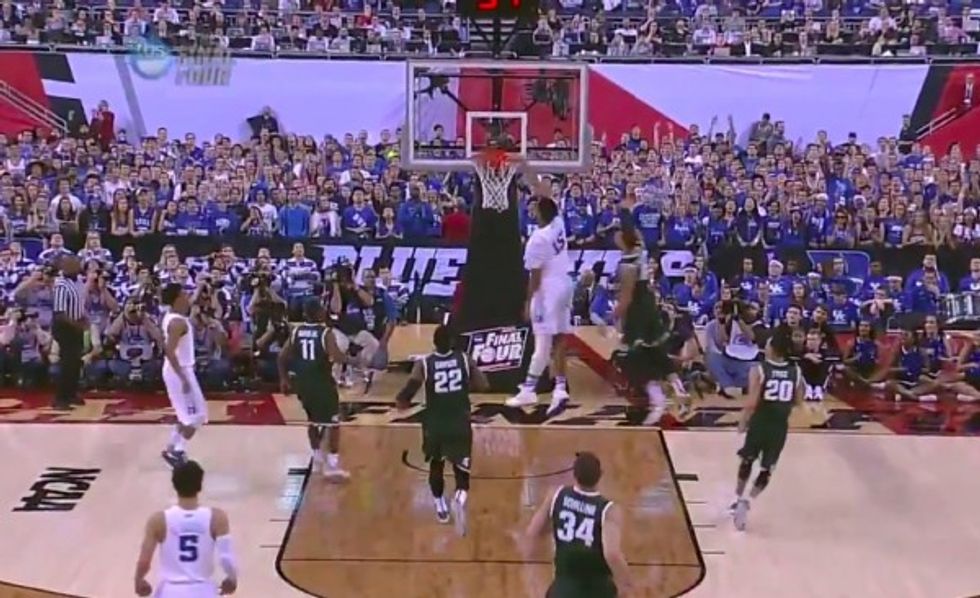 Duke's Jahlil Okafor slams one home. (Image source: YouTube)
The two freshmen put up some impressive stats in the first Final Four game. Winslow, who played through some early foul trouble, had nine rebounds and was 5 for 7 from the field, while Okafor grabbed six rebounds and was 7 for 11 from the field.
Senior Quinn Cook had 17 points for the Blue Devils, who dominated the game except for the opening minutes when they trailed 14-6.
Defensively, it was a team effort, just the way coach Mike Krzyzewski has stressed for his 35 seasons at Duke. What had been wide open 3-pointers early for Michigan State became contested shots and when the Blue Devils started getting up and on the Spartans, the points were suddenly tough to come by.
This story has been updated.
—
Follow Dave Urbanski (@DaveVUrbanski) on Twitter