Dash cam footage has captured the heroic act of on South Carolina sheriff's deputy who is now being credited with saving a woman's life.
The daring rescue happened Monday in Spartanburg, South Carolina, on a bride that crosses over Interstate Highway 26. That's where the Spartanburg County officer said he saw the woman sitting, dangling her legs off the edge, WHNS reported.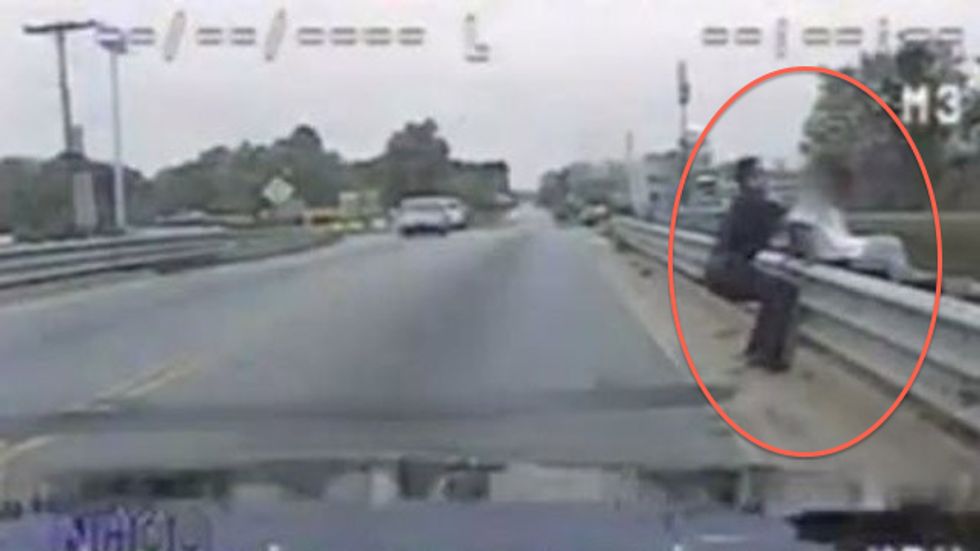 Image source: WHNS-T

The officer, whose name was not released, asked the woman what she was doing.
"Just looking for my way out and being at peace," she replied.
The officer is then seen on the dash cam walking up slowly behind the woman, battling to spare her life.
"Give me your hands. You are not going out like this today. Stop fighting," the officer said as he clutched her underneath both arms to pull her away.
The unidentified woman was then taken to a nearby gas station where she was evaluated by an emergency medical crew.
Watch the daring rescue (note there's no sound):
(H/T: WHNS-TV)
–
Follow Jon Street (@JonStreet) on Twitter