Glenn Beck has called musician and Village Voice columnist Andrew W.K. "one of the most important voices to unite America," and on Tuesday, Beck asked W.K. to weigh in on some of the controversies of the day.
"He's not your typical American rock star," Beck explained on his television program. "He is a thinker. ... He focuses on everything positive and finding the good in life."
Beck first asked W.K. to weigh in on the outrage directed at Michael Buble after the singer posted an image of a woman wearing "short-shorts" with the caption: "There was something about this photo lu took ,that seemed worthy of instagram. #myhumps #babygotback #hungryshorts #onlyinmiami #picoftheday #beautifulbum."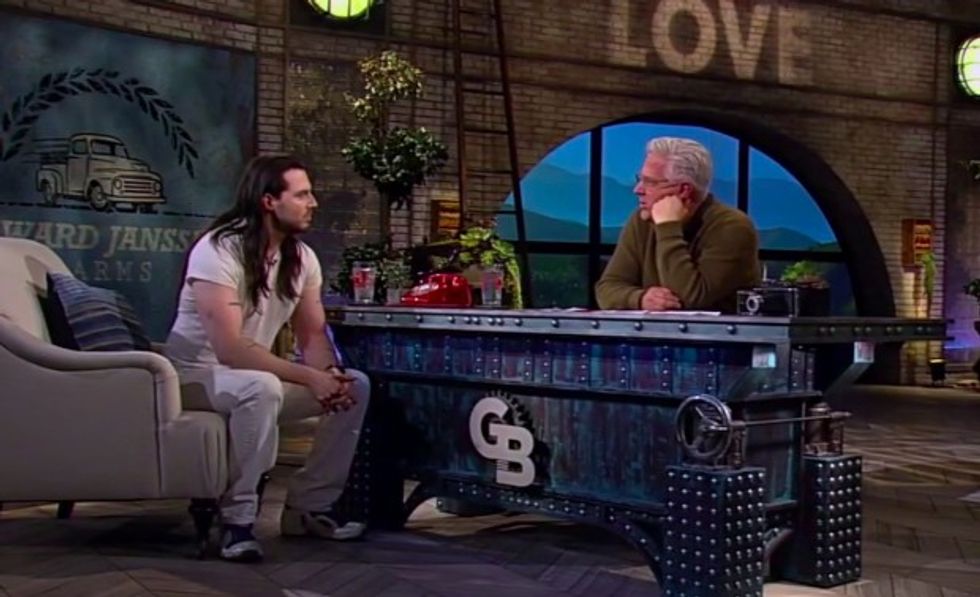 Musician and "philosopher of partying" Andrew W.K. appears on The Glenn Beck Program April 21, 2015. (Photo: TheBlaze TV)
"I thought many things about this situation. The first one obviously was, there wasn't a lot of forethought that went into him posting this picture," W.K. said. "It reminded me of a photo that you would take with a mannequin, or a photo on a wall because they're not real people. This is a real person."
W.K. said "maybe a little better manners" could have helped Buble in the situation, or "a little more consideration for the fact that this isn't a mannequin or a drawing or a painting."
But W.K. was clear that Buble is not the only person who has acted this way, and "there's got to be something good we can get out of it."
"Have I ever done something like this before?" he asked. "Let's see what I can do to make myself a better person."
W.K. had a similar reaction to ESPN reporter Britt McHenry's decision to berate a tow lot employee in a "meltdown" caught on camera. He said many people behave differently when they know they're being filmed, but it's important to remember to "hold yourself to a higher standard" and "try to behave better" even when no one is watching.
And when it came to those threatening to destroy Memories Pizza in Indiana because the owners said they wouldn't cater a gay wedding, W.K. remarked: "It's hating people that hate people, and then you end up hating yourself because you're someone who hates people. The group you happen to hate is a group that hates other people, but you're engaging in the exact same thing. Somebody has to pull back and remove themselves from that cycle."
[mlbvideo content_id=82593983]
The full episode of The Glenn Beck Program, along with many other live-streaming shows and thousands of hours of on-demand content, is available on just about any digital device. Click here to watch every Glenn Beck episode from the past 30 days for just $1!