Mitt Romney blasted Democratic presidential candidate Hillary Clinton Thursday, telling radio show host Hugh Hewitt that he was "stunned" when he read the New York Times report documenting cash flowing from the Russians amid a uranium deal.
"You know, I've got to tell you, I was stunned by it," Romney said. "I mean, it looks like bribery."
[sharequote align="center"]"You know, I've got to tell you, I was stunned by it."[/sharequote]
"I mean, there is every appearance that Hillary Clinton was bribed to grease the sale of, what, 20-percent of America's uranium production to Russia, and then it was covered up by lying about a meeting at her home with the principals, and by erasing emails," the former Massachusetts governor added. And you know, I presume we might know for sure whether there was or was not bribery if she hadn't wiped out thousands of emails."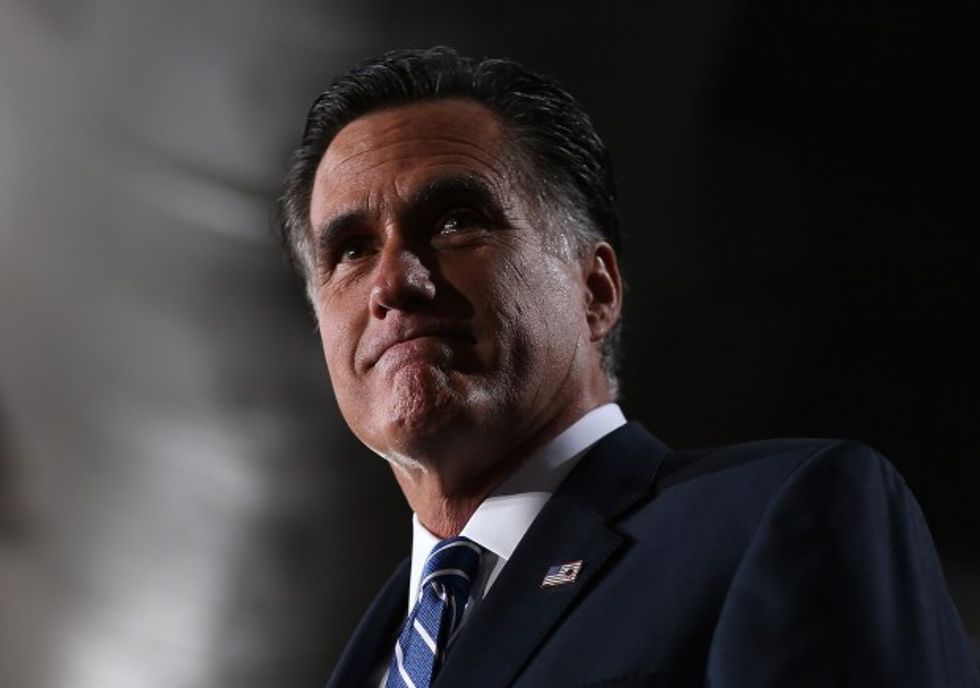 Justin Sullivan/Getty Images
"But this is a very, very serious series of facts, and it looks like bribery."
Asked to react to Clinton's campaign saying that "no one has produced a shred of evidence" that supports the claim, Romney said the report was very clear.
"Well, it's blah, blah, blah," he said. "The story that came from the New York Times is pretty straightforward, which is that millions upon millions of dollars were given to the Clinton Foundation at the same time by a group of people who had uranium assets, and shortly thereafter, these people came to the State Department for approval to be able to sell these assets to Russia for a huge price tag. And those are the facts."
"And if those things are connected, as they certainly seem to be, it's a form of bribery," Romney added. "And that's what it appears to be, and that is of course what's going to have to be delved into, and I'm afraid this is a, this is bigger than just her presidential campaign. I mean, this is a question about whether or not the United States secretary of state was bribed to grease the sale of strategic assets to Russia."
—
Follow Oliver Darcy (@oliverdarcy) on Twitter