CLEVELAND (AP) -- Cleveland agreed to sweeping changes in how its police officers use force, treat the community and deal with the mentally ill, under a settlement announced Tuesday with the federal government that will put the 1,500-member department under an independent monitor.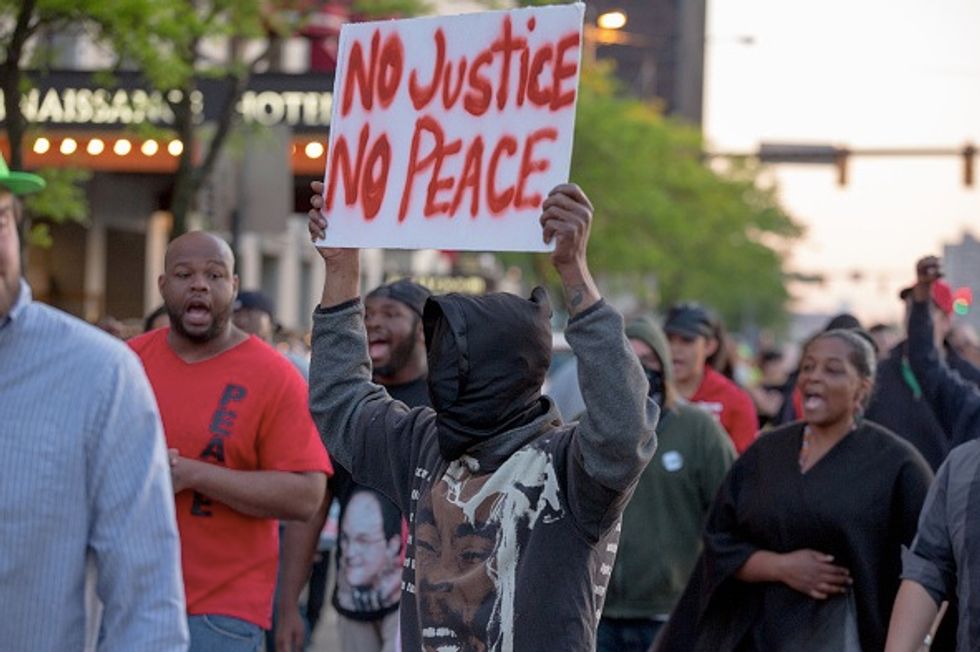 Protesters outside of Tower City in Public Square demonstrate in reaction to Cleveland police officer Michael Brelo being acquitted of manslaughter charges after he shot two people at the end of a 2012 car chase in which officers fired 137 shots May 23, 2015 in Cleveland, Ohio. (Image source: Ricky Rhodes/Getty Images)
The settlement was made public three days after a white Cleveland patrolman was acquitted of manslaughter for his role in a 137-shot barrage of police gunfire that left two unarmed black suspects dead in a car in 2012.
Mayor Frank Jackson said the ambitious plan that was worked out over five months of negotiations with the U.S. Justice Department will be expensive and will take years to put in place. But he said he sees it as a chance to set an example for other cities.
The proposed reforms come amid tension around the U.S. over a string of cases in which blacks died at the hands of police.
"As we move forward, it is my strong belief that as other cities across this country address and look at their police issues in their communities, they will be able to say, `Let's look at Cleveland because Cleveland has done it right,'" Jackson said.
In December, after an 18-month investigation prompted in part by the 2012 shooting, the Justice Department issued a scathing report accusing Cleveland police of a pattern of excessive force and other abuses.
The settlement is an expansive list of items aimed at easing tensions between the police and the city's residents, especially in the black community. Cleveland is 53 percent black. About two-thirds of its police officers are white. The mayor and the police chief are black.
The reforms were outlined in a 105-page consent decree filed in federal court. It calls for new guidelines and training in the use of force; a switch to community policing, in which officers work closely with their neighborhoods; an overhaul of the machinery for investigating misconduct allegations; modernization of police computer technology; and new training in avoiding racial stereotyping and dealing with the mentally ill.
An independent monitor approved by the court will oversee the police force's compliance. Several other police departments around the country, including those in Seattle and New Orleans, are operating under federal consent decrees that involve independent oversight.
The worst examples of excessive force in the Justice Department report involved officers who endangered lives by shooting at suspects and cars, hit people over the head with guns and used stun guns on handcuffed suspects. Only six officers had been suspended for improper use of force over a three-year period.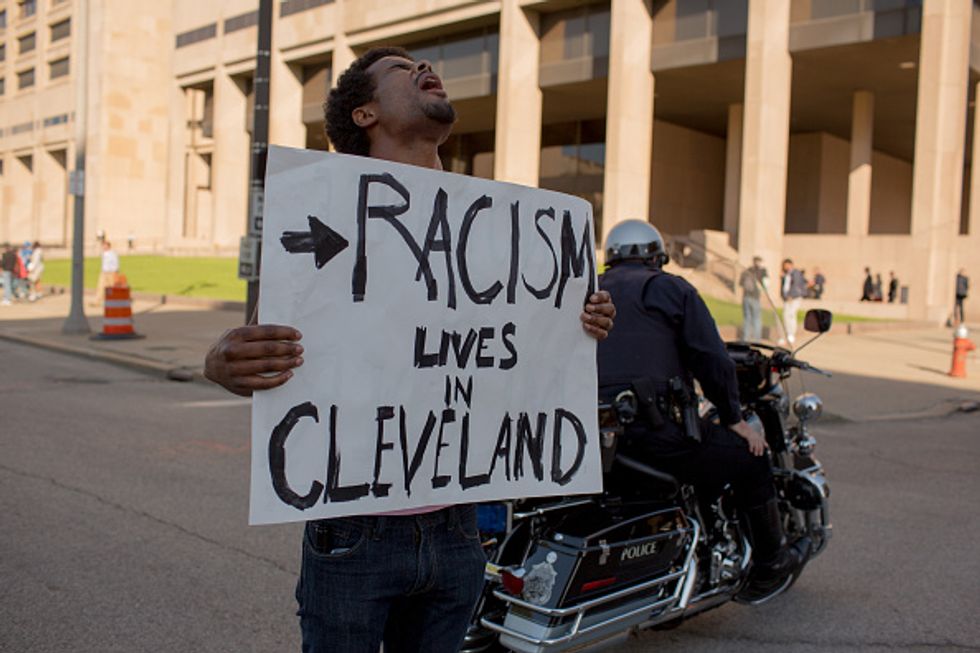 Tanis Quach, of Cleveland, protests in front of the Justice Building. People take to the streets and protest in reaction to Cleveland police officer Michael Brelo being acquitted of manslaughter charges after he shot two people at the end of a 2012 car chase in which officers fired 137 shots May 23, 2015 in Cleveland, Ohio. After leading police on a 20-mile chase, Timothy Russell and Malissa Williams were shot dead after Officer Brelo jumped onto the hood of the car and unleashing a fatal barrage of gunfire. on May 23, 2015 in Cleveland, Ohio. (Image via Ricky Rhodes/Getty Images)
The city is still awaiting a decision on whether any officers will be prosecuted in two other deaths: that of Tamir Rice, a 12-year-old black boy who was killed by a white rookie patrolman last November while playing with what turned out to be a pellet gun, and that of 37-year-old Tanisha Anderson, a mentally ill woman who suffocated last fall after she was subdued on the ground and handcuffed.
U.S. Attorney Steven M. Dettelbach said that the overhaul "will help ensure the many brave men and women of the Cleveland Division of Police can do their jobs not only constitutionally, but also more safely and effectively."
Steve Loomis, president of the Cleveland Police Patrolmen's Association, said he and the union's attorneys are still studying the agreement.
"I'm hopeful it has reached some good conclusions," Loomis said. "But the devil is always in the details for these kinds of things."
Attorney James Hardiman, chairman of the NAACP Criminal Justice Committee, said his organization is looking at the agreement "with a fine-tooth comb," but added: "If I can assume everything I was told is true, it sounds like a pretty comprehensive agreement."
The mayor said that when the reforms take hold, community policing will become "part of our DNA."
The Justice Department has launched broad investigations into the practices of more than 20 police forces in the past five years, including agencies in Ferguson, Missouri, and, most recently, in Baltimore. Both cities were convulsed by violence and protests in recent months over the police-involved deaths of black men.
Then-Attorney General Eric Holder said in December that the Justice Department has intervened in 15 police departments in the country, including eight that are operating under court-ordered consent decrees.
Saturday's verdict by a judge in favor of Patrolman Michael Brelo led to a day of mostly peaceful protests but also more than 70 arrests. Dozens of church parishioners also protested the acquittal in a downtown march Tuesday afternoon just before officials announced the settlement.
Cleveland has paid a total of $3 million to the families of the victims in the 2012 shooting, Timothy Russell and Malissa Williams. They were gunned down at the end of a 22-mile car chase that began when police mistook automobile backfire for gunshots.
Thirteen officers in all shot at the car; Brelo jumped onto the hood and fired the last 15 shots through the windshield.