After Tiger Woods shot a 10-over-par 80 in Thursday's opening round of this week's U.S. Open, even casual golf fans knew he was in trouble.
How rare is it for Woods to score in the 80s? The New York Times reports that in his best playing days, Woods notched 1,000 rounds of golf with just a single round in the 80s. Now, Woods has scored in the 80s in two of his last three rounds.
Woods' dismal opening round also featured a shot that made sports highlight reels around the world, and not for a good reason. The former No. 1 golfer in the world was attempting to shoot his ball out of the rough and back into the fairway. The ball did not make it back into the short grass of the fairway and his golf club flew out of his hands.
Going into Friday's second round, Woods knew he needed some magic in order to qualify for the final two days of play in the U.S. Open, a tournament he has won three times in the past, in 2000, 2003 and 2008.
The round did not start well for Woods. On the very first hole, his ball ended up in the rough, on a hill. As he approached, the hillside got the better of Woods and sent him tumbling to the ground.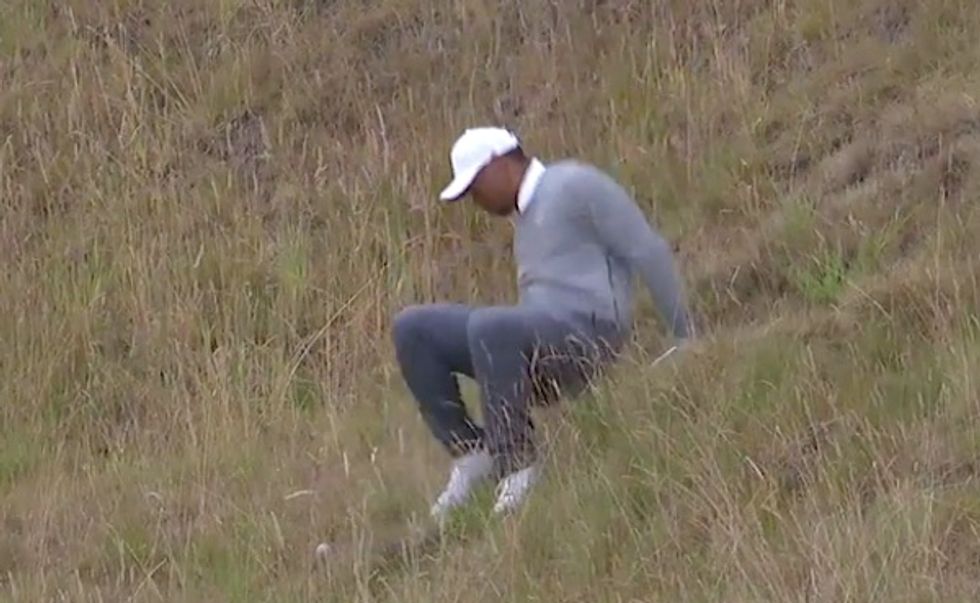 Image source: YouTube
After regaining his composure, Woods finished the hole with a bogey.
The rest of the round was as unspectacular as the first hole and Woods finished the day with a six-over-par, 76. At the press tent after the round, Woods told reporters, "Got off to a bad start and just couldn't quite get it turned around."
His two-day total had Woods finishing well off the lead at 154th place, missing the cut at the U.S. Open for just the second time in his professional career, and just the fifth time he's missed the cut in any professional tournament he has entered.
Saturday morning finds two Americans, Jordan Spieth and Patrick Reed atop the leaderboard at the U.S. Open.
__
Follow Mike Opelka (@Stuntbrain) on Twitter