Google's analysis of search trends reveals that "gun shop" was searched more frequently in 2014 compared to "gun control." But in the three days following the shooting in Charleston, South Carolina, on the night of June 17, search popularity for the terms flip flopped.
"Gun control" or "Gun shop"? Which is more searched on Google by state? https://t.co/FSIUZm9egb pic.twitter.com/N1Nx4Uv3SF

— GoogleTrends (@GoogleTrends) June 21, 2015
In the wake of the shooting at Emanuel African Methodist Episcopal Church where nine people were killed, there were renewed calls for stricter gun control laws. Google Trends makes no speculation as to whether the searches for "gun control" during this time were for, against or just seeking information on the topic following the shooting.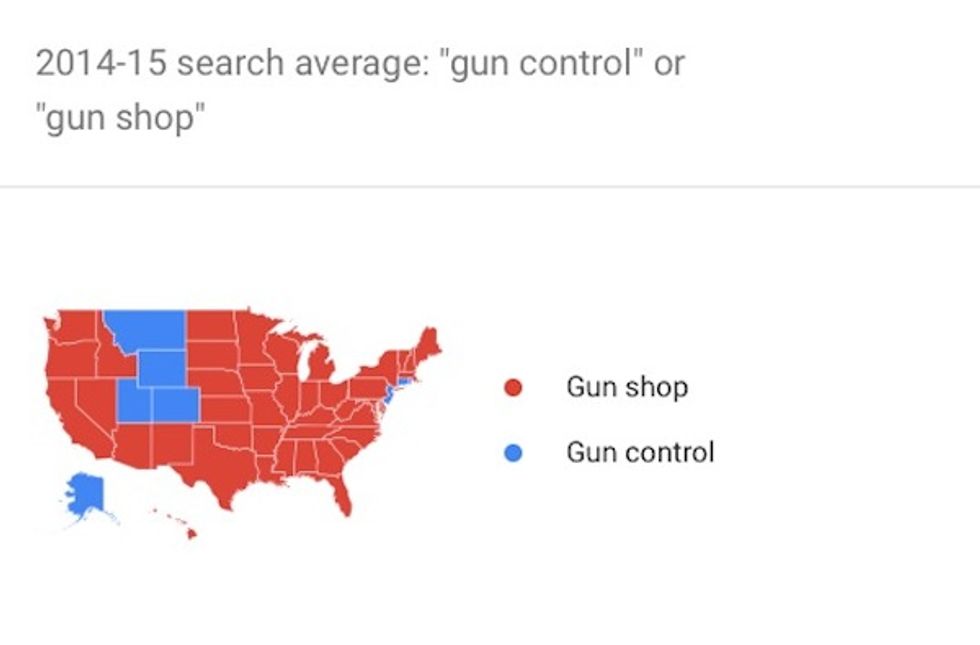 Image source: Google Trends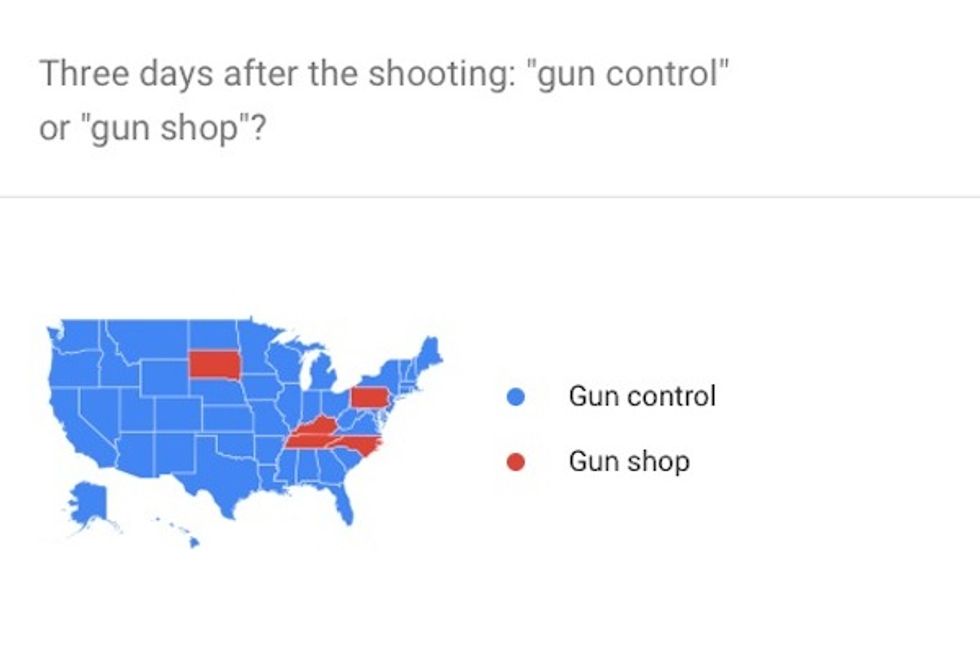 Image source: Google Trends
"I'd like to say these shootings in Charleston will be a turning point, enough for Congress to fight back against the gun lobby and take some serious action about gun laws," Chelsea Parsons, who oversees gun policy for the liberal Center for American Progress, said following the attack. "But I don't want to be naive."
New Jersey Gov. Chris Christie told the Faith and Freedom Coalition conference after the shooting that laws would not change such attacks.
"Only the good will and love of the American people can let those folks know that that act is unacceptable, disgraceful," he said.
White House press secretary Josh Earnest though told TheBlaze this week that more gun control might not have stopped this attack as well.
"The reason the president has continued to forcefully encourage Congress to take some common-sense steps to reduce gun violence is not with the idea that one piece of legislation would prevent every instance of gun violence," Earnest said.
"The fact is this particular instance is still under investigation and so until we know more about what exactly has happened, or what did happen in this instance, it's difficult to say whether one piece of legislation or one rule if changed could have prevented this particular action."
Google's trend analysis of terms related to the Charleston shooting also has a graph showing interest in the Confederate flag. Since the shooting, which was deemed a hate crime, companies, schools, lawmakers and others have been removing or calling for the removal of the Confederate flag and related landmarks.
Searches for the #ConfederateFlag have reached an all-time high pic.twitter.com/EYfmryIUfs

— GoogleTrends (@GoogleTrends) June 23, 2015
Dylann Roof, 21, was arrested and charged with the murders after an overnight manhunt following the shooting. Roof was pictured in the past holding a Confederate flag and a handgun in the same image. A friend of Roof recalled shortly after the attack a recent conversation in which Roof expressed his concern that "blacks were taking over the world" and said he had "a plan."
(H/T: Huffington Post)
—
The Associated Press contributed to this report.
—
Front page image via Shutterstock.