The former minister of health in Gaza's Hamas government mistakenly tweeted out a cartoon created by an Israeli that mocked the United Nations for having an anti-Israel bias.
When Basem Naim posted the cartoon on his Twitter feed on Saturday, he attached the comments, "Israel out of the #UN" and also referred to Israel as a "terrorist state."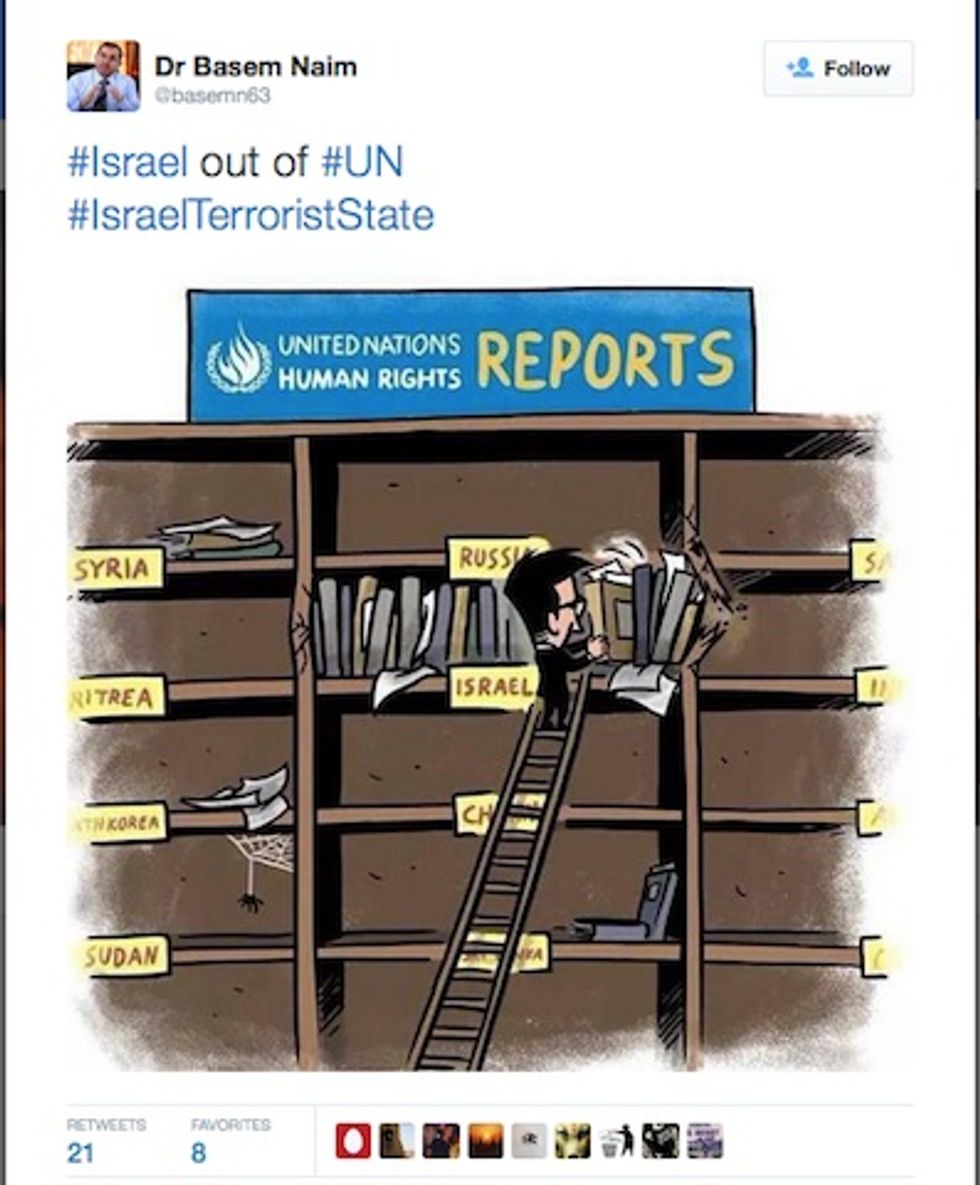 Image via Twitter
Based on those comments, it appeared he misinterpreted the cartoon as showing how active Israel is at the U.N., as opposed its intended message to highlight how frequently Israel is hit with critical resolutions by the world body.
The tweet drew the attention of Hillel Neuer, the executive director of the Geneva-based U.N. Watch, a monitoring group that tracks anti-Israel bias at the U.N. After Neuer pointed out the "very confused" Hamas official's post, Naim declared, "I got it right."
@HillelNeuer I got it right, #Israel doesn't deserve 2 be member of #UN after so much resolutions caus of its war crimes against our people.

— Dr Basem Naim (@basemn63) August 9, 2015
That led Neuer to offer a four-part explanation.
.@basemn63 Let's try & do this together. First, you see how cartoonist showed inaction on world's worst abusers? 1/4 pic.twitter.com/PYRlKm8PVE

— Hillel Neuer (@HillelNeuer) August 9, 2015
.@basemn63 Second, you see the cobweb on the Sudan shelf, depicting @UN_HRC indifference to Darfur genocide? 2/4 pic.twitter.com/q3Vb1gAsiN

— Hillel Neuer (@HillelNeuer) August 9, 2015
.@basemn63 Third, you see the Hebrew letters where the Israeli cartoonist signed his name, Vladik Sandler? 3/4 pic.twitter.com/T1HSPDrboT

— Hillel Neuer (@HillelNeuer) August 9, 2015
.@basemn63 Well, Doctor (of medicine and terror?), these are indicators that cartoon you posted means very opposite of what you thought. 4/4

— Hillel Neuer (@HillelNeuer) August 9, 2015
Naim in the end admitted his mistake, but took the opportunity to zing Neuer for his Israel advocacy:
@HillelNeuer Ok, r u sad that I made this mistake,Do not bother ur self, no problem u lawyer of #terrorism #Israel

— Dr Basem Naim (@basemn63) August 9, 2015