The police chief in Douglasville, Georgia, has been hit with allegations of police brutality in the months since he arrested a suspect who led police on dangerous high speed chase.
Until Tuesday, no evidence supporting or refuting the claims was available to the public. Mall security video obtained exclusively by WAGA-TV captured the moment Douglasville Police Chief Chris Womack took Morris Slaughter into custody — and the suspect's own attorney told the news station it shows only "proper police procedure."
Womack is seen in the video pulling Slaughter from his vehicle and pinning him to the ground, holding his service weapon to the back of his head.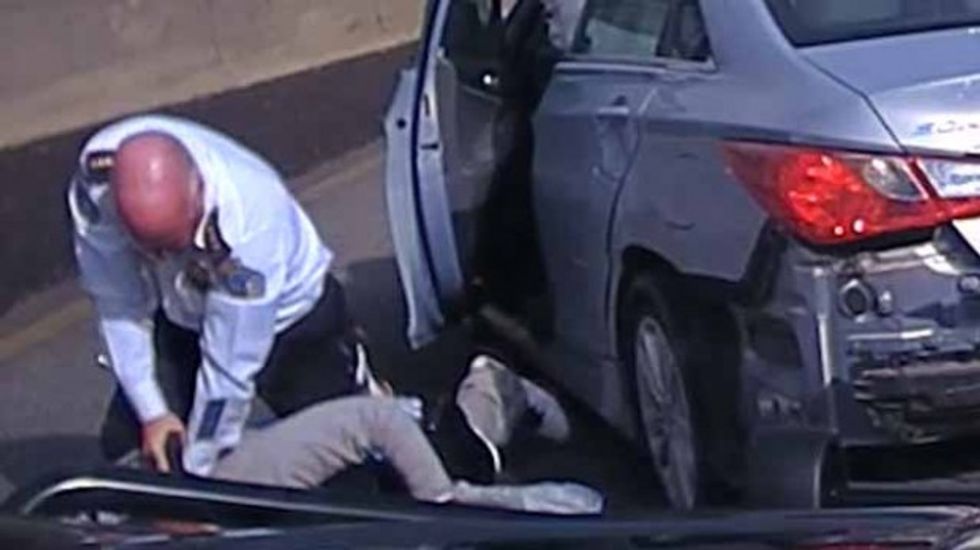 WAGA-TV screengrab
"He subdued the subject, he waited for his back up to get there," Slaughter's attorney, Mac Pilgrim, observed. "The gentleman was arrested, cuffed."
The attorney also noted that his client kept his right arm under his body and another officer needed to strike him in order to detain him.
"It appears to be proper in the fact that he did not strike him in the head, he did not strike him in the face," Pilgrim added. "I don't see anything criminal here."
However, Pilgrim said his only concern is officers' decision to go on a high-speed car chase during rush hour to catch a man suspected of committing two misdemeanors, including a marijuana-related charge. He added, "Someone could've died in this chase."
Watch some of the video below:
Atlanta News, Weather, Traffic, and Sports | FOX 5
If Womack's case goes to a grand jury the video footage will be key evidence involving allegations of wrongdoing against him.
Four deputies involved in the arrest were previously cleared of excessive force claims, but were disciplined for continuing the car chase outside of county lines. One deputy also reportedly criticized Womack's driving, saying, he "shouldn't have been doing what he was doing in an unmarked vehicle."
---