The process of a printing a 3-D object layer by layer is fascinating to watch and we've seen it done mostly with plastic, but also metal and even medical materials, like this bone-like substance or heart cells.
But seeing it done with molten glass just takes it to the next level, at least visually.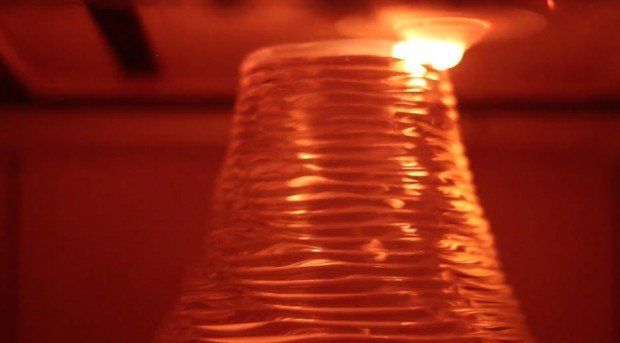 Image source: Vimeo
Describing it as "a first of its kind optically transparent glass printing process," the Mediated Matter Group at MIT's Glass Lab developed G3DP —Glass 3D Printing.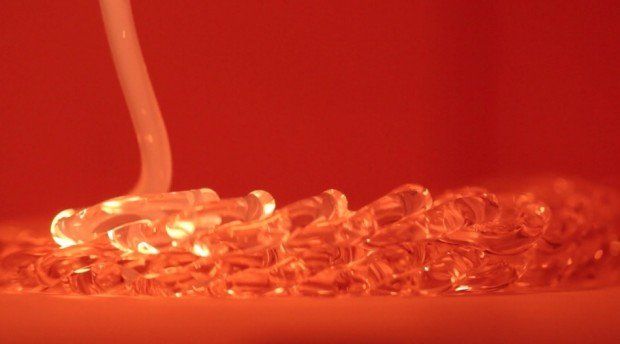 Image source: Vimeo
Here's how it works:
G3DP is an additive manufacturing platform designed to print optically transparent glass. The tunability enabled by geometrical and optical variation driven by form, transparency and color variation can drive; limit or control light transmission, reflection and refraction, and therefore carries significant implications for all things glass. The platform is based on a dual heated chamber concept. The upper chamber acts as a Kiln Cartridge while the lower chamber serves to anneal the structures. The Kiln Cartridge operates at approximately 1900°F and can contain sufficient material to build a single architectural component. The molten material gets funneled through an alumina-zircon-silica nozzle. The project synthesizes modern technologies, with age-old established glass tools and technologies producing novel glass structures with numerous potential applications.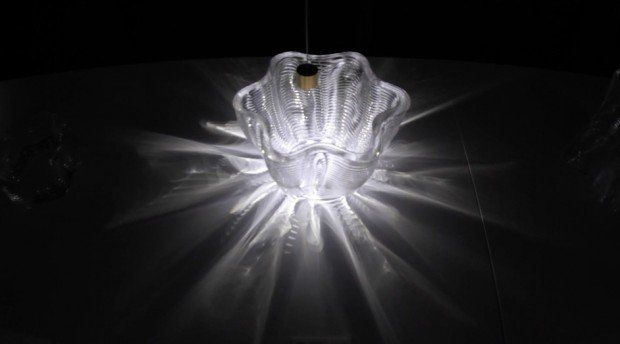 This is what one of the final products, illuminated by light, looks like after it is hardened. (Image source: Vimeo)
Watch the video of the process:
"Amazingly beautiful," Gibran Malheiros commented on the video.
This isn't the first time 3-D printing in glass has been done, but MIT's glass, you'll note, is optically transparent.
(H/T: Gizmodo)