Despite headlines suggesting that Gov. Scott Walker (R-Wisconsin) could soon steal some of Donald Trump's thunder as the two vie for the Republican presidential nomination, Trump said he's not worried.
Appearing on ABC's "This Week" Sunday morning, the billionaire business mogul sparred with host George Stephanopoulos over the specifics of his immigration reform plan — or as Stephanopoulos would say, lack thereof — but Trump also managed to slam his competitors, specifically Walker and former Florida Gov. Jeb Bush.
"I'm not worried because [Walker's] state is really in turmoil," Trump said. "I mean, it's a fantastic place, and I love the people of Wisconsin, but if you look at what's going on, they have the $2.2 billion deficit."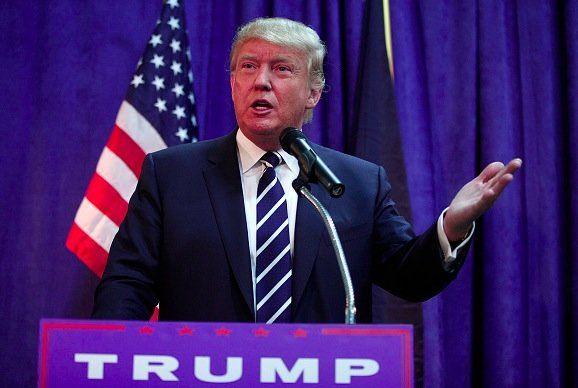 Republican presidential candidate Donald Trump in Michigan on Aug. 11, 2015. (Image source: Bill Pugliano/Getty Images)
"There's tremendous divisions throughout the state," Trump continued. "The roads aren't being built properly, you know, [Walker] stopped a lot of work because he doesn't want to raise taxes so instead of raising taxes, he's borrowing for help, and the state is very 'overlevered.'"
Trump blamed Walker for the reason Wisconsin is ranked 38th in job creation growth.
"I'm honored that he wants to copy me, and he's a nice man," Trump said, adding that he once gave Walker campaign contributions when he ran for governor of Wisconsin.
"But his state has not performed well," the Republican frontrunner said. "We need somebody whose going to make it perform well, this country perform well."