Texas Gov. Greg Abbott has bestowed his state's highest military honor to the late "American Sniper," former Navy SEAL Chris Kyle.
Abbott posthumously awarded the Texas Legislative Medal of Honor to Kyle's wife, Taya Kyle, in a ceremony Wednesday at the governor's mansion in Austin, the Dallas Morning News reported. Abbott also awarded the medal to Lt. Col. William Dyess, a World War II veteran who died in 1943.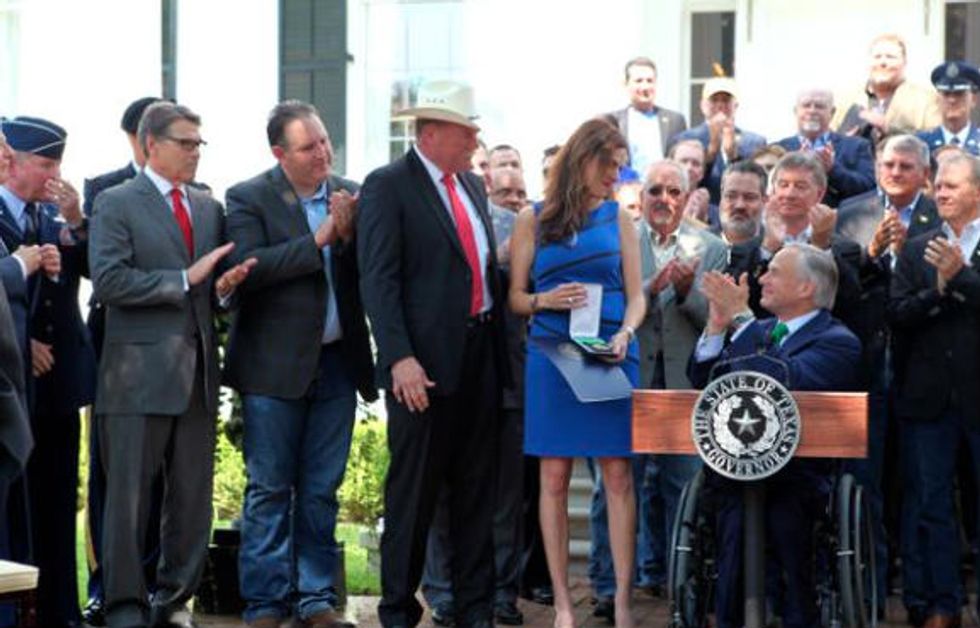 Image source: Twitter/@GovAbbott
"America is the brightest beacon of freedom the world has ever known because of all who have honorably worn the uniform of the mightiest military in the history of the world," Abbott said, according to KXAS-TV. "We can never repay the debt we owe for the lives these men saved and the freedom they preserved, but today we honor their memory, their patriotism and their sacrifice."
AP Photo/The Fort Worth Star-Telegram, Paul Moseley, File
Kyle was a Navy SEAL from 1999 to 2009 and recorded the most confirmed kills in the history of the U.S. military. The 2014 film about his life, "American Sniper," is the top-grossing war movie of all time.
Kyle was fatally shot by a fellow veteran at an Erath County, Texas, gun range in 2013. The shooter had been diagnosed with schizophrenia and post-traumatic stress disorder.
This is the third action Abbott has taken to honor Kyle's service since taking office in January. The Republican governor declared Feb. 2 "Chris Kyle Day" earlier this year and in June he dedicated a stretch of U.S. Route 287 in Midlothian, Texas, where Kyle attended high school, as Chris Kyle Memorial Highway, the Texas Tribune reported.
(H/T: KBMT-TV)
–
Follow Jon Street (@JonStreet) on Twitter