President Barack Obama said he gets "offended" when his Jewish aides get attacked by other members of the Jewish community, comparing it to the experience of African-Americans who have been told they're "not black enough."
In an interview with the progressive Jewish newspaper the Forward, Obama was asked if he is personally hurt when he is accused of being anti-Semitic.
"I get probably more offended when I hear members of my administration who themselves are Jewish being attacked," Obama said.
"You saw this historically sometimes in the African-American community, where there's a difference on policy and somebody starts talking about, well, you're not black enough, or you're selling out. And that, I think, is always a dangerous place to go," Obama said.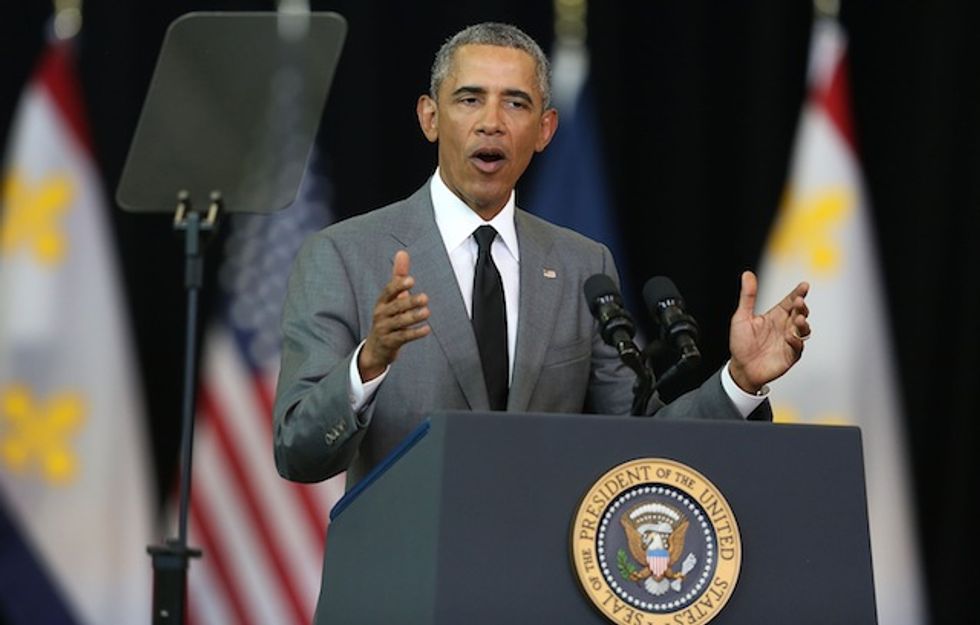 President Barack Obama speaks during an event to mark the 10th anniversary of Hurricane Katrina, Aug. 27, 2015 in New Orleans. (Joe Raedle/Getty Images)
The interview — the first one-on-one Obama has given to a Jewish publication since taking office — focused almost exclusively on the Iran deal that the White House is pushing Congress to approve.
Obama said that "there's not a smidgen of evidence" that he has exhibited anti-Semitism and likened his disagreements with Israeli Prime Minister Benjamin Netanyahu's government to arguments among family and friends.
"If you care deeply about Israel, then you have an obligation to be honest about what you think, the same way you would with any friend. And we don't do anybody, any friend, a service by just rubber-stamping whatever decisions they make, even if we think that they're damaging in some fashion," Obama said.
Addressing the acute and often nasty exchanges between proponents of the Iran deal and its opponents, Obama said "you don't win the debate by suggesting that the other person has bad motives. That's I think not just consistent with fair play."
"There are always going to be arguments within families and among friends. And Israel isn't just an ally, it's not just a friend — it's family," Obama said. "The relationships between our peoples, the shared values, the shared commitment to democracy — those things are so deep that they have survived arguments in the past and they will survive this argument."
Obama said he views defending Israel as a "sacred obligation."
"I think the most important thing for those of us who believe it is our sacred obligation to stand up for Israel and to ensure its security — and that's for American Jews but also non-Jews who feel that same affinity — the most important thing we can do I think is to continue to have honest conversations and honest debate about what is most likely to provide that kind of long-term security," Obama said.
"I will say that sometimes fights within families and among friends can be more heated than fights with people that you don't care about — it's been true in my family, anyway. And so even over the next several weeks as we get to the conclusion of the congressional debate, I think it is important for everybody to just take a breath for a moment and recognize that people on both sides of the debate love the United States and also love Israel," he said.
Obama said he is "disturbed" when he hears opponents of the Iran deal defined as "pro-Israel."
"I do get disturbed sometimes when I hear folks suggesting that those who oppose the deal are pro-Israel. We're all pro-Israel," he said. "I think all of us have to steer away from incendiary language that suggests that either those who are in favor of the deal are appeasing Iran, or, conversely, that those who are opposed to the deal are not thinking about America's interest."
The Forward included Obama on its list of 50 most influential Jewish leaders in 2011.