When Forbes' list of the richest Americans was released this week and Donald Trump was not in the top 100, the real estate mogul appeared on CNBC to say the business magazine was wrong.
"Well, number one, I'm a private company. They don't really know my assets very well," Trump told John Harwood during an interview at Trump Grill.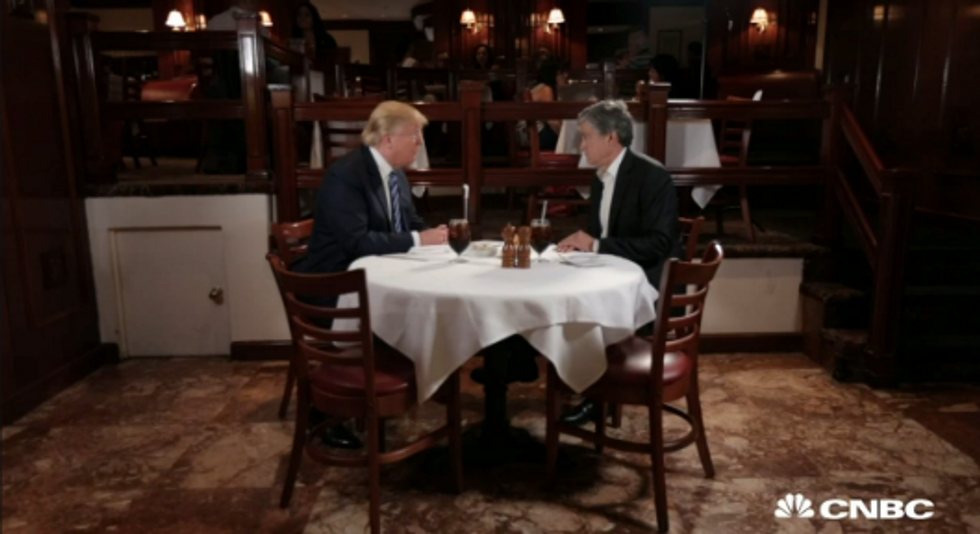 Image source: CNBC
"I think that they are very good people. I like the people at Forbes. They don't know a lot of the things that I own," the Republican presidential candidate continued. "I don't think they give me any value for brand and my brand is very valuable. I do deals, I'm doing deals right now. In fact, when I leave you, I'm signing a branding deal that's a phenomenal, tremendous hundreds of millions of dollars in value, all because of my brand. And they give you no value for brand."
Trump told Harwood that he has many more assets that Forbes doesn't know that he has because he's "private."
According to the "Forbes 400," Trump sits at No. 121 with a net worth of $4.5 billion.
Trump said he didn't want to disclose exactly how much cash he had but said he had "hundreds of millions of dollars" in cash — more than Forbes reported.