Israelis faced a wave of deadly Palestinian terror attacks Tuesday, including stabbings, shootings and a vehicular assault in the cities of Jerusalem and the Tel Aviv suburb of Ra'anana that left three victims dead.
In what police described as a coordinated attack, two teams of assailants carried out simultaneous assaults on a bus and at a bus stop in a Jerusalem neighborhood.
Hamas said in a statement that the attacks were "a message to anyone who harms our holy places."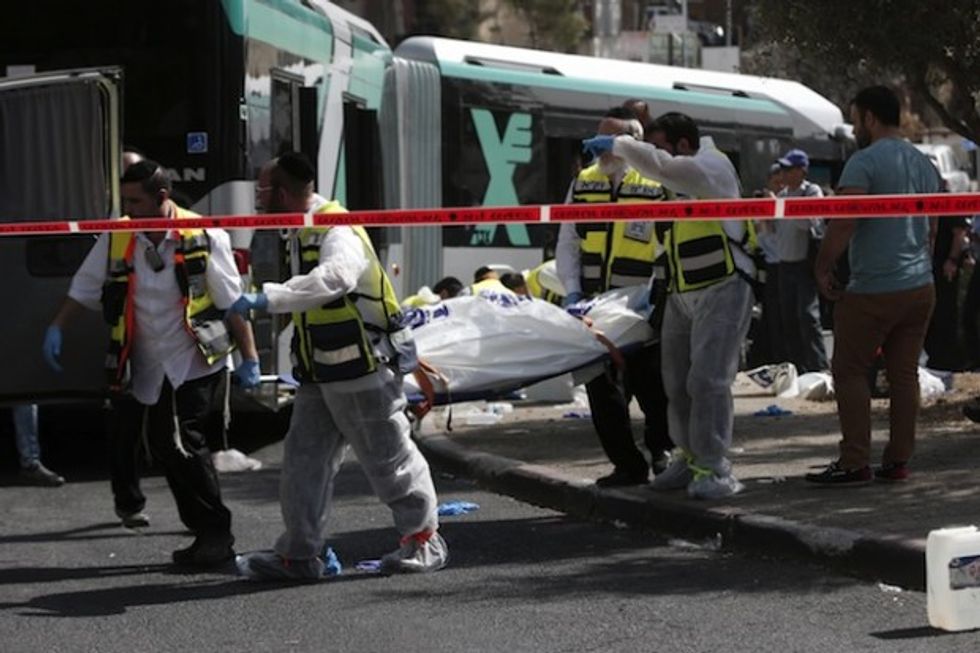 Israeli Zaka volunteers carry a body following a shooting attack on a bus in east Jerusalem adjacent to the Palestinian neighborhood of Jabal Mukaber, Oct. 13, 2015. Two attackers opened fire on a bus while another assailant carried out a car and knife assault in Jerusalem. (Thomas Coex/AFP/Getty Images)
Police said two Palestinians from east Jerusalem armed with a knife and gun boarded a bus where they began stabbing and shooting Israelis, killing two. Israeli police shot both attackers dead.
Around the same time, a Palestinian employee of a major Israeli telephone company used his company vehicle to ram into a bus stop. He then got out and proceeded to stab bystanders, police said. One victim was killed.
"We are shocked by this heinous act, express our revulsion at it and deeply empathize with the families of the dead and pray for the speedy recovery of the wounded," the Bezeq telephone company said in a statement.
Hezi Roth, a first responder with United Hatzolah said of the bus attack, "All the patients we treated had gunshot wounds except for one."
BREAKING VIDEO: Moments of Arab terrorist shot dead following run-over attack killing 1 & wounding 2 in Jerusalem. pic.twitter.com/JHfJZcrUkA

— Israel News Feed (@IsraelHatzolah) October 13, 2015
The Jerusalem attacks occurred shortly after two separate stabbings were reported in Ra'anana.
At least one of the attacks involved the use of a meat cleaver.
Been off line for the last hour. Attacks against #Israelis today - 2 in Jerusalem & 2 Ra'anana. #StopTheIncitement pic.twitter.com/x4i6Lg0s06

— Peter Lerner (@LTCPeterLerner) October 13, 2015
A police commander in the Ra'anana area told Israeli media that civilians chased the perpetrator and caught him.
Benzi Sau, Israel's acting police chief, acknowledged civilians for acting to quickly subdue attackers.
Jerusalem Mayor Nir Barkat blamed Palestinian political and religious leaders for pushing Palestinians to kill Israelis.
"Inflammatory incitement & lies from mosques & Palestinian leaders is resulting in murder & terror in the streets of Jerusalem," Barkat tweeted.
Last week, Barkat – who is a licensed gun owner – urged Israelis who have gun permits to carry their weapons at all times given the current security threat.
Palestinian social media has been filled with inflammatory cartoons encouraging stabbing attacks, while Muslim leaders have also used the pulpit to push for violence against Jews.
Israeli Prime Minister Benjamin Netanyahu planned to convene his government ministers and top security officials Tuesday afternoon to come up with a plan to stem the wave of terrorist attacks.
"I saw a frightening sight," said Meir Attias, who witnessed one of the Jerusalem attacks.
"We're sick of this," Attias told Israel's Channel 2.