The Indianapolis Colts attempted to run elaborate trick play on 4th down against the New England Patriots on Sunday night — and failed miserably.
The Colts lined up all but two players on the right side of the field, leaving only receiver Griff Whalen at center and safety Colt Anderson at quarterback. The Patriots left five players in the box, leaving the play with little opportunity for success.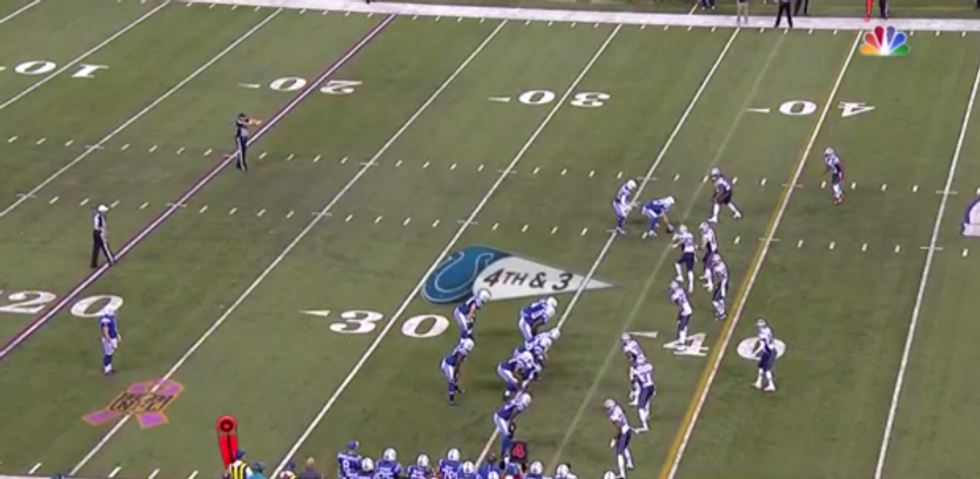 NFL
To everyone's surprise, the Colts actually snapped the ball rather than allowing the play clock to expire and punting the ball trailing 27-21. Anderson was tackled for a loss and the ball was turned over on downs.
The Patriots went on to score a touchdown following the turnover, setting up the eventual 34-27 victory.
"There is absolutely no way possible that they should have snapped the ball and tried to sneak it," NBC announcer Chris Collinsworth reacted. "What are you doing here? They don't even try to run a play. We've seen a lot of bizarre stuff, I've never seen anything more bizarre than that."
Watch the video below:
The Colts tried a unique formation on 4th down. It didn't work. #NEvsIND http://t.co/Eh0HXpFV00

— NFL (@NFL) October 19, 2015
---