Social media users were aghast Saturday night after it was discovered that searching the term "death to the Jews" on Google maps directs you to the holiest site in Judaism — Jerusalem's Temple Mount.
As of early Sunday morning, the genocidal slogan both in English and Hebrew landed map searchers at the same site.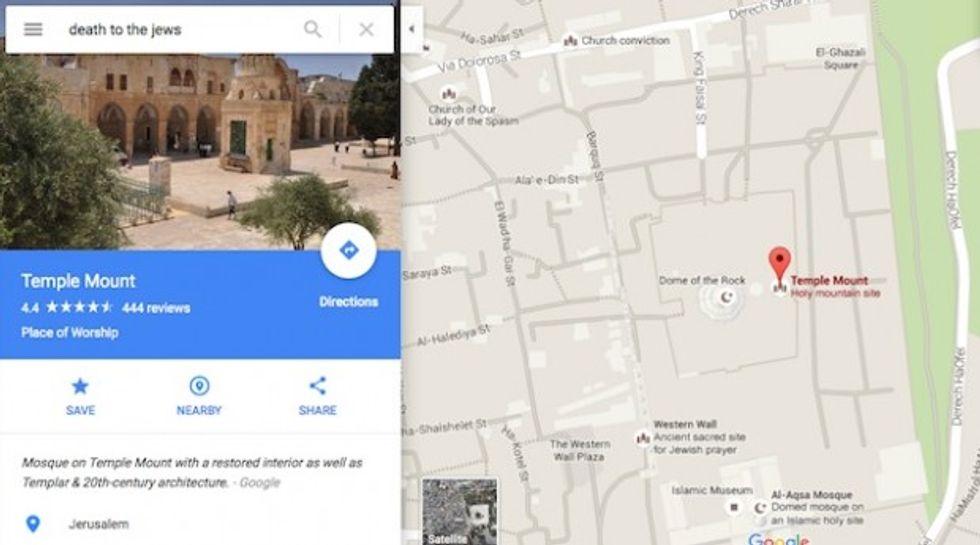 Screenshot: Google maps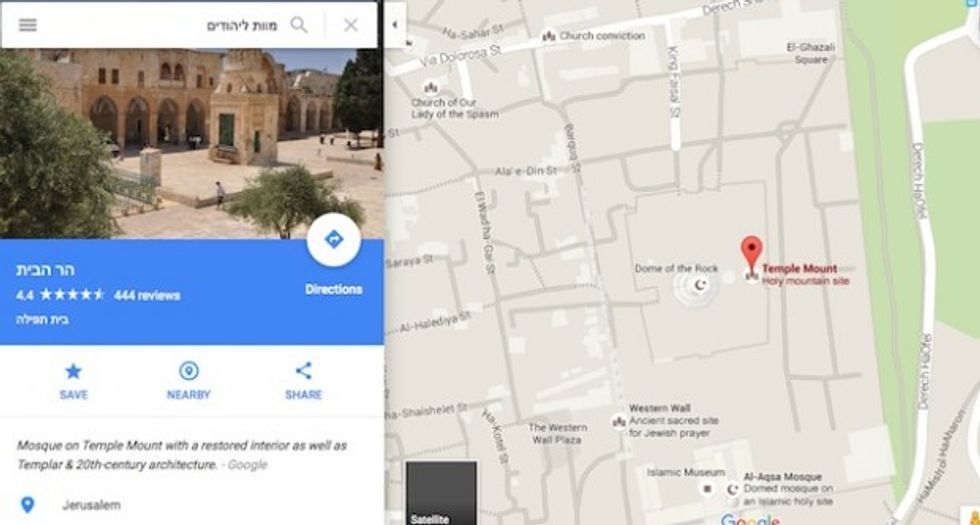 Screenshot: Google maps
A search in Arabic found no results on the map search engine.
The Jerusalem Post observed that the results appeared to be driven by the word "Jews" in the slogan, rather than the first more offensive part.
Indeed, a search using the word "Jews" only resulted in highlights for the locations of Temple Mount and the adjacent Western Wall.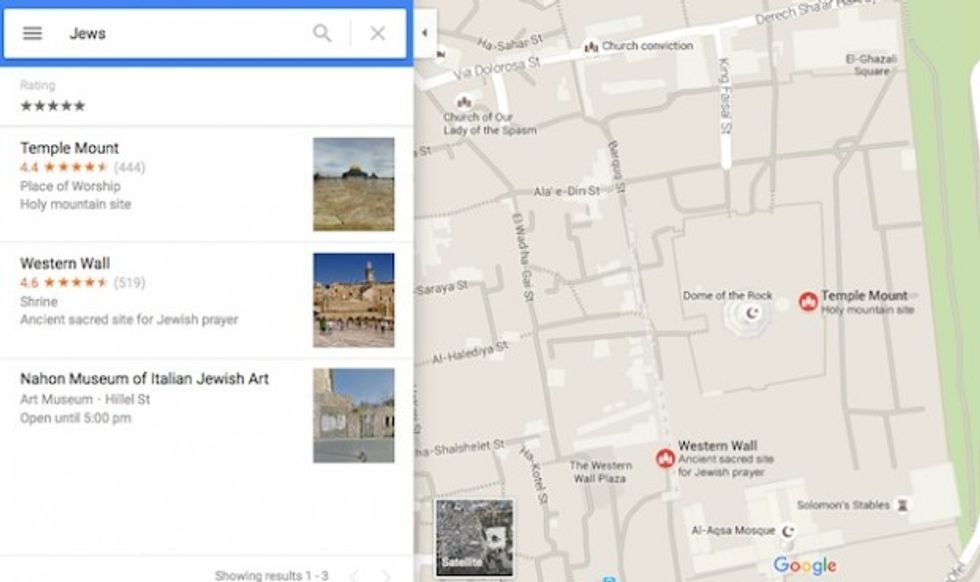 Screenshot: Google maps
The Temple Mount was once the location of Solomon's Temple, which was detailed extensively in the Bible, as well as the Second Temple, both of which were destroyed in antiquity.
The Al-Aqsa mosque which is situated on the Temple Mount is the third holiest site in Islam, after Mecca and Medina in Saudi Arabia.
Life hack: Type 'Death to Jews' into Google Maps in Hebrew and get directions to Temple Mount https://t.co/CVTFXVZU5P

— Israel News (@IsraelNewsNow) October 25, 2015
.@google why does "death to jews" search lead to #TempleMount on Maps pic.twitter.com/DPfMG2ZBvW

— tony μολὼν λαβέ (@tonygreene113) October 25, 2015
The Palestinian Authority regularly negates any Jewish connection the Temple Mount. Last month, Palestinian Authority President Mahmoud Abbas warned against Jews desecrating the Temple Mount with their "filthy feet."
A wave of violent attacks on Israelis which began last month has been driven by erroneous claims by the Palestinian leadership that Israel intends to change prayer arrangements on the Temple Mount known as the status quo.
Israeli Prime Minister Benjamin Netanyahu has said repeatedly that Israel has no plans to change the status quo according to which Muslims are allowed to pray at the holy site, while Jewish, Christian and other non-Muslim visitors are allowed to visit, but not pray or carry religious texts.
Netanyahu last week complained that social media has been fueling the violence, as Palestinians are sharing widely images and cartoons that glorify knife-wielding and other assailants.
(H/T: Jerusalem Post)