UPDATE 12:09 P.M.: Sheriff Leon Lott announced Wednesday afternoon that Richland County Senior Deputy Ben Fields was fired.
COLUMBIA, S.C. (@AP) — Sheriff: School officer was wrong with some of his actions in flipping student out of desk.

— TheBlazeNOW (@TheBlazeNOW) October 28, 2015
Lott said that while he "takes responsibility" for the action of his officer, the student should bear the responsibility for her actions and for disrupting the classroom setting in the first place. Lott continued to say that despite her disruptiveness, her actions did not warrant Fields' behavior.
"We must not lose sight that this whole incident started by this student. Some responsibility falls on her," Lott said.
"I can tell you what he should not have done. He should not have thrown the student," Lott said. "He was not trained to throw a student."
According to Lott, who did speak to Fields personally, he did not intend for the situation to escalate how it did.
"He tried to do his job," he said.
Lott said he's received complaints about Fields in the past but not from the school.
Original story below.
---
South Carolina officials will announce Wednesday that the high school resource officer who was caught aggressively flipping a female student out of her chair when she refused to leave class will be relieved from his duties.
According to NBC News, the removal of Richland County Senior Deputy Ben Fields, 34, from his job will be announced at a press conference Wednesday at noon. Then, Richland County Sheriff Leon Lot will discuss details regarding the police department's internal investigation of the incident that occurred Monday at Spring Valley High School in Columbia.
Fields was suspended without pay after the incident during which he flipped the student out of her chair and flung her to the front of the classroom where he handcuffed her.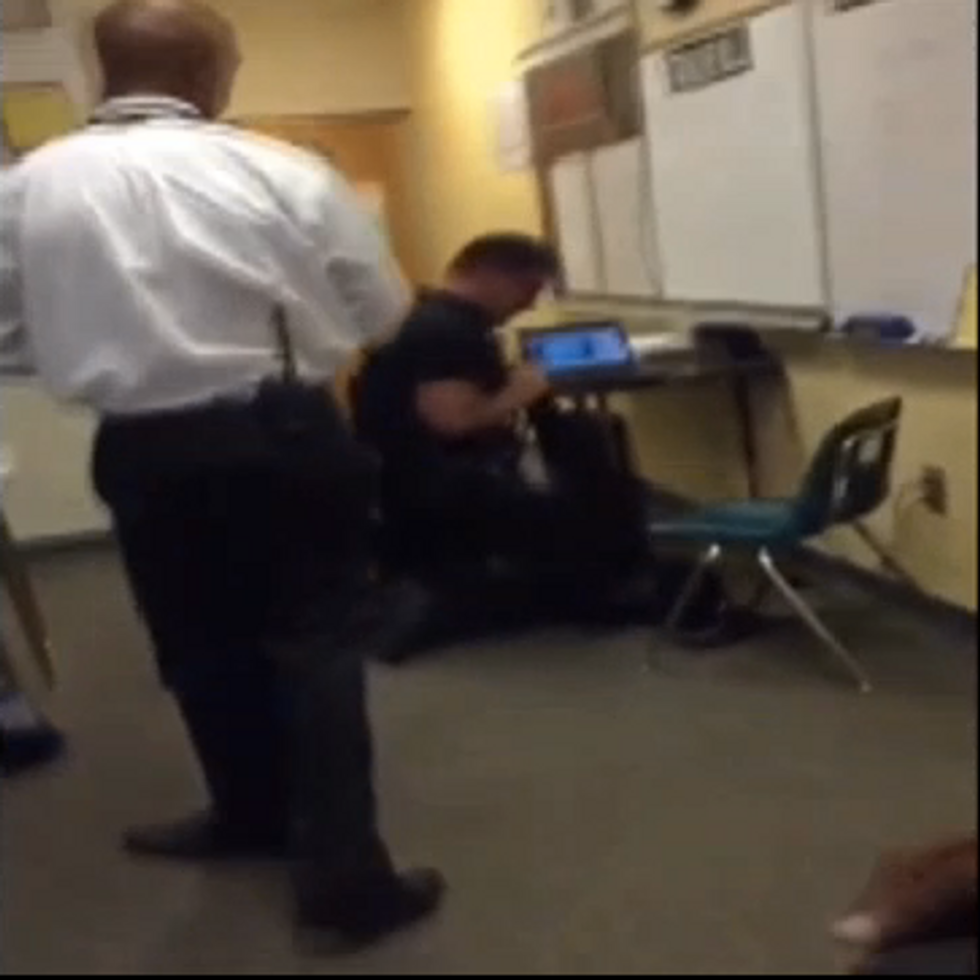 Image source: WISC-TV

The Department of Justice has also launched an investigation into the incident after classmates' videos of the altercation between the police officer and student went viral.
"It's very disturbing what happened today," Lott said after the incident. "It's something I have to deal with and that's what we're going to be doing."
According to one student in the classroom, the incident all stemmed from the female student pulling out her cell phone while in math class and disobeying her teacher's orders to hand it over or get out of the classroom. The student also defied an administrator's orders to leave the classroom which is when Fields was called in.
A second female student, who verbally expressed her objection to the officer's handling of the student, was also arrested. Both students were charged with disturbing schools and released to their parents.
The sheriff's office said no one was hurt during the confrontation.