The excavation for a new building to focus on nanoscale research at the Massachusetts Institute of Technology is in the early stages of construction, but during the excavation for this something new, construction crews found something old.
"We were digging outside of building 26 on the west side and as we got further down in the hole, we saw something that looked a little of out place," Travis Wanat, senior project manager for capital projects at MIT, said in a video about the discovery. "So we stopped and started to hand dig at that point with shovels. And sure enough, as we got further around the object and exposed it more, it was certainly something that shouldn't have been there, so it definitely caught our attention."
What was it?
The crew had discovered a time-capsule buried just a few days before the Karl Taylor Compton Laboratories dedication 58 years ago in 1957.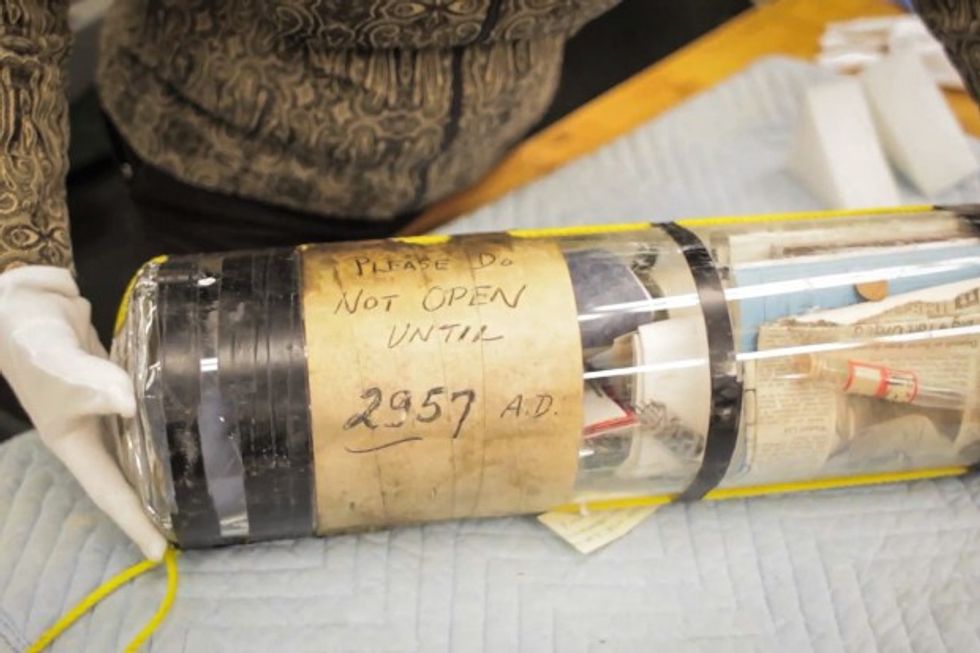 Excavation for a new research facility on MIT's campus yielded the discovery of a time capsule from 1957. (Photo credit: MIT Museum)
Here's more from a news article by MIT about what was inside the capsule:
In a letter placed inside the time capsule, [the institute's then-President James R. Killian Jr.] wrote that the capsule contains "documents and mementos which tell something of the state of science, technology and education and, more specifically, the state of the Massachusetts Institute of Technology" in 1957. Materials inside the capsule include a copy of "A Scientist Speaks," by Karl T. Compton, new coins from the First National Bank of Boston, a keepsake mug for the Class of 1957, an empty tonic bottle, and a small container of synthetic penicillin. Additionally, Tech Talk notes that the cylinder also contained a cryoton, "the tiny unit invented at MIT this year which will replace complex tubes and expensive transistors in electronic computers of the future."
Deborah Douglas, director of collections for the MIT Museum, described the capsule as a "lovely reminder of a quality the institute is best known for," that being its passion for caring about the future.
While Douglas said most time capsules have instructions for opening 50 or 75 years in the future, for example, this time capsule suggested it remain closed for 1,000 years.
"There is not enough information from what we have to discern how serious the time capsule's creators were about that deadline," Douglas added.
If they adhered to the instructed opening date, it wouldn't be unsealed until the year 2957.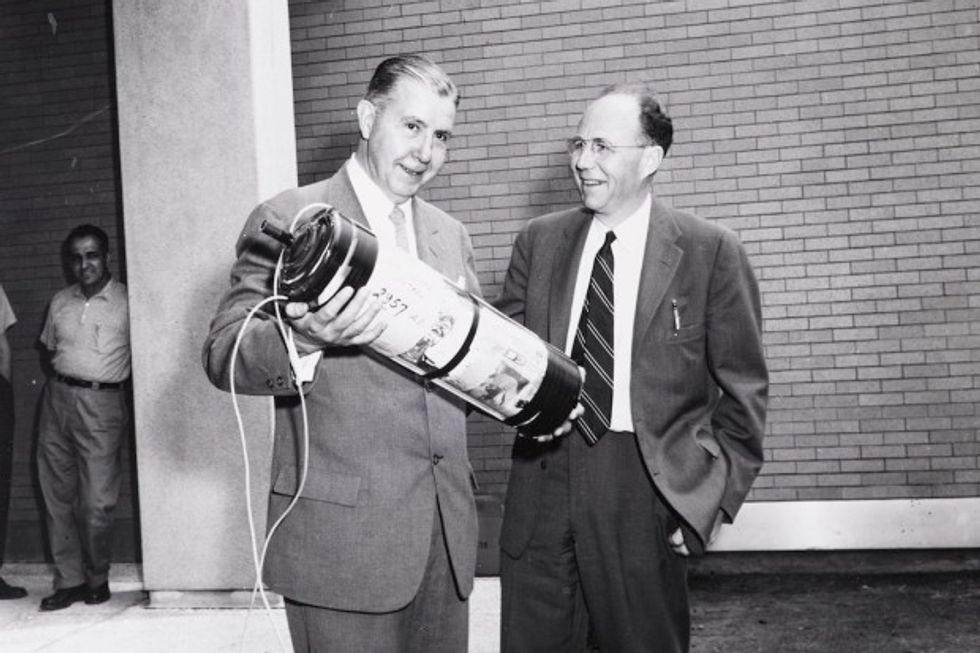 James R. Killian Jr. (left), then president of MIT, and professor of electrical engineering Harold "Doc" Edgerton (right) are pictured in 1957 holding the time capsule before it was buried. (Photo credit: MIT Museum)
"That presumes that MIT will be around in a thousand years, and that anyone in that time will care," Douglas told the Chronicles of Higher Education in an article about time capsules a few years ago. "To me that's an incredible act of hubris."
Even the air-tight glass cylinder containing the objects is a historical item, being made by the RLE Glass Blowing Lab. The news story about the capsule published by MIT noted an article published in 1957 about the capsule that said it was sealed "with blowtorches wielded by RLE glassblowers Lawrence Ryan and Anthony Velluto."
The news release also stated that for preservation purposes, the cylinder was filled with argon gas but also included a little carbon-14, which in the event that it became unsealed, investigators could estimate the date at which it was buried.
Watch MIT's video about the discovery:
(H/T: Popular Science)