President Barack Obama told reporters that the San Bernardino shooting, now under FBI investigation, could have "mixed motives.
"It is possible that this was terrorist related, but we don't know," Obama said from the Oval Office Thursday, flanked by his national security team. "It's also possible it was workplace related. Until the FBI has been able to conduct what are going to be a large number of interviews, until we understand the nature of the workplace relationship between the individual and his superiors because he worked with the organization where this terrible shooting took place, until all the social media and electronic information has been exploited, we're just not going to be able to answer those questions."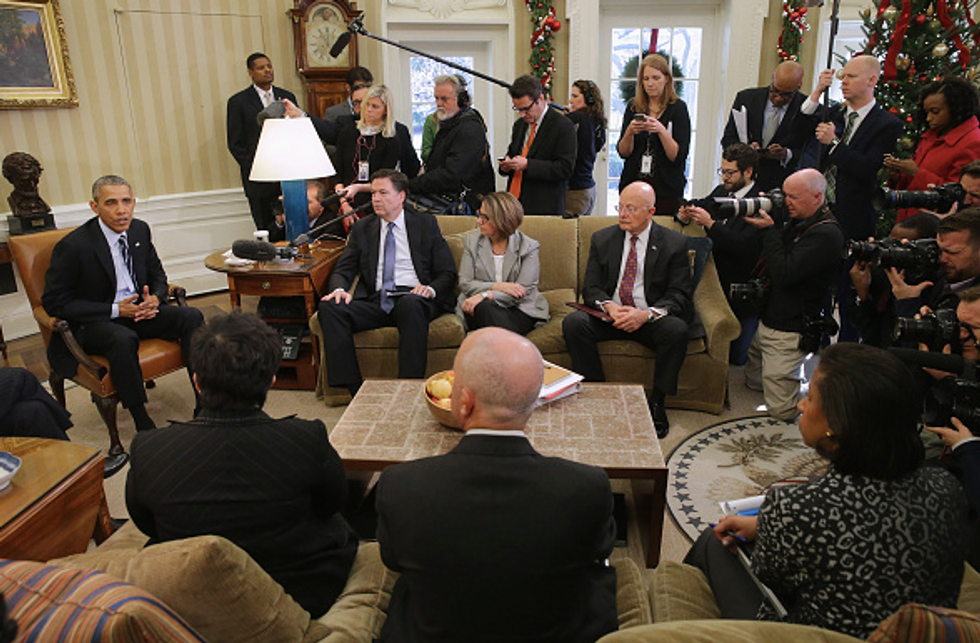 President Barack Obama (L) delivers a statement to the news media after receiving a briefing from his national security team, including (clockwise from top left) FBI Director James Comey, Homeland Security Advisor Lisa Monaco, Director of National Intelligence James Clapper, National Security Advisor Susan Rice, Deputy Secretary of Homeland Security Alejandro Mayorkas, Attorney General Loretta Lynch and others, in the Oval Office at the White House December 3, 2015 in Washington, DC. Obama talked about Wednesday's mass shooting in San Bernardino, California, that left 14 people dead and 17 others injured. (Chip Somodevilla/Getty Images)
A husband and wife shot and killed 14 people Wednesday at a social service center for disabled in San Bernardino, California, wounding more than dozen others in what appears to have been a planned attack.
The alleged shooters, Syed Farook, 28, and Tasfeen Malik, 27, were killed in a shootout with police. A man claiming to be Farook's father recently revealed his son was a devout Muslim.
Obama said he was briefed by Attorney General Loretta Lynch and FBI Director James Comey.
"At this stage, we do not yet know why this terrible event occurred," Obama said. "We do know that the two individuals who were killed were equipped with weapons and appeared to have access to additional weaponry at their homes, but we don't know why they did it. We don't know at this point the extent of their plans. We do not know their motivations."
He further made another pitch for gun control.
"As the investigation moves forward, it's important for all of us, including legislatures, to see what we can do to make sure that when individuals decide that they want to do somebody harm, we're making it a little harder for them to do it because right now it's just too easy," Obama said. "We're going to have to search ourselves as a society to make sure that we can take basic steps that would make it harder, not impossible, but harder for individuals to get access to weapons."
The president further said, "What i can assure the American people is, we're going to get to the bottom of this and we are going to be vigilant as we always are, getting the facts before we issue any decisive judgments in terms of how this occurred."
Attorney General Loretta Lynch spoke earlier Thursday morning and said the Justice Department dispatched the FBI, the Bureau of Alcohol, Tobacco, Firearms and Explosives and the U.S. Marshals.
"We continue to work closely along side our state and local law enforcement partners who are working so hard on the scene and its aftermath. Let me assure you, that as this investigation unfolds, we will be offering any and all assistance necessary to the local authorities and to the people of San Bernardino who have been so profoundly affected by this unspeakable crime."
"Violence like this has no place in this country and in this nation," Lynch continued. "This is not what we stand for. This is not what we do. This not what we work for. It's not what we live for. It is antithetical to our values."
---