Anchor Don Lemon made a comment to Kathy Griffin during CNN's live New Year's Eve coverage Friday night – and it wasn't family-friendly.
Anchor Anderson Cooper and Kathy Griffin were in New York City highlighting the festivities when they cut to Lemon and Brooke Balduan covering the holiday events in New Orleans. After Griffin made a reference to "ecstasy" that made Cooper appear slightly uncomfortable, Lemon went on talking about how Griffin tried to "molest" him – but things didn't really go south until this moment.
"I have to say, Kathy, I have to say, nice rack. I didn't know you had all that up there," Lemon said, as his three colleagues appeared totally shocked.
That's when Bolduan decided it was time to "cut him off," taking a cup of what appeared to be beer out of Lemon's hand and directing the camera in another direction.
"Wow. What is in that cup?" a surprised Cooper asked Lemon.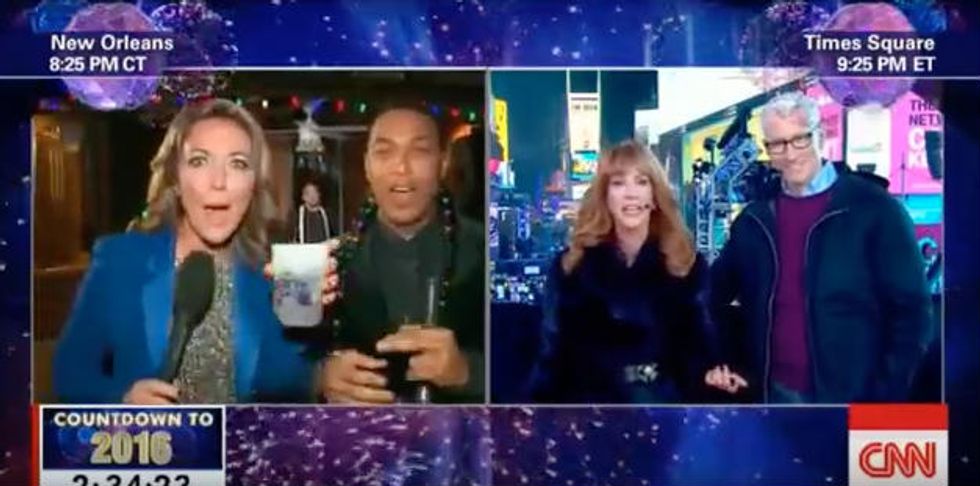 Image source: YouTube
Several people took to Twitter after the bizarre live-TV moment to say that Lemon was "drunk."
Drunk Don Lemon isn't going to make it to Midnight. LOL #CNNNYE

— Val Escher (@EscherSays) January 1, 2016
CNN NYE coverage update: it's 8:43 pm and Don Lemon and Brooke Baldwin are already a drunk mess

— sarah (@3x1minus1) January 1, 2016
Oh man @donlemon is drunk on air. Repeat, Don Lemon is drunk on air.

— Andrew Tomlinson (@drew_tomlinson) January 1, 2016
One user pointed out that Lemon was also retweeting people calling him out for being "drunk."
Don Lemon retweeting how drunk he is? Also a highlight of 2016 pic.twitter.com/ihB2JtemV7

— Seann Morgan (@SeannMorgan) January 1, 2016
While Lemon insisted on more than one occasion that he wasn't intoxicated, he later suggested the opposite.
"We're not drunk. Well Brooke's not drunk," Lemon said, before making yet another not so family-friendly comment.
"Look, this is how you get people to take their clothes off!" Lemon said.
Good lord, Don Lemon: "We're not drunk. Well Brooke's not drunk... Look, this how you get people to take their clothes off!" #CNNNYE

— Molly Little (@mollylitt) January 1, 2016