Republican presidential front-runner Donald Trump said Wednesday that he thinks the tears shed by President Barack Obama during his Tuesday press conference were sincere.
"I actually think he was sincere," the billionaire businessman said on "Fox and Friends" Wednesday morning. "I'll probably go down about five points in the polls by saying that, but I think he was sincere."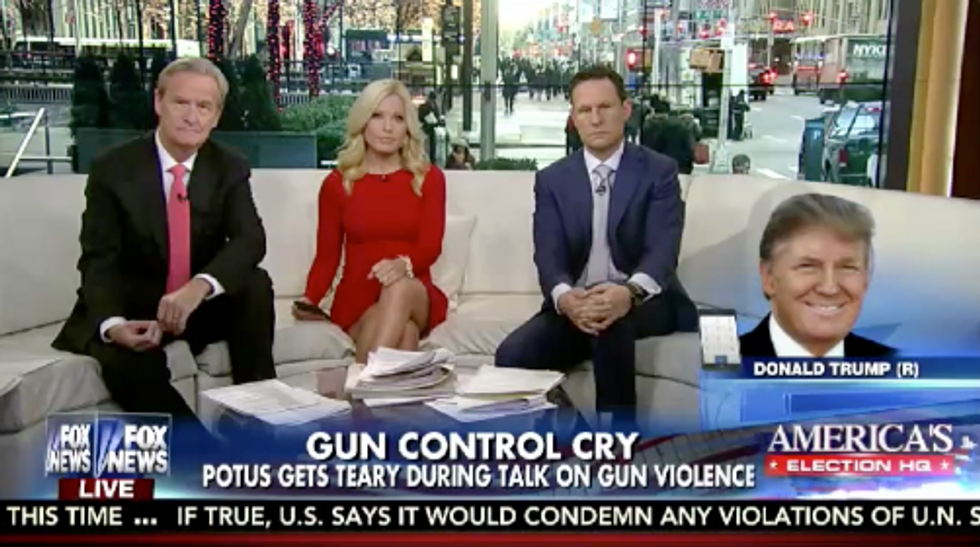 Image via Twitter @FoxandFriends
Obama was visibly emotional during his press conference announcing his planned executive actions on gun control Tuesday, most notably when he was speaking about the first-graders who were murdered in Newtown, Connecticut, in December 2012.
Many pundits were critical of Obama following his emotional plea. One Fox News personality even quipped that Obama had a raw onion hidden in his lectern.
Trump went on to tell the Fox panel that he believes Obama's concept is wrong, and instead, Obama should be focusing on the mental health aspect that accompanies mass murder.
"We have a huge mental health problem," Trump said. "We're closing all of these institutions now, and the people are going out on the streets ... there are a lot of sick people out there."
"I actually think he was sincere...[but] he is incorrect about it...the concept is wrong..." -@realDonaldTrump https://t.co/KuS8NkYETQ

— FOX & Friends (@foxandfriends) January 6, 2016
—
Follow the author of this story on Twitter and Facebook:
[facebook //www.facebook.com/plugins/like.php?href=