Comedian Ricky Gervais took the Golden Globe stage Sunday night as host and was only moments into his monologue when he brought up actor Sean Penn, who's been all over the news since Saturday night when it was revealed he secretly interviewed Joaquin "El Chapo" Guzman while the Mexican drug lord was hiding after a prison escape.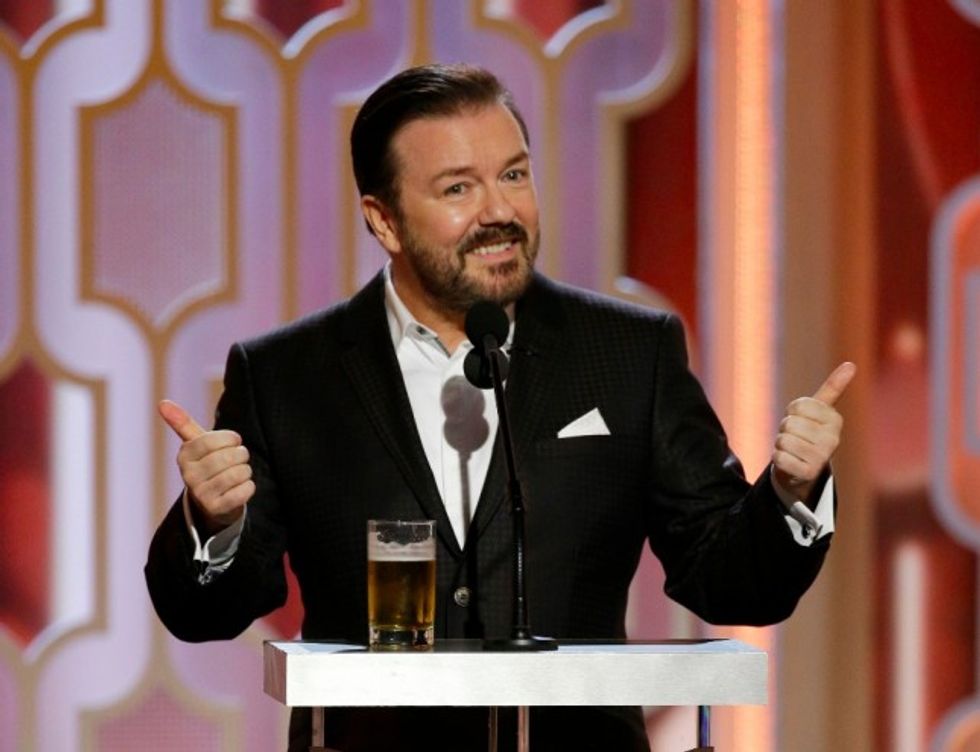 In this image released by NBC, host Ricky Gervais appears at the 73rd Annual Golden Globe Awards at the Beverly Hilton Hotel in Beverly Hills, Calif., on Sunday, Jan. 10, 2016. (Paul Drinkwater/NBC via AP)
Mexican authorities captured Guzman earlier this week. And while it's been reported that Penn is under investigation for doing an interview with a fugitive, Mexican officials also reportedly said Penn's interview helped police get a lead on Guzman's whereabouts.
Breaking: El Chapo met for secret interview with actor Sean Penn while on the run https://t.co/rlmOmH5oyq pic.twitter.com/LX6WUFtDNt

— Independent US (@IndyUSA) January 10, 2016
"I wanna to do this monologue and then go into hiding, OK? Not even Sean Penn will find me," Gervais told the giggling crowd before taking a swig of his drink.
Then the host put his glass down and offered the real punch line: "Snitch."
Penn did not attend the awards ceremony.
A little over a minute later Gervais found time to send a zinger to Caitlyn Jenner over the fatal car accident the reality-TV star — while still known as Bruce Jenner — was involved in a year ago.
"But as I say, I'm gonna be nice tonight. I've changed," Gervais said. "Not as much as Bruce Jenner obviously. Now Caitlyn Jenner of course. What a year she's had! She became a role model for trans people everywhere, showing great bravery in breaking down barriers and destroying stereotypes. She didn't do a lot for women drivers, but you can't have everything."
Here's Gervais' monologue. (Content warning: Crude language):