Conservative radio host Rush Limbaugh said Monday that Donald Trump is making a "strategic error" by attacking fellow Republican candidate Ted Cruz so personally.
"I will tell you, like I've said before, that I think Trump is making a strategic error in the way he criticizes Cruz," Limbaugh said when discussing the two leading Republican candidates.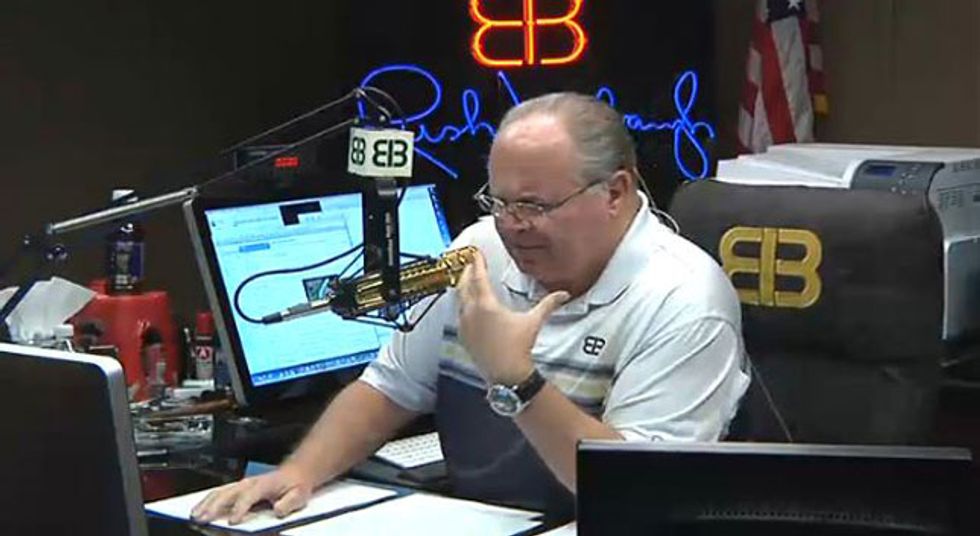 Image credit: EIB/Google
However, Limbaugh went on to say that it is just par for the course for the two leading candidates to be attacking one another.
"But, folks, it's unrealistic to expect that they're not gonna go after each other.  They're number one and two.  Iowa and New Hampshire are at stake," he said. "This is politics. There's only one winner.  The two of them can't win this together in some sort of a bromance and come out as a united couple after either one of these primaries or after the whole process.  It's not how it works.  They're both gonna try to take each other out and they're both gonna have their own strategies for doing so."
Limbaugh has been weary to criticize Trump for much of the billionaire businessman's campaign, even defending the Republican front-runner on multiple occasions. The only other time he has been critical of Trump was when Trump began to criticize Cruz publicly.
Following Trump saying in December that Cruz is a "maniac" who is not well liked in Washington, Limbaugh labeled Trump's words a "huge mistake."
"That's so unlike Trump. I mean, that's a huge mistake. But on paper, it's a huge mistake. Trump gets away with his mistakes," Limbaugh said. "Such is the bond of loyalty that his support base has for him… Any of you who are holding out hope that Trump is a genuine conservative…a genuine conservative would not go after Cruz this way."
Listen to Limbaugh's comments below:
(H/T: Daily Rushbo)
—
Follow the author of this story on Twitter and Facebook:
[facebook //www.facebook.com/plugins/like.php?href=