A cartoon guide produced several months ago by a German public broadcaster aiming to teach migrants about basic Western etiquette has won new attention – and derision -- following reports of group sexual assaults of German women by migrant men on New Year's Eve in Germany.
The comic-strip like guide titled "Germany and Its People" was posted in October by Bayerischer Rundfunk, the public broadcaster in Bavaria. It included illustrated panels discouraging sexual harassment of women and the beating of children as it promoted the acceptance of gay couples.
Here are three of the illustrated panels in the broadcaster's guide to German social etiquette which was translated into English and Arabic.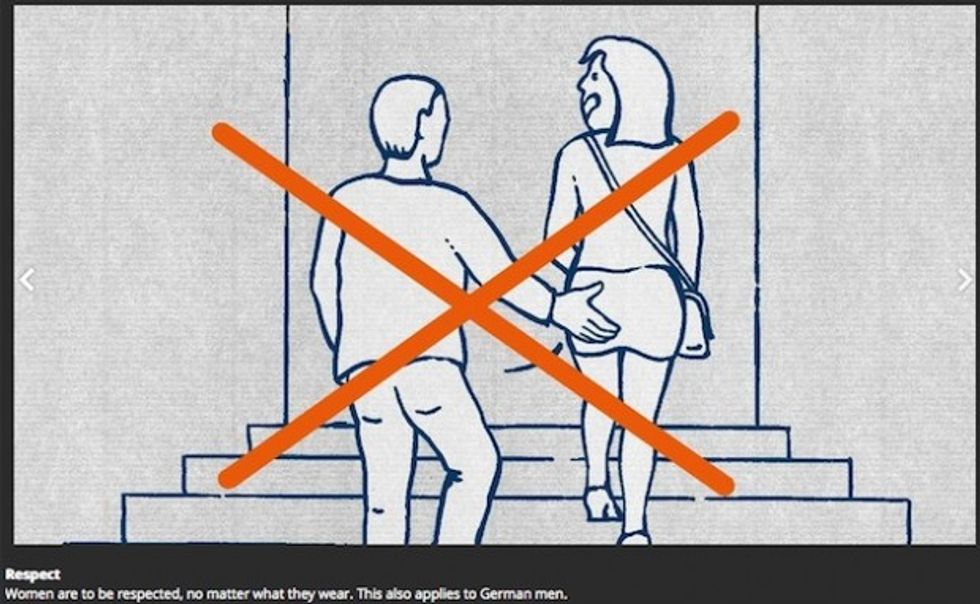 The caption read: "Women are to be respected, no matter what they wear. This also applies to German men." (Screenshot: Bayerischer Rundfunk)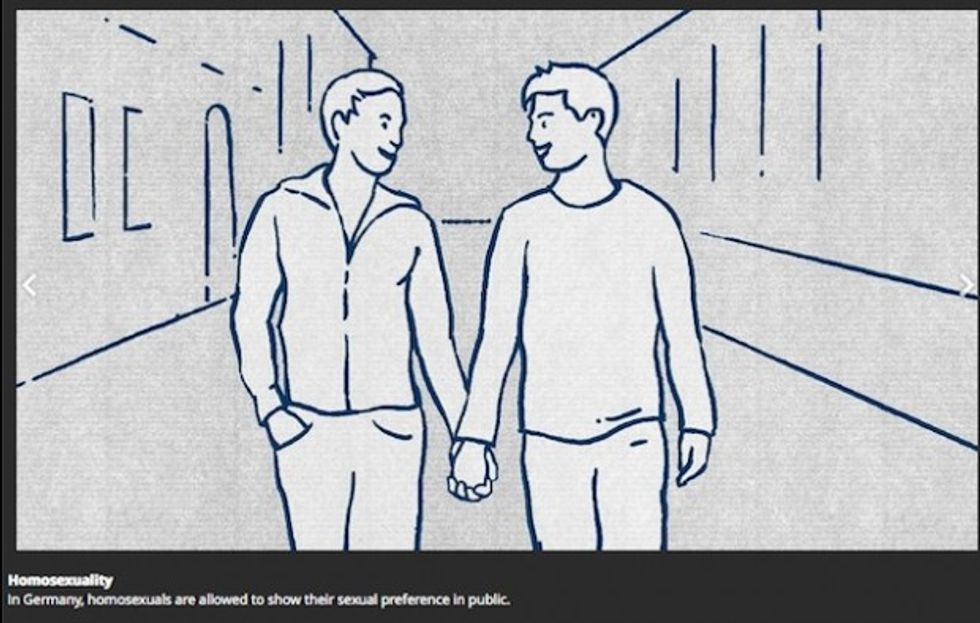 "In Germany, homosexuals are allowed to show their sexual preference in public." (Screenshot: Bayerischer Rundfunk)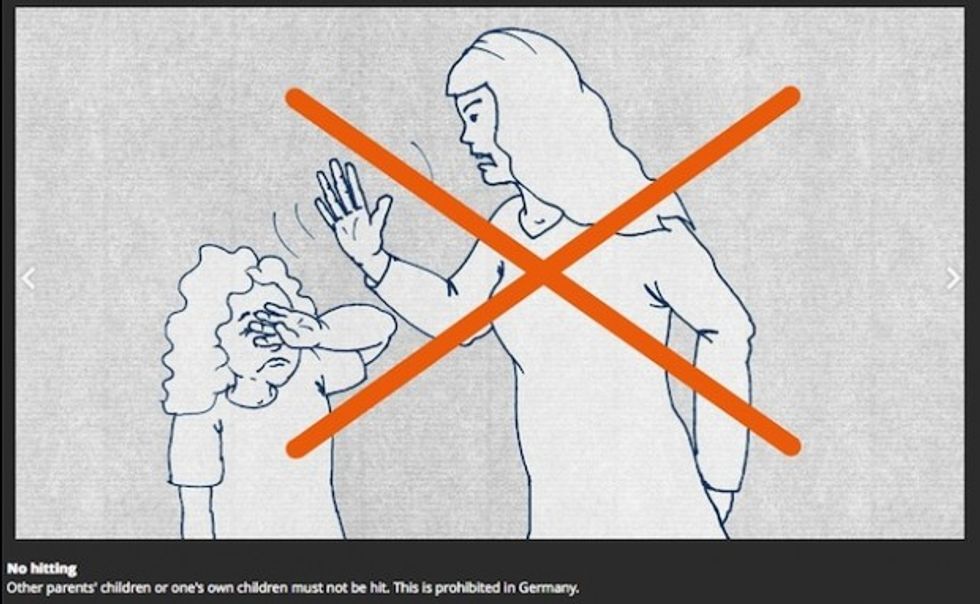 "Other parents' children or one's own children must not be hit. This is prohibited in Germany." (Screenshot: Bayerischer Rundfunk)
Two particularly acerbic comments shared widely on Twitter mocking the public broadcaster's effort were featured in a New York Times piece on the reaction of foreign journalists who were described as "baffled, amused and offended" by the illustrated guide.
Should I cry or laugh? German TV has guide for refugees: Respect women &gays, dont beat kids https://t.co/8r4yquU8uI pic.twitter.com/I1EGuyIisE

— Jenan Moussa (@jenanmoussa) January 18, 2016
Karl Sharro, a satirist and blogger, used the German guide as inspiration to create an illustrated guide condemning Western military engagement in the Middle East.
I liked the European guides for refugees so I made a similar guide for how the West should behave in the Middle East pic.twitter.com/1R1VOITwaT

— Karl Sharro (@KarlreMarks) January 19, 2016
On the other side of the political spectrum, conservative Canadian journalist Ezra Levant blasted Germany for promoting cartoons rather than stemming the migration of Muslim men.
Levant wrote, "So get this. Instead of stopping the flow of single, Muslim men, local authorities are printing little posters with do's and don't's for Muslim migrants."
"Here's a theory. Maybe these Muslim men know that it's wrong to rape infidel women. But they don't care. Maybe they do it because in their own value system, they don't think its wrong," Levant wrote at The Rebel Media, adding, "Oh, hey — let's invite 50,000 of these young men to Canada. What could go wrong?"
Talk of the cartoon instruction guide followed reports last week on an illustrated sign hung at German swimming pools instructing asylum seekers on poolside etiquette.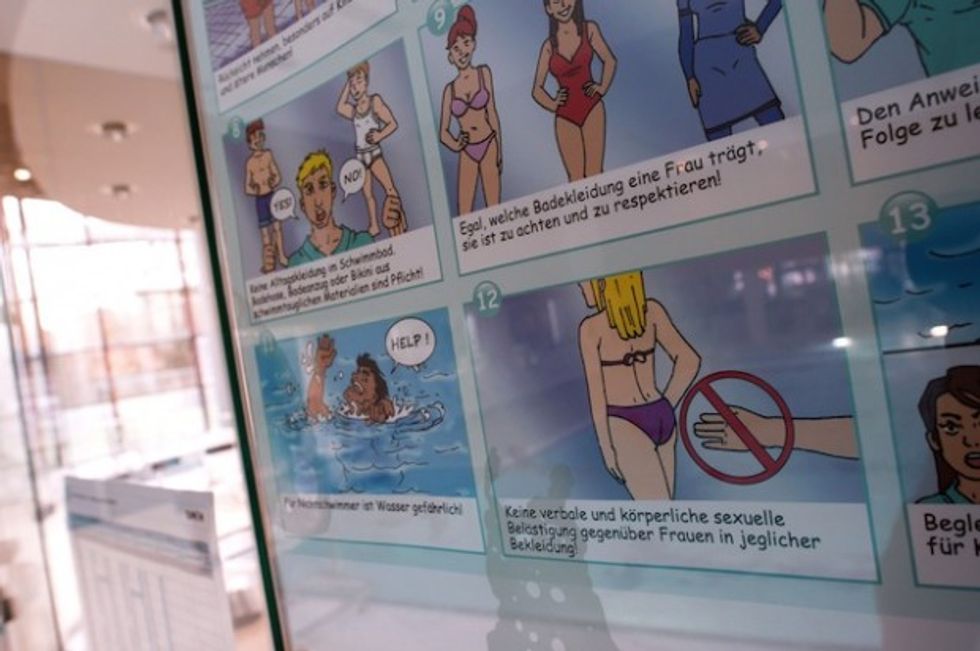 A poster informs about pool rules in a public swimming pool in Munich, southern Germany, on January 12, 2016. The city of Bornheim near Bonn, western Germany, has decided to ban male asylum seekers from its public pool since women have complained about harassment by migrants. (Photo: Sven Hoppe/AFP/Getty Images)
The poster included a cartoon panel showing the backside of a blond woman in a bikini. An outstretched hand behind her was marked with the "no" red circle-backslash sign.
Some 1.1 million migrants arrived in Germany last year, prompting the German government to look for ways to stem the massive population move, including threatening to cut off aid to North African countries which don't take back those whose asylum requests are rejected.
(H/T: Global News)