Republican front-runner Donald Trump threatened Wednesday to sue Iowa Republican caucus winner Ted Cruz.
During an interview on Boston Herald Radio, the Manhattan mogul accused Cruz of committing voter fraud in order to win the Iowa Republican caucus. Trump hedged his accusation on the controversy stemming from a Cruz staffer misinterpreting a report from CNN — that staffer went on to say that Ben Carson was suspending his campaign.
That, Trump said, equated to voter fraud.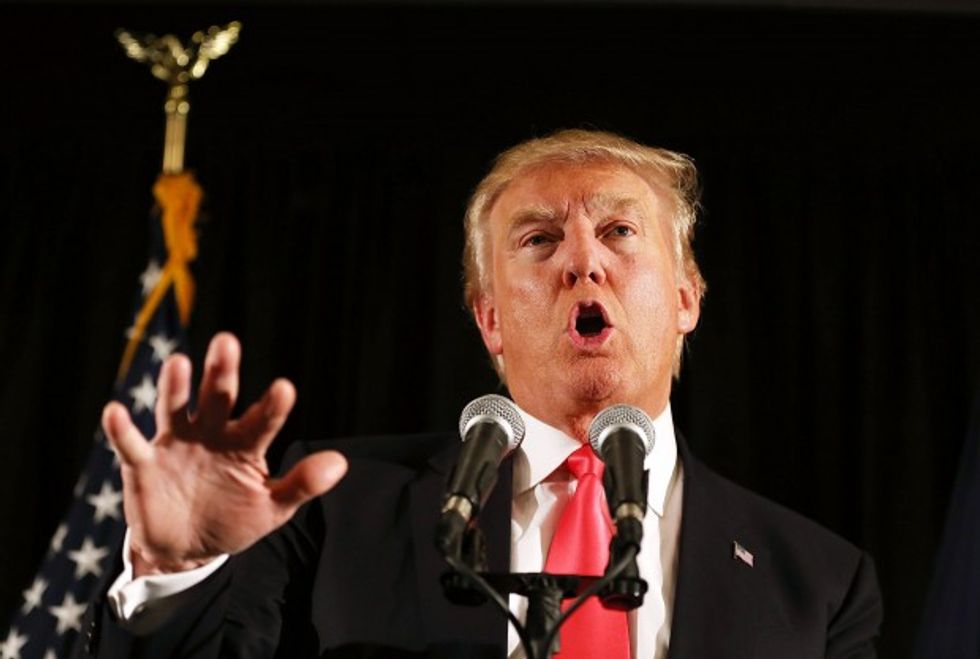 Donald Trump speaks to the media before a campaign event at Hampshire Hills Athletic Club Tuesday. (Getty Images/Joe Raedle)
"One of the most disgusting things I've ever seen. They said he was quitting the race and to vote for him," Trump said.
"It's a total voter fraud when you think of it and he picked up a lot of those votes and that's why the polls were so wrong, because of that," he added. "I couldn't understand why the polls were wrong."
When asked by the show's host whether or not he planned to pursue legal action against the Texas senator, Trump answered in the affirmative.
[sharequote align="center"]"One of the most disgusting things I've ever seen."[/sharequote]
"I probably will; what he did is unthinkable. He said the man has left the race and he said it during the caucus," the billionaire businessman said. "And then when the clarification was put out by Ben Carson saying it's untrue, they got the statement and they didn't put it out."
During the interview, Trump also blasted Cruz for his campaign's controversial mailer to Iowans over the weekend that claimed registered voters were in some sort of "voter violation."
"He did another thing which was almost as bad. He put a voter violation certificate. I don't know if you got to see that and it looked just like it was sent by a government. It talked about you're in violation. It says voter violation up top on very official-looking stationery. The way you clear it up is go and vote for Cruz," Trump said. "The whole thing is incredible."
Toward the end of the interview, Trump reiterated that he believes Cruz is a "nasty guy" — an insult he often uses against Cruz.
Cruz has, however, apologized for his campaign's mix-up.
Listen to Trump's comments below via Buzzfeed's Andrew Kaczynski:
—
Follow the author of this story on Twitter and Facebook:
[facebook //www.facebook.com/plugins/like.php?href=