Sean Hannity repeatedly ripped into Marco Rubio on his Fox News program Wednesday night, attacking the Florida senator for recent attacks on Donald Trump and saying his rhetoric was "beyond the pale" of acceptance in a presidential primary.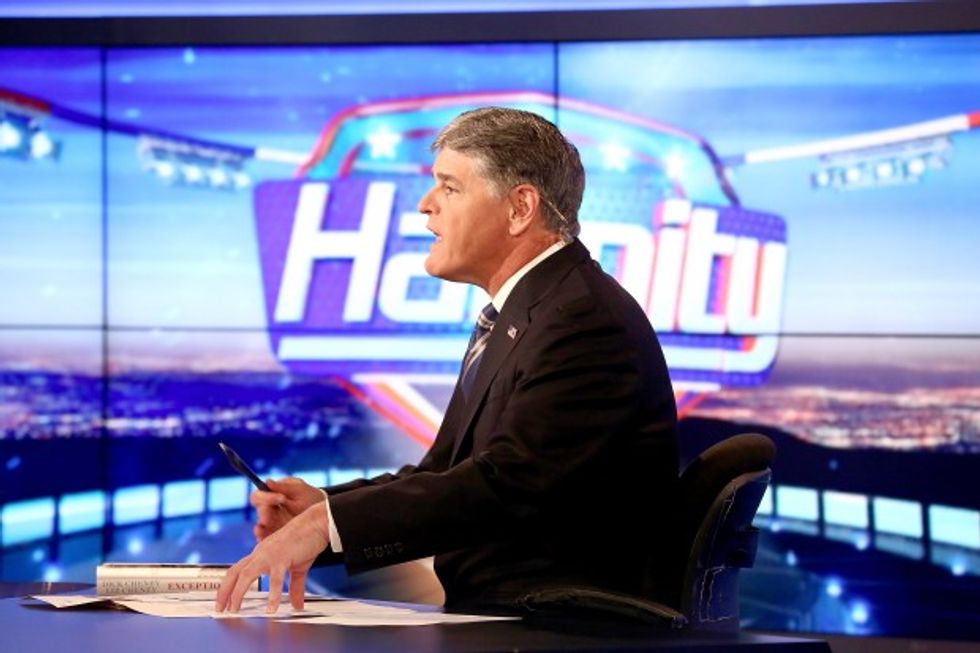 Sean Hannity on the set of FOX News Channel's 'Hannity' at FOX Studios on August 31, 2015 in New York City. (Photo: Paul Zimmerman/Getty Images)
Hannity, who wrote in August that he would not point out "deficiencies" in any of the Republican candidates, floated an unsubstantiated claim that someone "probably promised" Rubio "a lot of money" to take Trump on.
"That's not the real Marco," he repeatedly insisted.
[sharequote align="center"]"That's not the real Marco."[/sharequote]
Hannity's chief contention was that Rubio's criticism of Trump over his Ku Klux Klan flap was not fair and that his jokes about the billionaire had gone too far.
Throughout his program, Hannity hosted a panel of guests who shared his point of view. The general theme: attack Rubio, defend Trump.
Moments later on Rubio: "What I'm watching here is the kitchen sink, scorched Earth, MMA bare-knuckle brawl, thermo-nuclear attacks."

— Oliver Darcy (@Oliver Darcy) 1456982505.0
"He was such a little snot nose in this attack on Trump," Fox News personality Geraldo Rivera said.
An "instrument of destruction," Pat Buchanan echoed.
Hannity willingly joined in on the attacks, referencing an ad a pro-Rubio PAC started running that slammed Trump over his KKK flap.
"[W]hen he runs an ad like this, invoking the KKK when Donald Trump had disavowed it again and again and again and again — this to me, this is now way beyond the pale of what I would expect in a primary," he said.
"I'm stunned," the radio host later added, after playing the ad for his audience.
"It is outrageous," Buchanan agreed.
In another segment, Hannity continued to reiterate his anti-Rubio talking points.
"When Marco Rubio, who I know you used to like, and I have always liked, now starts invoking the KKK, in spite of many disavow, disavow, disavow. To me it's a bridge too far," he told guest A.J. Delgado. "To me that in my mind conjures up a conspiracy to just go scorched earth and destroy the whole party because they are not winning."
"Absolutely," Delgado agreed. "And I think the establishment has a choice to make. They can either go with Rubio's disgusting tactics lately or they can realize that Trump will be the nominee. So they can either get on board or they can choose to reveal themselves to be puppets of the donor class. People who are not with the American people."
The only guest to push back against the theme was former White House press secretary Ari Fleischer who said Trump's KKK flap was his own fault.
"He created his own problem, but I'm over that. I criticized him," Fleischer said. "But here's the second point Sean that I want to make about the shape of the race and the type of campaign now. You know, Donald Trump questioned Ben Carson's religion."
"He's tough!" Hannity interjected.
"He's questioned Marco Rubio for being corrupt with his credit cards," Fleischer continued.
"He is!" Delgado insisted.
A spokesperson for Rubio did not respond to a request for comment Wednesday night from TheBlaze, but a staffer earlier in the day went after Hannity in harsh terms.
"What a f***ing asshole," the anonymous staffer told a Politico reporter. "He lets Trump trash everyone for months, but Marco gives Donald a taste of his own medicine and Hannity gets all offended. He's a pussy and a sellout."
—
Follow the author of this story on Twitter and Facebook: