Some Hamas fighters have said they are afraid to enter tunnels the militant group has dug for fear of being buried alive as happened to their comrades-in-arms on at least seven recent occasions, according to Israeli media reports.
The newspaper Israel Hayom, quoting unnamed sources in Gaza, reported Friday that some Hamas members have refused orders to enter the tunnels, which serve to smuggle weapons and goods into Gaza for cross-border attacks in Israel.
Echoing that report, Hamas sources told the Jerusalem Post that fighters in Gaza have said they are now afraid of entering the tunnels over concerns they might collapse.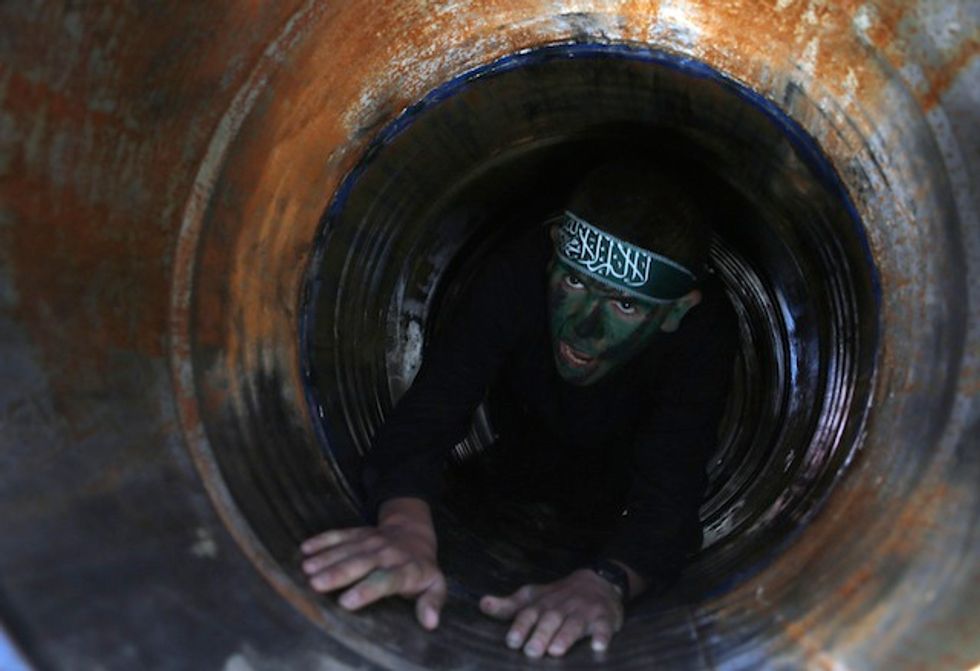 A Palestinian youth crawls in a tunnel during a graduation ceremony for a training camp run by the Hamas movement on January 29, 2015 in Khan Yunis, in the southern Gaza Strip. (Said Khatib/AFP/Getty Images)
At least a dozen Hamas members have been killed over the past two months following a string of mysterious collapses that the jihadist group has attributed to heavy rains and land erosion.
One unnamed Hamas member told Israel Hayom that the underground passages have now been nicknamed the "tunnels of death."
"I know of those who have been sentenced to harsh punishments for refusing to take part in the [tunnel-digging] effort. This is a serious offense, and the punishment for it is extremely severe," the Hamas member said.
A relative of a member of Hamas' military wing, the Izzedin Al-Qassam Brigades, told Israel Hayom that rumors are spreading around Gaza about fighters refusing to enter the tunnels.
"To be buried alive is a terrible way to die," the family member, who spoke anonymously, said.
"Everyone has heard the stories of Qassam Brigade members who preferred harsh punishments over digging the tunnels. The Zionist occupation is finding the tunnels and collapsing them on anyone inside. That's not being a shahid [martyr]. That's gambling with your life," the relative said.
Yet another tunnel collapsed on Thursday, killing a fighter with the Izzedin Al-Qassam Brigades, Hamas announced, naming the killed man as Muhammad Musa al Astal.
Palestinian media reported that five additional tunnel diggers were missing in that incident.
Israeli officials won't say if their forces were behind any of the tunnel collapses, though Israel's military chief of staff said last month that Israel was quietly working to combat the tunnel threat.
"We are doing a lot, but many of [the things we do] are hidden from the public. We have dozens, if not a hundred, engineering vehicles on the Gaza border," Lt. Gen. Gadi Eizenkot said.
While Hamas has blamed the weather, rumors are rife in Gaza about possible Israeli involvement in the cave-ins, including Palestinians who said they had seen Israeli soldiers using liquid explosives and sparking "small earthquakes" targeting the tunnels.
Besides rockets, the tunnels are one of Hamas' key strategies for attacking Israel which is blocked off from Gaza by a physical barrier.