Islamic State leaders have ordered that all satellite dishes in the terror group's strongholds of Mosul, Iraq, and Raqqa, Syria, be destroyed ahead of Ramadan.
But the announcement was more of a security precaution than a religious command made in light of the 30-day fasting holiday. IS leaders stated the threat of airstrikes as the reason for destroying the satellite dishes, the Telegraph reported.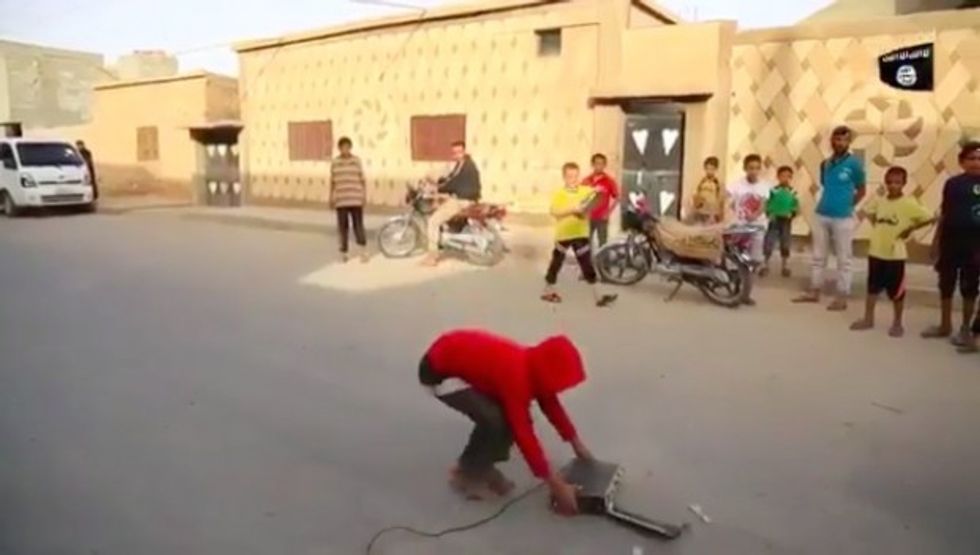 Iraqi youth shatters receiver in Mosul street after Islamic State officials ordered the destruction of devices that could be used to pinpoint targets of airstrikes. (Image via Twitter/Riam Dilati)
In a video released Tuesday by Welayat Nineveh, the group's Mosul-based media office, two Islamic State leaders, who identify themselves as Abu Saad al-Ansari and Abu Abdullah al-Ansari, discuss the dangers of Western media, noting the risk of Western intelligence agencies using local TV satellite dishes to pinpoint targets.
A portion of the video was posted to Twitter by BBC foreign news producer Riam Dalati:
#IslamicState launching concerted campaign vs sat brdcst. New vid from #DeirEzzor province. pic.twitter.com/Y3sk9Cae0e

— Riam Dalati (@Dalatrm) May 31, 2016
The video shows IS officials passing out pamphlets explaining the need to destroy or hand over dishes to the group's local police force.
It concludes with footage of dishes, receivers, television sets and VCRs being destroyed.
#Raqqa #ISIS statement for the people to destroy TV satellite or give it for the Hisbha before Ramadan #Syria https://t.co/q1TSfg2bFZ

— الرقة تذبح بصمت (@الرقة تذبح بصمت) 1464720080.0
A similar message was released in Raqqa, according to the activist group Raqqa Is Being Slaughtered Silently. The statement commands Raqqa and Mosul residents to destroy all dishes before the first day of Ramadan, the 30-day yearly period of fasting, prayer and almsgiving, which begins June 5.
In February, U.S. Army spokesman Col. Steve Warren said the drone campaign to kill leaders and high-profile figures such as Mohammed Emwazi, the British Islamic State executioner known as "Jihadi John," had sparked widespread fear and paranoia among the movement's leaders, the Telegraph reported.
"These strikes sow fear and paranoia inside the organization, which is why they are so helpful," Warren said.
The order to destroy the satellite dishes comes after Iraq's army entered Islamic State-occupied Fallujah Monday in a major offensive as part of its "final push" to recapture the city, which has become one of the Islamic State's most important strongholds.