A controversial filmmaker has released the first in a series of films he says presumptive Democratic presidential nominee Hillary Clinton "doesn't want you to see."
Phelim McAleer released the first of the "Verbatim Films" ‪Thursday, which depict the depositions of members of Clinton's senior staff about her use of a private email server while serving as secretary of state. ‬
In an interview with TheBlaze, McAleer said he is "first and foremost a journalist," so when a federal judge ruled that the videos of Clinton's staff's actual depositions should be sealed, he "decided to do some journalism."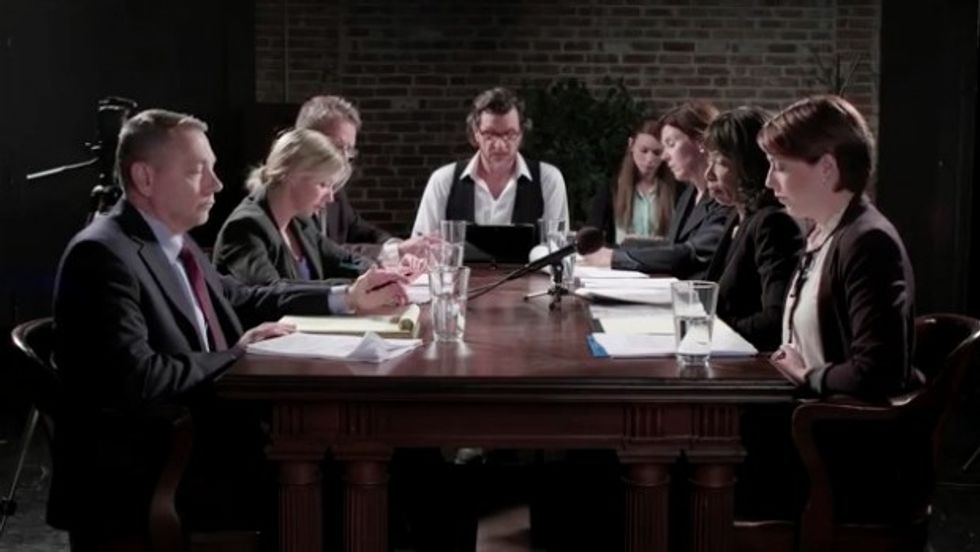 Image source: YouTube
According to Politico, U.S. District Court Judge Emmet Sullivan — an appointee of former President Bill Clinton — granted a request from former Hillary Clinton chief of staff Cheryl Mills that the videos of the depositions not be made public due to the upcoming election. The judge argued that since transcripts of the videos were made available, it was therefore "unnecessary" to release the accompanying videos.
"I had to read it a couple of times, I couldn't believe it," McAleer said. "People needed to see this. It's dangerous not to see it. They should be released because it's an election year."
McAleer said he decided to re-enact the depositions word-for-word, using transcripts that were released.
"This is verbatim," McAleer said. "I'm not adding any words. I'm not doing a Katie Couric on it."
The first video features the deposition of Mills:
McAleer said that the crowdfunding campaign launched Thursday, and he is already a third of the way to his goal. He said he's "grateful" there is "an appetite for the truth."
"The truth is often stranger than fiction," McAleer said. "And more interesting."
Clinton told Fox News' Bret Baier Wednesday that there's no chance she'll be indicted as a result of the FBI's investigation into her use of a private email server to conduct official State Department business.
"That is not going to happen," she said. "There is no basis for it."
McAleer and his wife Ann McElhinney are also the producers of "Gosnell," a film about late-term abortionist Kermit Gosnell. In addition to the film, the couple is writing a book about Gosnell.
McAleer said they are putting the "finishing touches" on the Gosnell film, and he hopes it will soon be released.
The people who have seen the film, he said, have been "moved to tears and to action."
You can read more about McAleer's project at ClintonEmailsOnFilm.com.
—
Follow Kate Scanlon (@kgscanlon) on Twitter and Facebook.