PHILADELPHIA — Democratic 2016 runner-up Bernie Sanders threw his support behind presumptive nominee Hillary Clinton on the biggest stage he could Monday night — but it remains unclear whether his supporters will follow his lead.
The former candidate was met by more than a minute's worth of thunderous applause and cheers upon taking the stage, struggling to begin his speech to the Democratic National Convention's opening night over the roar of the crowd.
"Let me begin by thanking the hundreds of thousands of American who actively participated in our campaign as volunteers," the independent Vermont senator said. "And let me thank the 13 million Americans who voted for the political revolution, giving us the 1,846 pledged delegates here tonight."
As the crowd roared, Sanders sought to set up his endorsement of the former secretary of state and former first lady's candidacy.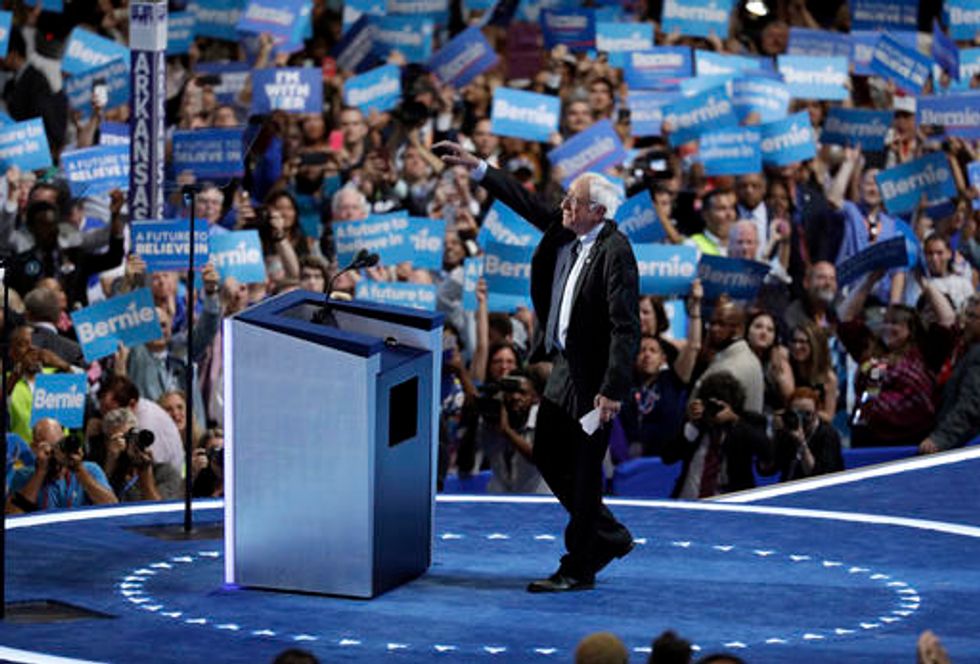 Former Democratic Presidential candidate, Sen. Bernie Sanders, I-Vt., takes the stage during the first day of the Democratic National Convention in Philadelphia on Monday. (AP/John Locher)
"Thank you for being here, and thank you for all the work you have done," Sanders said to his delegates. "I look forward to your votes during the roll call tomorrow night."
But he went on to say that the Democratic primary voters' decision has been made.
"I understand that many people here in this convention hall and around the country are disappointed by the final results of the nominating process," he said. "I think it is fair to say that no one is more disappointed than I am."
Attendees at the Wells Fargo Arena crowd mostly cheered at the Vermont senator's suggestion that they support Clinton over Republican nominee Donald Trump, who seeks to "divide us up" and discriminate against specific people groups, Sanders said.
"By these measures, any objective person would conclude: Hillary Clinton must become next President of the United States," he said.
But Sanders added that his supporters should take "enormous pride" in the historical accomplishment that they have achieved.
"Let me be as clear as I can be. This election is not about and has never been about Hillary Clinton or Donald Trump or Bernie Sanders or any of the other candidates who sought the presidency," he said.
Throughout the first day of the DNC, Sanders supporters refused to sit quietly and accept the Clinton convention, booing mentions of the presumptive nominee.
Sanders himself weighed in earlier in the day, texting his supporters to ask them not to protest on the convention floor.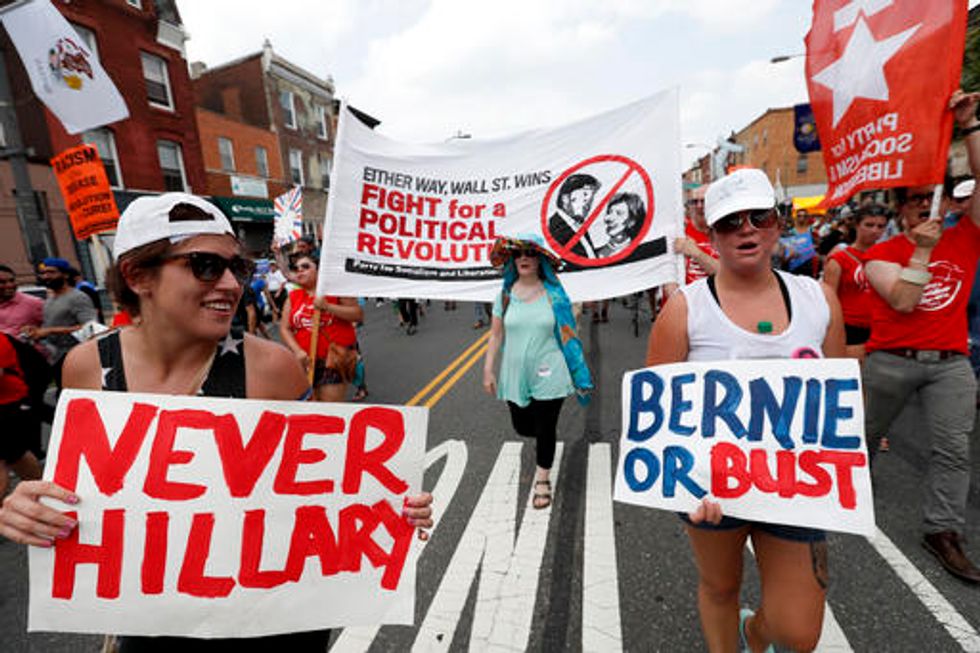 Supporters of Sen. Bernie Sanders march during a protest in downtown Philadelphia Monday. (AP/Alex Brandon)
Sanders' supporters have reached a new level of distrust in the Democratic Party after leaked emails last week showed that party officials had made disparaging remarks about their candidate, and apparently worked to ensure that Clinton was the party's nominee.
Democratic National Committee chairwoman Debbie Wasserman Schultz said she plans to step down over the email scandal, and reportedly is planning to join Clinton's campaign full-time. The DNC issued an apology to Sanders on Monday in an attempt to tamp down on his supporters' frustration.
Despite the primary outcome, Sanders implied that he expects his candidacy to have implications within the Democratic Party for decades to come.
"Together my friends, we have begun a political revolution to transform American, and that revolution, our revolution, continues," he said.
—
Follow the author of this story on Twitter and Facebook:
[facebook //www.facebook.com/plugins/like.php?href=