Leaked text messages between one of Baltimore State's Attorney Marilyn Mosby's deputies and the lead investigator in the Freddie Gray case are raising new concerns about whether politics played a role in the decision to charge six officers with his death.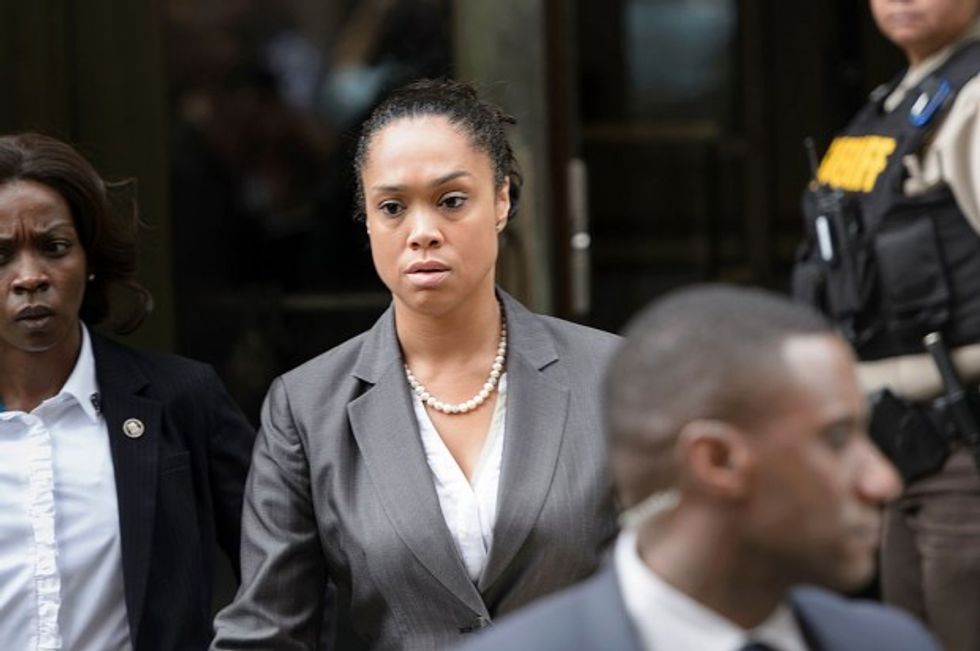 Baltimore City State's Attorney Marilyn Mosby leaves after Baltimore Officer Caesar Goodson Jr. was acquitted of all charges in his murder trial for the death of Freddie Gray, at the Mitchell Court House June 23, 2016 in Baltimore, Maryland. (Brendan Smialowski/AFP/Getty Images)

Fox News' Trace Gallagher reported that the leaked messages suggest that the prosecutors planned to charge the officers, regardless of what the evidence showed.
Detective Dawnyell Taylor reportedly revealed in case notes that she was handed a narrative by the prosecution that she read to the grand jury. She wrote that the narrative "had several things that I found to be inconsistent with our investigation."
"I thought the statements in the narrative were misquoted," the detective added.
In one of the leaked text messages, Taylor also reportedly told the top investigator she didn't feel comfortable reading the script provided to her.
"I'm fine with finding the facts but between us I believe we omitted key things from their combined statements," Taylor said.
Watch the full report via "The Kelly File":
An emotional Mosby garnered both sympathy and intense backlash for the speech she delivered Wednesday after the trial of the six officers ended with no convictions.
Mosby blamed her failed prosecution on the media and a corrupt criminal justice system, but critics say she had no case to begin with.
Attorneys of three of the acquitted officers said Thursday that the prosecutor's claims were based on a "fictitious narrative" of police brutality.
---