Supporters of Hillary Clinton were asked outside a recent campaign event for the former first lady if the Second Amendment should be repealed — and many of their answers contradicted what the Democratic presidential nominee has publicly stated about the issue.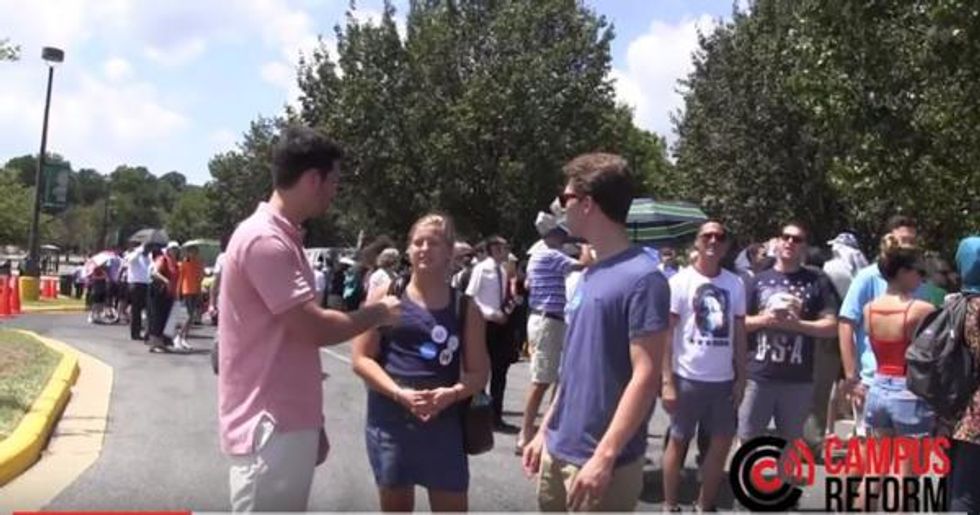 Image source: YouTube
"Do you think it would be a good idea to repeal the Second Amendment?" Campus Reform reporter Cabot Phillips asked Clinton supporters outside a campaign stop in the Washington, D.C., suburb of Annandale, Virginia.
"Oh yeah, definitely, I really think that we really need to start viewing human rights as more important than gun rights," one person replied.
Another responded, "I think yes because the document was written 200 years ago."
Phillips asked others if, in an "ideal world," they would repeal the right to keep and bear arms and get rid of the National Rifle Association.
"Yeah, I think it would be a good idea. I hate the NRA," one individual said. Another Clinton supporter agreed, saying the Constitution was written by humans and that "humans make mistakes."
Another person who said he's "from a relatively wealthy area," added, "I don't think there's any reason anyone would need a gun in that area."
Clinton has said she does not want to repeal the Second Amendment but instead enact "commonsense regulations," such as stricter background checks and renewing the so-called "assault weapons ban," which was signed by her husband in 1994.
President George W. Bush allowed the 10-year ban to expire in 2004.
—
Follow the author of this story on Twitter and Facebook: