Democratic Louisiana Gov. John Bel Edwards earlier this week cautioned Republican presidential nominee Donald Trump against coming to his flood-ravaged state for a "photo-op."
"Donald Trump hasn't called the governor to inform him of his visit. We welcome him to LA but not for a photo-op," a spokesperson for the governor's office said Thursday in a statement to Politico. "Instead we hope he'll consider volunteering or making a sizable donation to the LA Flood Relief Fund to help the victims of the storm."
But on Sunday, two days after Trump showed up, Bel Edwards told CNN's "State of the Union" that Trump had always been welcome if his intentions were to be "helpful."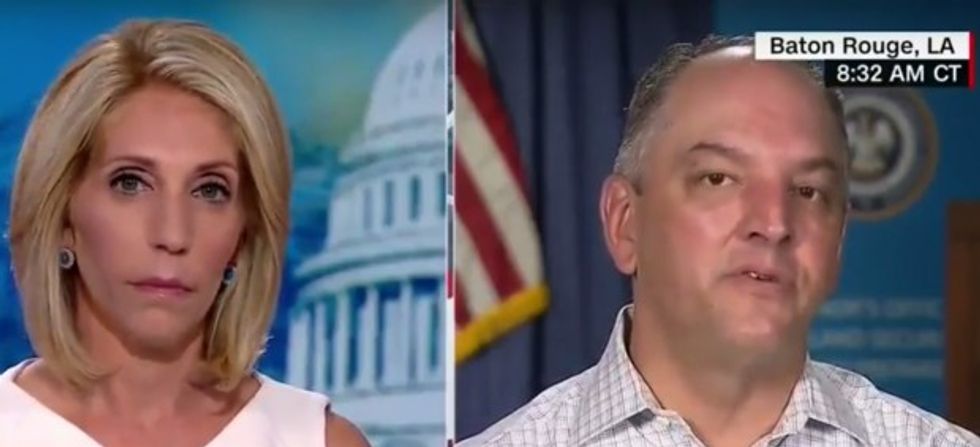 Image source: YouTube
"It helped to shine a spotlight on Louisiana and on the dire situation that we have here ... it was helpful," Edwards told host Dana Bash about Trump's visit.
The Trump campaign said it donated $100,000 to a local church, CNN noted. Trump also met with residents and volunteers and briefly helped unload a truck of supplies, ABC News reported.
Bel Edwards also praised Republican vice presidential nominee, Indiana Gov. Mike Pence, who visited Louisiana with Trump. He said Pence was "sincere and genuine when he called, and we spoke for a long time on Friday morning, about their desire to be helpful."
Democratic presidential candidate Hillary Clinton wrote in a Facebook post that she called Edwards about the flooding and her "heart breaks for Louisiana."
President Barack Obama, after criticism over not cutting short his Martha's Vineyard vacation to visit Louisiana, has announced he'll make the trip Tuesday.
(H/T: Young Conservatives)