Sens. Marco Rubio (Fla.) and John McCain (Ariz.) both soundly won their primary elections Tuesday night despite opposition from conservative challengers.
Once a 2016 presidential hopeful, Rubio famously threw his hat back into the ring for his Senate seat just before the June 24 filing deadline after unequivocally promising multiple times that he would not seek reelection.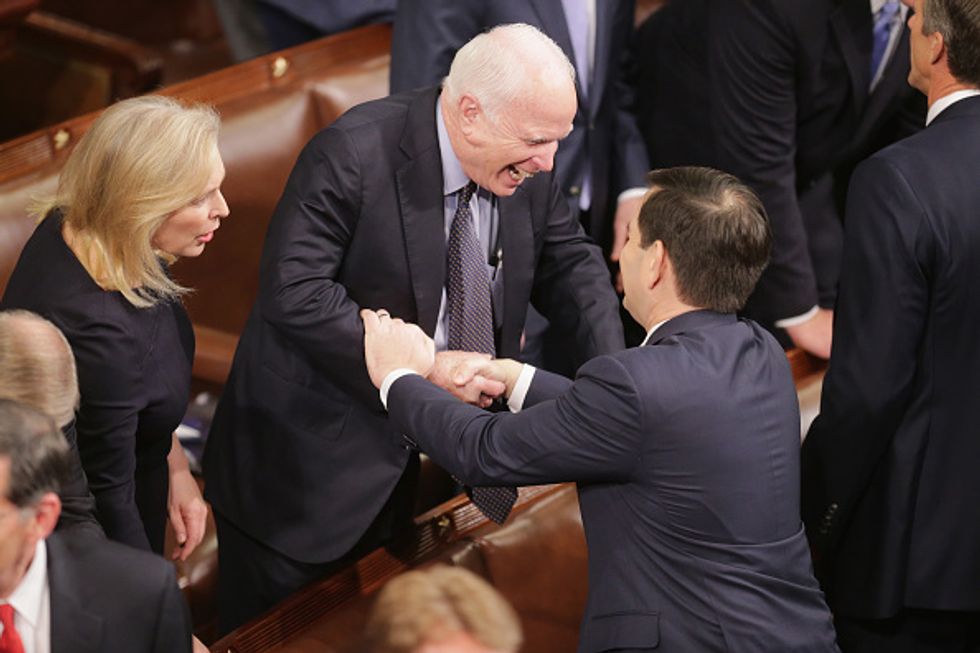 FormerRepublican presidential candidate Sen. Marco Rubio (R-Fla.) shakes hands with Sen. John McCain (R-Ariz.) before President Barack Obama delivers the State of the Union speech. (Getty Images/Chip Somodevilla)
Carlos Beruff, the wealthy businessman who challenged Rubio, declined to congratulate the senator on his victory Tuesday.
"I made the miscalculation of taking Mr. Rubio at his word that he wouldn't seek re-election if he lost the presidential primary," Beruff said in a lengthy statement. "Even in March he reiterated that he has told people '10,000' times that he is not running for re-election. I guess I was silly to believe the words of a Washington politician."
"With regard to young Mr. Rubio, in my judgement he made a life mistake," he added. "A man's word is the most important thing he has. Mr. Rubio must live with that decision. Sadly, he could have learned a lot about America and about himself by leaving politics and spending some time in the real world."
McCain's challenger, too, criticized her opponent in a statement following her loss Tuesday.
"Sadly the establishment has won this battle by spending untold millions to call me liberal, dangerous and weak," said Kelli Ward, a former state senator. "As Senator McCain said, 'It shouldn't be beyond us to refrain from substituting character assassination and mean-spiritedness for spirited debate.'"
"After refusing to debate while running a slash and burn campaign devoid of actual ideas, I hope the Senator can rest comfortably with his conscience as he continues to lecture others about civility," she added. "The Republican party cannot win as a national party if we keep nominating unprincipled career politicians whose only objective is perpetual re-election."
Tuesday's victories were big wins for the incumbents as several other Republicans have already not fared quite so well thus far. Rep. Renee Ellmers (N.C.), GOP presidential nominee Donald Trump's first congressional endorsement, lost her primary to Rep. George Holding (R) after redistricting in the state pitted the two Republicans against one another.
Rep. Randy Forbes (R-Va.) and Rep. Tim Huelskamp (R-Kansas) also lost their primaries this year.
—
Follow Kaitlyn Schallhorn (@K_Schallhorn) on Twitter